Author: Tony De Bolfo - Published Mon 19 of Oct, 2020 22:37 AEDT - (6148 Reads)
RICHARD ('Dick') Gill, an eight-game Carlton senior player and the son of the club's former captain and 1938 Premiership player Frank Gill, has died after a long illness. He was 88.
Dick was also a first cousin of the Gill brothers John and Barry – John an 88-game Carlton player between 1962 and '67; and Barry a member of the Blues' 1968 and '70 Premiership teams through 132 appearances from 1964-'72.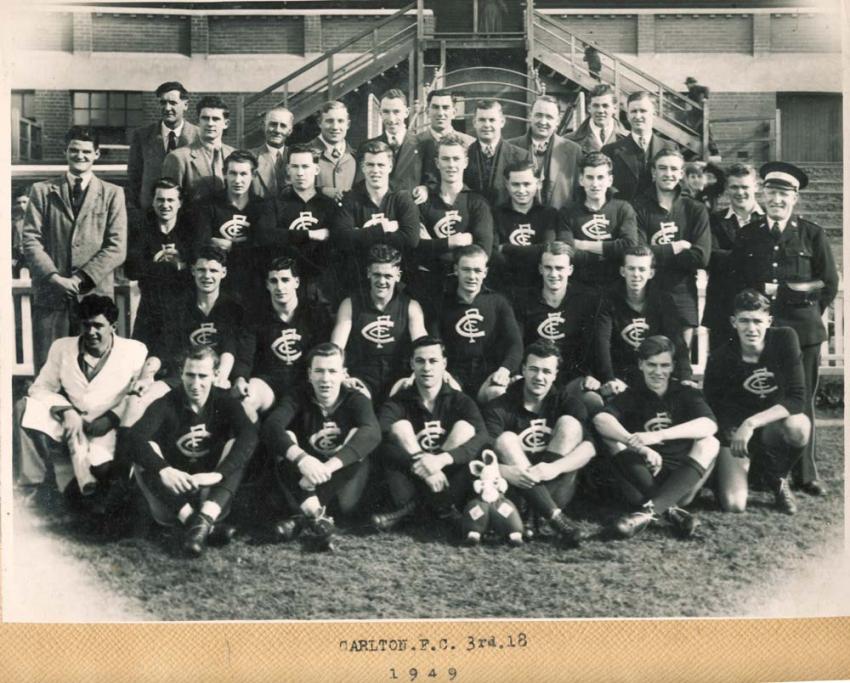 "I knew of Dick through his father Frank. They had a carrying business and Uncle Frank's house was not far from the Carlton ground at 122 McIlwraith Street, Princes Hill," Barry said.
"My brother John and I lived there for a time after we came down from Casterton. I was there from 1965 when I finished at Teachers' College through to 1969 when I got married, and when John moved out Geoff Southby moved in.
"Uncle Frank was a great story teller. He used to love to tell stories about 'Soapy' Vallence and the old days. He used to say 'You blokes have got it too bloody easy and you're making a fortune'. I thought nothing of it then, but in hearing some of the figures bandied about thesedays I do think about it now."
By the time Dick got his first call-up at senior level – the 5th round match of 1953 v St Kilda at Princes Park – he'd already played his part in the Blues' Under 19 back-to-back Grand Final triumphs of 1948 and '49 and their reserve grade Premiership of '51.
By the end of '53, he'd feature in another reserve grade triumph on that last Saturday in September, having somehow survived a baptism of fire in that maiden senior appearance against the Saints.
As an unnamed Truth journalist colourfully reported:
"Mounted police galloped onto the Carlton football ground this afternoon to settle a wild brawl between players, umpires, spectators, and trainers. The melee occurred soon after half-time in the Australian Rules match between Carlton and St. Kilda. It was one of the wildest exhibitions seen at a match in Melbourne for nearly 10 years. The free-for-all began when a Carlton player fell writhing on the ground. Within minutes a St. Kilda player flattened a spectator who jumped the fence, a Carlton defender hurled a trainer over his shoulders and more than 20 players wrestled on the rain-drenched, muddy ground."
Upholding the tradition set by his father through 205 matches and 14 seasons at full-back, Dick was named in the last line of defence for his first game, hard won in the mud by Perc Bentley's Blues to the tune of nine points.
Omitted for the following contest, Dick had to wait almost two months for the next call-up, and he played through to the Round 18 match with North Melbourne by the gasometer at Arden Street – his last senior appearance in the No.20 guernsey.
Peter Bevilacqua, League football's only Italian-born senior player, completed his senior debut in that game, which was his last too.
Ron Robertson, the 30-game wingman from South Bendigo, also played alongside Dick. Now 87, Robertson remembered being part of the '53 reserve grade Grand Final victory over Essendon and sharing the spoils with his late former teammate. As he said: "We played on the MCG and we got up by four goals. It was a great thrill".
"Dick was good mates with Gerald Burke and Brian 'Muncher' Molony who were also playing for Carlton at the time, and I boarded with Brian in De Carle Street, Brunswick, not far from Kenneth Luke's factory there," Robertson said.
"In those days we'd get two pound ten for playing seniors, with two pounds into the players provident fund, but you needed to play around 25 games to qualify . . . it was peanuts when you think about it now."
At the end of the '53 season, and to widespread surprise, Dick, then 21, decided to move on. After handing back his number 20 guernsey, he left Princes Park and joined a number of other former Blues up the road at Coburg.
Richard Francis Gill died on September 6. He is survived by his wife Thelma; son Martin, daughter Danielle and their respective partners; and three grandchildren.