In June, 2016, the Australian Football League took a huge step forward by announcing the formation of a National Women's League to begin Premiership matches in 2017.
AFL chairman
Mike Fitzpatrick
(himself a former Carlton captain and Premiership player) said, "our game will never be the same," at the official announcement of the new competition at the MCG. "This day has been a long time coming," he said. "The number of women and girls playing club football has doubled over the past five years, as record growth year-on-year has seen female participation reach 25 per cent of the total number of Australians playing our indigenous game".
"Our CEO Gillon McLachlan calls it a revolution, and it is. We will now have a fully-fledged national competition where the best women in the country will grace AFL grounds, wearing AFL club jumpers and representing immensely proud and passionate tribes." Carlton was one of eight clubs granted licences to compete in the foundation season, along with Collingwood, Western Bulldogs, Melbourne, Fremantle, Adelaide, Greater Western Sydney and Brisbane. Beginning with an eight-week season leading into the mens' competition in 2017, the AFL was confident that growth would not be long in coming.
Carlton president
Mark LoGiudice
emphasised that the Blues were excited and passionately committed to integrating a women's team into the football club, saying, "We understand the significance of being a women's league foundation club, and we are extremely honoured to have secured a licence for the inaugural 2017 AFL National Women's League."
"As a club, we strive to be leaders in gender equality and now with this licence, we will continue to focus on providing pathways and opportunities for women in all areas of our great game. Our geographical location means we have a vital role to play in developing AFL at all levels and across both genders. We are proud to be building a more diverse football club, as we know the more diverse we are, the more we will grow."
Coinciding with the announcement, Carlton appointed highly-regarded former VWFL Women's Academy assistant coach
Damien Keeping
as senior coach of the women's squad, and confirmed that it was to be integrated into the men's program as soon as possible.
Less than a month afterward, the Blues unveiled their first two marquee players; forward Darcy Vescio, and defender/midfielder Brianna Davey. A triple Premiership player with the Darebin Falcons and a two-time Victorian representative, Vescio had played in exhibition matches with the Western Bulldogs and was regarded as one of the outstanding female forwards in the country. Davey – a former goalkeeper for the Australian Women's Soccer Team, the Matildas – had switched codes after winning championships with Melbourne Victory and Melbourne City. She too, had played for the Western Bulldogs in 2015 and 2016.
On September 15 2016 the AFL's CEO Gillon McLachlan announced that the official name of the new competition would be known as, "AFL Women's."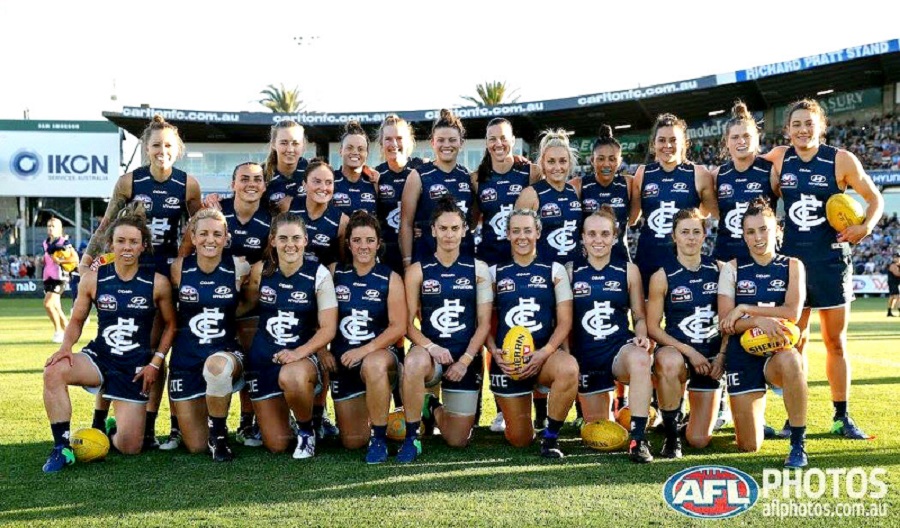 Links
Blueseum:
Our AFLW Homepage
|
AFLW Players
|
AFLW Seasons
|
1933 Carlton Women's Team
|
VFL Women's