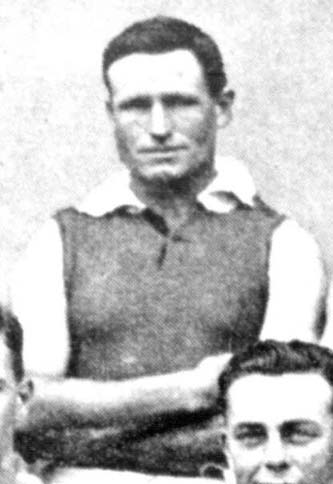 Career : 1927
Debut : Round 3, 1927 vs Essendon, aged 27 years, 277 days
Carlton Player No. 435
Games : 3 (2 at Carlton)
Goals : 0
Last Game : Round 4, 1927 vs Geelong, aged 27 years, 290 days
Guernsey No. 4
Height : 182 cm (5 ft. 11 in.)
Weight : 85 kg (13 stone, 5 lbs.)
DOB : 28th July, 1899
William Claude Donald was born in 1899 at Rutherglen in northern Victoria. Carlton recruited him from Hume Weir, near Albury in
1927
, and he made his VFL debut against Essendon at Princes Park in May of that same year. Wearing
guernsey number 4
and stationed on a half-back flank alongside
Alex Duncan
and
Fred Gilby
, Donald did enough in an 11-point victory by the Blues to hold his place in the team for the next match against Geelong – but that was where his brief career abruptly ended.
On the following Saturday afternoon at Corio Oval, the Pivotonians gave Carlton a football lesson when they demolished their visitors by 46 points. Carlton couldn't hold Geelong's star full-forward Lloyd Hagger, who kicked 11 goals and almost single-handedly sent the Blues tumbling out of the top four.
In the aftermath of that defeat, Bill and the Blues parted company. In June 1927, he was cleared to Fitzroy, where he played his third and last VFL match late in the season, before disappearing from all records to date.
Meanwhile, back at Carlton, the number 4 had been handed to
Bill Downie
, who was also destined to wear it just twice - in rounds 13 and 14 of the same season.
Links
Blueseum:
Summary of playing statistics for Bill Donald
|
Donald's Blueseum Image Gallery