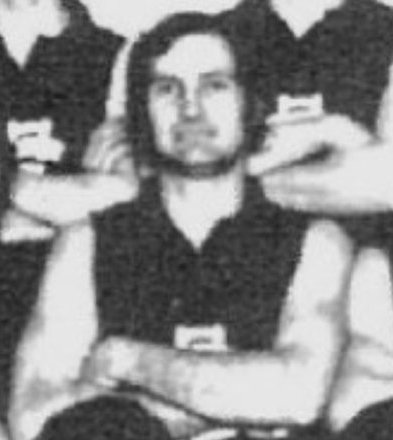 Playing Career: 1971
Debut: Round 15, 1971 Vs Geelong, aged 24 years, 190 days
Carlton Player No.: 830
Games: 5
Goals: 6
Last Game: Round 19, 1971 Vs Richmond, aged 24 years, 218 days
Guernsey No.: 9
Height: 193cm (6', 2")
Weight: 87 kgs (13 stone, 7 lb)
DOB: January 1, 1947
DOD: November 26, 2022
Eighteen year-old Chris Mitchell came in to Trinity College in 1965, having previously played on the Old Geelong Grammarians (where was awarded the Best & Fairest Award that year). Chris Mitchell was a high leaping, strong marking ruckman who particularly excelled when resting in a forward or back pocket, where his fine judgement was a significant asset. His kicking was excellent, particularly when using his favoured drop punt. He played in the 1967 and 1968 seasons for Geelong, totalling 42 games and 32 goals. After displaying impressive form for all of season 1967 he shared rucking duties with 'Polly' Farmer in the grand final clash with Richmond, but could not prevent the Tigers from prevailing.
Mitchell left Victoria in 1969 and signed with 'East Perth', part of the West Australian National Football League (WANFL), for two years before returning to Geelong. He represented Western Australia in a game at the 1969 Adelaide Carnival. He was a member of Western Australia's 1969 Adelaide carnival party, and played in the games against Victoria and Tasmania. His second stint at the Cats lasted just half a season and he finished the year at Carlton. The former Cat Mitchell played 5 games and kicked 6 goals for Carlton, ironically 5 of those goals came in his first game which was against his old club Geelong in
Round 15
of
1971
.
Geelong recruited Mitchell from Old Geelong Grammerians.
Years Club Games (Goals)
1967 to 68: - Geelong 42 (32)
1969 to 70: - East Perth 15 (20)
1971: - Geelong 4 (1)
1971: - Carlton 5 (6)
Milestones
50 VFL Games: Round 18, 1971 Vs Footscray
Links
Blueseum:
Summary of playing statistics for Chris Mitchell
|
Mitchells' Blueseum Image Gallery