| | | | | | | | | |
| --- | --- | --- | --- | --- | --- | --- | --- | --- |
| Carlton | 2.2 | 14 | 4.3 | 27 | 7.6 | 48 | 9.9 | 63 |
| Geelong | 4.3 | 27 | 4.6 | 30 | 6.6 | 42 | 8.7 | 55 |

Venue: Kardinia Park
Date: Saturday 6 July 1968
Result: Won by 8 points
Umpire: Deller
Crowd: 25,007
Goalkickers: Munari, Gallagher, Kekovich 2, Jones, Robertson, Smith 1.
Reports:
Injuries: B.Kekovich replaced by N.Bishop last quarter. R.Stone (hip) by B.Gill last quarter B.Crosswell (cut forehead)
Ladder: 1st with 10 wins, 2 losses (12 teams) and a percentage of 142.3
---
Game Review
Carlton and Geelong, two teams right at the top of the ladder, took each other on in this enthralling contest at Geelong.
Carlton ended up winning by 8 points, with Carlton sitting up the top of the ladder.
Carlton didn't consider
Ron Barassi
, who had hoped he could play in the main game against Geelong, which Carlton went on to win 9.9 to 8.7
- Football Life.
Team
B:
19 Ian Collins
20 Wes Lofts (acting capt.)
44 Ron Stone
HB:
26 Graeme Anderson
36 Peter McLean
37 Peter Smith
C:
7 Ted Hopkins
9 Peter Kerr
17 Brent Crosswell
HF:
41 Ron Auchettl
42 Robert Walls
34 Ian Robertson
F:
3 Kevin Hall
16 Brian Kekovich
8 Dennis Munari
Ruck:
28 Peter Jones
1 Serge Silvagni
10 Adrian Gallagher
Res:
21 Barry Gill
22 Noel Bishop
Coach:
Ron Barassi
NB Late Changes: Goold replaced by McLean, Stewart replaced by Hopkins
Milestones
Last game:
Noel Bishop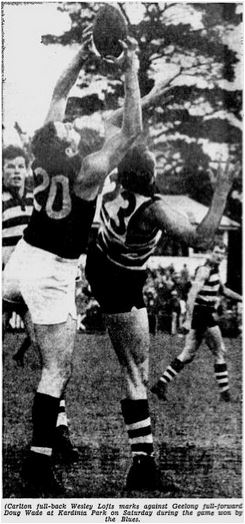 Wes Lofts outmarks Doug Wade
(This photo is incorrectly marked in Lofts' Image Gallery as 1966)
Image: Age July 09 1968
---
Round 11
|
Round 13