| | | | | | | | | |
| --- | --- | --- | --- | --- | --- | --- | --- | --- |
| Carlton | 4.2 | 26 | 7.6 | 48 | 14.10 | 94 | 17.14 | 116 |
| Collingwood | 3.3 | 21 | 6.5 | 41 | 12.13 | 85 | 15.16 | 106 |

Venue: Victoria Park
Date: Saturday July 19, 1969
Result: Win by 10 points
Umpire: Crouch
Crowd: 43,610
Goalkickers: Walls 4, Jones 3, Nicholls 2, Gallagher 2, Nicoll 2, Jesaulenko 2, Jackson 1 & Quirk 1.
Best: P. Jones (BOG), W. Lofts, J. Nicholls, S. Jackson, B. Quirk, G. Crane, R. Walls.
Reports: Nil
Injuries: Waite (bruised thigh) replaced by D. McKay at three quarter time. D. McKay (strained ankle) replaced by N. Chandler in last quarter
---
Game Review
My Blue Heaven - Recalled
A massive crowd of 43,000 at Victoria Park with queues out to Johnston Street. Just managed to squeeze in before the lockout, and made my way around to the outer forward pocket. (Trenerry Crescent end) Unable to get up the embankment due to the crowd, I had to make do, propped at the bar listening to the game on the radio and watching the ball sailing overhead through the goals.
Not such a bad way to spend a pleasant Saturday afternoon.
Two days later on Monday, hundreds of millions of people world wide watched Armstrong and Aldrin walk on the moon.
Team
B:
1 Serge Silvagni
20 Wes Lofts (vc)
3 Kevin Hall
HB:
21 Barry Gill
11 John Goold
15 Phil Pinnell
C:
6 Garry Crane
13 Bert Thornley
32 Bryan Quirk
HF:
34 Ian Robertson
42 Robert Walls
5 Syd Jackson
F:
28 Peter Jones
25 Alex Jesaulenko
23 Ian Nicoll
Ruck:
2 John Nicholls (c)
30 Vin Waite
10 Adrian Gallagher
Res:
43 David McKay
47 Neil Chandler
Coach:
Ron Barassi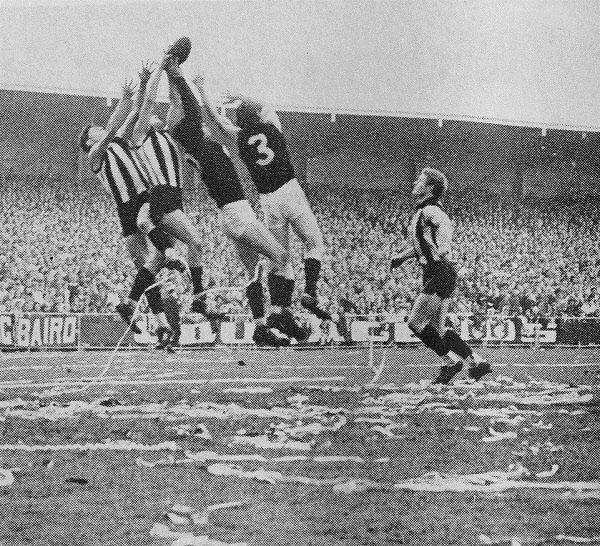 Carlton's Vin Waite marks, Kevin Hall (3), at the Trenerry Crescent end, while Collingwood captain Des Tuddenham scouts in front.
Note: Carlton banners on the fence with the streamers and torn paper courtesy of the Carlton cheer squad littering this outer end of Victoria Park.
Doug Baird despite only playing 6 senior games also played with the U19's and Reserves for 3 years and had a loyal following.
His banner would appear at most Carlton matches during his time with the club.

---
Round 14
|
Round 16