| | | | | | | | | |
| --- | --- | --- | --- | --- | --- | --- | --- | --- |
| Carlton | 5.1 | 31 | 7.3 | 45 | 10.3 | 63 | 13.8 | 86 |
| Footscray | 2.5 | 17 | 7.11 | 53 | 9.16 | 70 | 11.17 | 83 |

Venue: Princes Park
Date: Saturday September 2, 1972
Result: Won by 3 points
Umpire: I.Artso
Crowd: 24,619 Receipts: $12,264
Goalkickers: G.Kennedy 5, T.Keogh 2, R.Walls 2, A.Gallagher 1, P.Jones 1, A.Lukas 1, J.Nicholls 1.
Best: A.Gallagher, D.McKay, J.O'Connell, G.Southby, P.Hurst, G.Kennedy.
Reports:
Injuries:
---
Game Review
Carlton staged another last quarter revival to edge out the spirited Bulldogs by three points at Princes Park, while
Greg Kennedy
's five goals took his tally in the last three games of the home and away season to a massive 25.
The Blues claimed another minor premiership with this win, but faced quality opposition in the finals from Richmond, Collingwood, St Kilda and Essendon - who displaced Hawthorn from the top five by edging out St Kilda at Windy Hill.
Blues Struggling
There was suspense as the Blues struggled to down Footscray at Princes Park to retain the all-important No.1 position on the League ladder. Carlton was unimpressive in struggling home against Footscray. Many Carlton players were out-of-touch and it was only the last quarter efforts of centre half-forward
Robert Walls
and rover
Trevor Keogh
that saved the Blues. A most disturbing feature from Carlton viewpoint was the dominance across the centre. Footscray controlled the rucks, this must concern the Blues going into the finals. However,
David McKay
is continuing to play well.
- Graeme Kelly; The Australian.
Blues turn defeat into victory
Carlton continues to go on its merry way. Like all good sides the Blues' class is evident even though apparently beaten they have the ability to convert defeat into victory. The way the game against Footscray was played it was understandable. Carlton was built-up last week and the encounter with Footscray was a natural let-down. The way the game went - a win, but a loss in the eyes of the coach - will be all that is necessary for
John Nicholls
to get his players on the comeback trail. As usual Carlton's performance was methodical. All players contributed and this meant that Footscray was unlucky for the second successive week as it just failed against Richmond the previous week.
- Polly Farmer; The Australian.
Every player was on top of the world with our win last week so a close match like today could have been just what we needed to get back to earth. We also had our needles for our overseas trip last Sunday and this could have had something to do with our apparent lethargy.
- Keith McKenzie; Assistant Coach.

Former P.M. Bob Menzies watching this match in his chauffeured Bentley on a purpose built ramp, at Princes Park.
CFC photo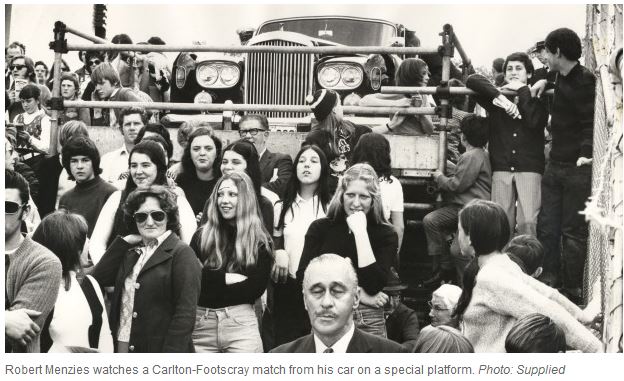 Team
B:
19 John O'Connell
20 Geoff Southby
3 Kevin Hall
HB:
15 Phil Pinnell
11 Bruce Doull
33 Paul Hurst
C:
27 David Dickson
25 Alex Jesaulenko
34 Ian Robertson (dvc)
HF:
17 Brent Crosswell
42 Robert Walls (vc)
5 Syd Jackson
F:
28 Peter Jones
16 Greg Kennedy
8 Trevor Keogh
Ruck:
2 John Nicholls (cc)
43 David McKay
10 Adrian Gallagher
Res:
31 Peter Hall
7 Andy Lukas
Coach:
John Nicholls
Changes
In : B. Crosswell, A. Lukas
Out : G. Crane, B. Armstrong

Note : Andrew Lukimitis had changed his name to Lukas from 1971.


Milestones
150 Games :
Kevin Hall
---
Round 21
|
Semi Final