| | | | | | | | | |
| --- | --- | --- | --- | --- | --- | --- | --- | --- |
| Carlton | 0.2 | 2 | 2.6 | 18 | 3.6 | 24 | 5.7 | 37 |
| Essendon | 4.7 | 31 | 9.11 | 65 | 12.16 | 88 | 12.20 | 92 |

Venue: M.C.G.
Date: Sun September 1, 2002
Result: Loss by 55 points
Umpires: McBurney, McKenzie, Margetts
Crowd: 46,649
Goalkickers: C.McKernan 2, T.Hotton, J.Doering, A.Hickmott 1.
Injuries: S.Camporeale (hamstring), I.Prendergast (AC joint).
Reports: Nil
---
Game Review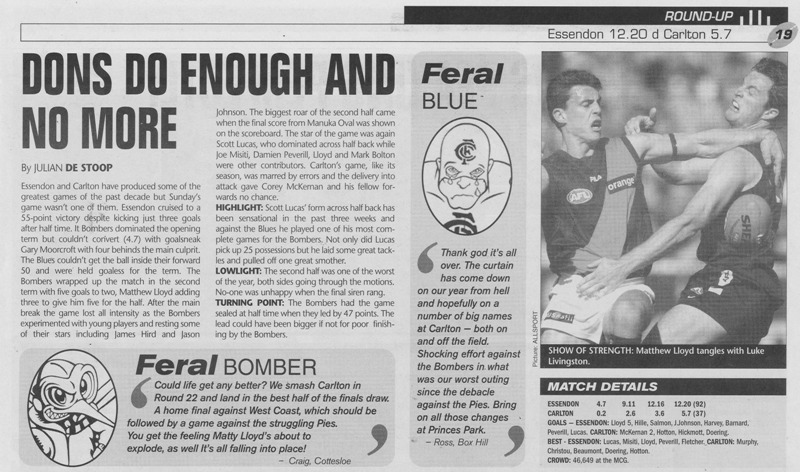 Carlton were never in the hunt against the Bombers in this match. Essendon sauntered to a very easy victory with Scott Lucas playing well for the Bombers.
One of the few highlights for Carlton fans for the day was the team's first goal.
Corey McKernan
marked the ball on the wing, had a couple of bounces, ran to the 50 metre line where he then booted a lovely goal.
Justin Murphy
had 31 possessions,
Simon Beaumont
27 and
Adrian Hickmott
26.
For Carlton it was a notable match in that it was the final appearance for
Ang Christou
,
Michael Mansfield
,
Sam Cranage
,
Trent Hotton
,
Jordan Doering
and
Lindsay Smith
in the Navy Blue guernsey. It would also be
Wayne Brittain
's last game as coach.
As of 2019, both teams have won the same number of premierships.
Team
B:
15 Sam Cranage
4 Luke Livingston
39 Ang Christou
HB:
31 Simon Fletcher
32 Bret Thornton
29 Simon Beaumont
C:
45 Anthony Franchina
20 Andrew Eccles
9 Adrian Hickmott (a/c)
HF:
33 Ryan Houlihan
28 Ian Prendergast
36 Trent Sporn
F:
34 Simon Wiggins
11 Lindsay Smith
12 Matthew Lappin
Ruck:
2 Corey McKernan
18 Justin Murphy
16 Scott Camporeale
Interchange:
37 Trent Hotton
10 Michael Mansfield
48 Jordan Doering
40 Jim Plunkett
Coach:
Wayne Brittain
Emg:
Brendan Fevola
David Gallagher
Andrew Merrington
Milestones
Last Game:
Ang Christou
,
Michael Mansfield
,
Sam Cranage
,
Trent Hotton
,
Jordan Doering
and
Lindsay Smith
Last Game (As Coach):
Wayne Brittain
Brownlow Votes
3:
Damien Peverill (ESS)
2:
Matthew Lloyd (ESS)
1:
Mark Johnson (ESS)
---
Round 21
|
2003