| | | | | | | | | |
| --- | --- | --- | --- | --- | --- | --- | --- | --- |
| Carlton | 4.3 | 27 | 5.8 | 38 | 9.12 | 66 | 13.18 | 96 |
| Essendon | 2.3 | 15 | 5.7 | 37 | 10.7 | 67 | 11.10 | 76 |

Venue: Windy Hill
Date: Saturday 20 May, 1933
Result: Win by 20 points
Umpire: Devine
Crowd: 20,000
Goalkickers: A.Clarke 3, H.Vallence 3, M.Crisp 2, K.Shea 2, R.Cooper 1, C.Davey 1, J.Green 1.
Best: J. Hale, C. Davey, H. Bullen, A. Clarke, K. Shea, R. Cooper
Reports:
Injuries:
---
Game Review
This game at Windy Hill was in the balance right up to three-quarter time, when
Jack Hale
was switched into a roving role, and he and
Ron Cooper
sparked the Blues to a comfortable win. The Blues prevailed in a high standard and very entertaining game, where our experience and steadiness under pressure came to the fore.
Carlton made only one change. Little's ankle had still not recovered and Bob Green was named on the bench. Alas for him, he would warm that bench all day and not take the field..
Conditions were perfect for football and Carlton soon opened the scoring with a goal to Crisp, after nice play from Oprey and Cooper. Essendon's defence was under great pressure, as Carlton were dominating in the air and attacking relentlessly. Street, in particular, was marking well. Essendon missed several chances to score before their first goal came, snatched from the hand of Gill. The Dons were the quicker side and throwing plenty of weight around. Shea and Davey both assisted in a goal to Clarke, and the trio combined again shortly after for Clarke's second. Essendon answered with their second goal. Play became congested and quite vicious at times and Huxtable was felled in one clash. Prolonged Carlton attacks late in the term enabled Vallence and Clarke, with dashing play, to help Shea snap Carlton's fourth near the bell for an eleven point lead.
Carlton continued attacking at the start of the second quarter, but poor kicks from Crisp and Davey resulted in no scores. The Blues' experience was showing and Essendon looked unsettled and rattled. Davey kicked a great running goal to extend the margin. Then Essendon settled, and now began playing relentless football, scoring three goals to make the difference only one point in Carlton's favour at the long break. The honours for the quarter were definitely with the home team. Carlton had been wasteful, hitting the post four times in the first half.
After the break, Shea kicked an early goal, but Essendon's reply was immediate. Another goal to the Dons, and Carlton was under the pump. Only magnificent defence, with Hale very effective, was preventing a real blowout. Two Essendon goals, from a tight angle and good ground play respectively, gave them a handy lead. Green scored a relieving goal, before Egan, with a great mark, kicked to Vallence who scored the eighth Carlton goal. An immediate answer came from Essendon, but Vallence's goal late in the term made the Blues' deficit only one point at the last change.
Clarke opened the last term with a desperate rally, but could only manage a behind. Then Hale and Crisp brought the ball around the outer wing to give Clarke, from a place kick, his third goal and the lead for Carlton. Cooper kicked Carlton's eleventh goal with a long drop kick and when Vallence kicked his third, from a nice pickup on the run, the Blues led by 19 points. Essendon replied, but Crisp goaled late in the game to give Carlton a 20 point victory and third win of the season.
Charlie Davey
rucked tirelessly all match, taking several outstanding high marks as the Blues finished all over the Dons to record their third win in four matches. But in a very even start to the season, no team had maximum points by this stage. The Blues sat fifth on the ladder, behind Fitzroy, Richmond, Geelong and Footscray.
At the end of this round Carlton were in 5th spot on the ladder with a percentage of 98.5
Team
B:
4 Aubrey Martyn
21 Frank Gill (c)
29 Horrie Bullen
HB:
9 Eric Huxtable
26 Jim Park
11 Jack Hale
C:
7 Joe Kelly
15 Maurie Johnson
5 Leo Opray
HF:
8 Keith Shea
14 Jack Green
12 Creswell 'Mickey' Crisp
F:
27 Alf Egan
22 Harry Vallence
19 Ron Cooper
Ruck:
17 Charlie Davey
20 Charlie Street
31 Ansell Clarke
19th Man:
32 Bob Green
Coach:
Dan Minogue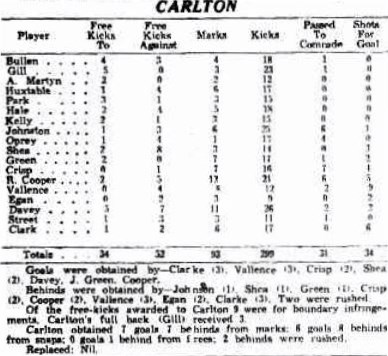 Trove; Sporting Globe May 20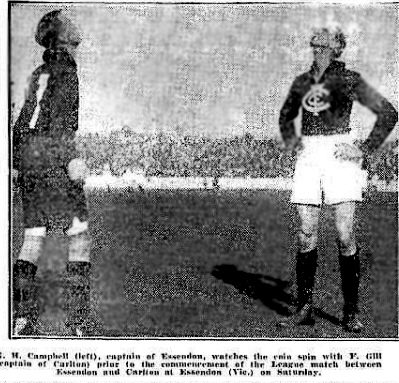 Milestones
Debut:
Bob Green
100 Goals:
Ansell Clarke
---
Round 3
|
Round 5