| | | | | | | | | |
| --- | --- | --- | --- | --- | --- | --- | --- | --- |
| Carlton | 3.3 | 21 | 8.5 | 53 | 11.12 | 78 | 15.14 | 104 |
| Geelong | 4.2 | 26 | 5.6 | 36 | 10.9 | 69 | 14.10 | 94 |

Venue: Princes Park
Date: Saturday May 26, 1934
Result: Win by 10 points
Umpire: McMurray
Crowd: 30,000
Goalkickers: H.Vallence 3, A.Clarke 2, T.Pollock 2, K.Shea 2, J.Cashman 1, J.Cooper 1, R.Cooper 1, B.Green 1, E.Little 1, H.Maskell 1.
Best: K. Shea, F. Gill, R. Cooper, G. Mackie, A. Clarke, E. Huxtable
Reports:
Injuries: M.Crisp (thigh) replaced by J.Crowe early second quarter, J.Cooper (bruised thigh), E.Huxtable (kick to face).
---
Game Review
Following a lacklustre first half from both sides, with the wind contributing to many errors and much fumbling, the game improved dramatically after half time for Carlton to beat Geelong in a thriller at Princes Park.
Carlton made three changes on Thursday night. Joe Kelly was out with a leg injury and Jim Park and Les Hughson were omitted. Jack Cooper came into the side, along with Jack Cashman (the former Fitzroy captain-coach) and Terry Ogden (ex Melbourne and Hawthorn) for their debut Carlton games.
Sparking sunshine and a strong breeze blowing across the ground towards the outer wing greeted the players. Geelong was first away with a free kick and from the forward movement a behind was scored. Good work from Cooper got the ball to Shea and following a great run, he forwarded to Vallence but only a behind was scored. Carlton's first goal came after an assist by Crisp found Vallence who kicked truly. The Blues followed up soon after, when Mackie took a fine mark. He passed to Hale who, from a long run kicked to Clarke who ran into an open goal. Carlton was the quicker side, and Geelong's defence under much pressure, but the wind was contributing to many errors and fumbling. Geelong, playing vigorously, steadied and three goals, two from fine marks, gave them the lead. Now it was Carlton's defence that was under the pump, but Jack Cooper, Gill and De Luca were defending well. Little, also under notice, got the ball from the centre to Vallence for Carlton's third goal, but a quick reply from Geelong gave them a five point lead at quarter time.
Geelong opened the second term with a series of attacks from which their fifth goal was scored. Carlton responded after strong work from Cashman and Pollock saw the ball to Clarke for his second goal. Geelong was on top in the aerial duels with strong marking and good spoiling where required, but Carlton's defence, with Mackie playing well was on top. Little in the centre, with a nice left foot pass, kicked to Ron Cooper who slotted Carlton's fifth goal. But in a major blow for Carlton, Crisp, who had been limping heavily was replaced by Crowe. The game was fierce, with both sides throwing weight recklessly and some indiscriminate kicking in packs occurring. Shea and Little worked well together for Little to kick a lovely running drop kick goal. Geelong's early speed was gone and Carlton now was well on top. A rare error from Huxtable gave them a behind but from the rebound, Shea's brilliant play found Vallence for the seventh goal and a handy twelve point lead. This was extended soon after, when Hale, Little and Ron Cooper combined for Cashman to kick a long punt towards goal which bounced through for a major. Geelong had been wasteful this quarter. When they attacked, poor kicking, due in some part to strong Carlton pressure, had cost them some chances. At the main break, Carlton led by 17 points.
Into attack early in the third quarter, Geelong kicked poorly with a snap for a behind and then a kick out of bounds, before they atoned with a goal following a high mark. Carlton's defence was again under pressure, but Geelong's kicking when in attack was still poor. It improved when a long punt from centre half forward went through for their seventh goal. Little and Shea gave Jack Cooper, who was limping badly, a chance and he goaled to steady Carlton. In a brilliant piece of individual play, Shea eluded five defenders and kicked long at goal. The ball beat the defenders but just bounced the wrong way for a behind only. The game was still fast and Geelong was playing a very physical game. A Geelong goal was answered by Pollock, before two goals from fine play to Geelong levelled the scores. Attacks by Carlton resulted in three behinds but Green marked the kick in from the third and kicked a late goal to make the difference nine points at the last change.
All was set for an exciting last quarter and it did not disappoint, with brilliant marking, long kicking and fast, tough play from both sides. Each team opened with behinds, before some deft handling and clever play gave Geelong two goals and a nine point lead. Cashman, good after half time, Clarke, and Vallence did great work to allow Shea to goal. The crowd was rocking with excitement and roaring continuously. Huxtable was felled in an accidental kick but played on with blood streaming from a cut face. It was do or die stuff from both sides. From a bounce, good ruck work from Cashman, great roving from Clarke and brilliant play from Ron Cooper enabled Maskell to restore the lead to nine points. Then the lead became 15 points after a good run from Hale, who passed to Crowe, and he kicked a 60 yard drop kick to Pollock who marked and goaled. Cashman, with a long kick, made it 16 points. Geelong, not finished yet, then produced a dazzling five minute burst to bring their deficit to four points. Two goals were scored and another goal was saved when De Luca, sandwiched between two Geelong players, took an amazing mark. Yet another Geelong attack came and it took desperate stuff from Gill, De Luca and Cashman to repel. The crowd was dizzy with excitement and had yelled itself hoarse. Very late in the quarter, the brilliant Shea, after another great dash, snapped at goal and this time the ball bounced through as the bell sounded. Carlton had prevailed by ten points in another tense, remarkable thriller.
At the end of this round Carlton were in 5th spot on the ladder with a percentage of 106.0.
Team
B:
33 Jack Cooper
21 Frank Gill
20 Alby De Luca
HB:
9 Eric Huxtable
24 Gordon Mackie
11 Jack Hale
C:
27 Terry Ogden
28 Eric Little
32 Bob Green
HF:
8 Keith Shea
4 Jack Cashman (acting vc)
12 Creswell 'Mickey' Crisp
F:
16 Ted Pollock
22 Harry Vallence
31 Ansell Clarke
Ruck:
17 Charlie Davey (acting capt.)
25 Harold Maskell
19 Ron Cooper
19th Man:
23 Jim Crowe
Coach:
Dan Minogue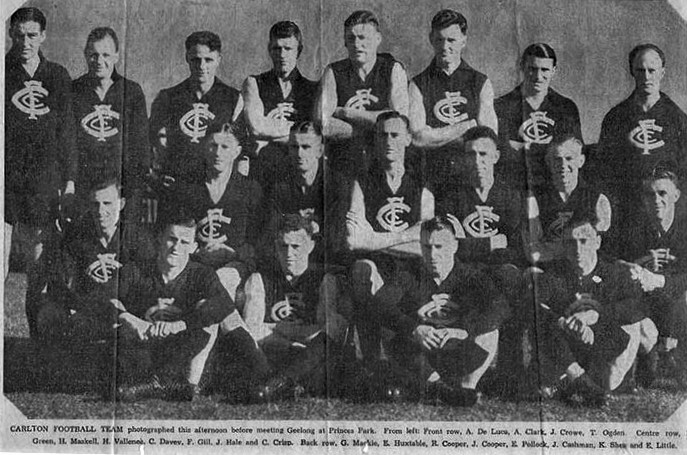 Nearly 86 years later on 26th Jan. 2020 we now have been able to correctly indentify the players, thanks to this new image courtesy of the Albert De Luca Scrapbook .
Back Row L-R: Gordon Mackie, Eric Huxtable, Ron Cooper, Jack Cooper, Ted Pollock, Jack Cashman, Keith Shea, Eric Little.
Middle Row: Bob Green, Harold Maskell, Harry Vallence, Charlie Davey, Frank Gill, Jack Hale, Cresswell 'Micky' Crisp.
Front Row: Alby De Luca, Ansell Clarke, Jim Crowe, Terry Odgen.
Round 4 Team:
Image: Table Talk May 31 (p5)
Harold Maskell out marks Geelong's Jocka Todd. Image: Table Talk May 31 (p5)
Keith Shea flying for the ball. v Geelong. Image: Table Talk May 31 (p5)
Jack Cooper (left) and Frank Gill attempt to mark. The above two photos, Argus May 28

Milestones
Debut:
Jack Cashman
Debut (Carlton):
Terry Ogden
---
Round 3
|
Round 5