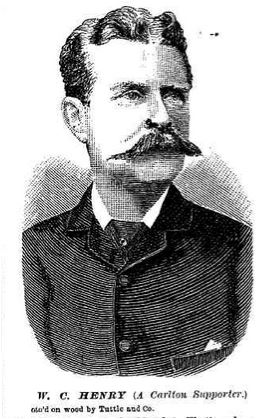 Victorian Football Association
Second Twenty Captain 1879
Career: 1877 - 1882
W. C. (or W. J.) Henry.
1878
August 03
Henry was named in the Carlton Second Twenty squad to play the Adelphians in Royal Park
1878
At the Annual Carlton Sports Day held 5th. October at the East Melbourne Cricket Ground,
W. Henry was runner-up in the Second Twenty (Reserves) drop kick contest with a kick of 53 yards.
(The Argus)
1879
Reserves; A good
back, as Captain, handles his men well.
(The Footballer 1879. p29)
1879
Came second in the Reserves Drop Kick Competition with 48 yards.
1880
Reserves; Plays anywhere; fair mark and kick.
(The Footballer 1880. p24)
1881
Reserves, W.C. Henry; Fair back player, improved as season advanced.
(The Footballer, 1881 p24)
Image: (Trove) Melbourne Punch Sept 01 1887
Footnote
The Bairnsdale Advertiser and Tambo and Omeo Chronicle August 28 1894 (p2) mentions a Jack Henry "of Carlton football fame" who helped his injured miner mate through deep snow in the Glen Wills region. He had walked 17 hours to reach safety, he then promptly returned to the mining camp. (Same person?)
There was a
Joe H. Henry
, but he passed away December 1883
Links
Blueseum:
Pre VFL Players