Author: Tony De Bolfo - Published Sun 05 of Dec, 2010 05:00 AEDT - (6413 Reads)
First published: December 2010




John James
, Carlton's
Brownlow Medallist of 1961
, three-time best and fairest player and Team of the 20th Century half-back, has died after a long illness less than a month short of his 77th birthday.
James, recruited to Carlton from the famed football college, St Pat's Ballarat, in the lead-up to the 1953 season, completed his debut against Footscray at Princes Park in the opening round of that year. It would be the first of 195 senior appearances through to 1963.
Initially employed as a half-forward at Carlton, James earned best first year player honours from the late Max Wenn, and yet the unhealthy goalkicking tally of 8.43 for the season perhaps hastened his relocation to back half, which was of course the making of him as a pre-eminent League footballer.
James, together with centre half-back Peter Webster and the late Denis Zeunert formed one of the more formidable Carlton half-back lines of the mid-1950s.
Zeunert, who together with centre half-back Peter Webster and James formed one of the more formidable Carlton half-back lines, once said of James: "I don't know whether he had a magnet in his shorts or what, but he could be running the other way and the ball would always bounce into his arms".
"He had a terrific reading of the game," said Zeunert.
Webster was suitably modest when asked his view of the James-Webster-Zeunert triumvirate and his part in it.
"Well, John James won a Brownlow Medal and Denis Zeunert was such a very good player … it makes it a little easier, doesn't it?" Webster said.
James donned the big white V for what would prove the first of 15 interstate appearances in 1955, as he solidified his standing in the game as one of its true greats. John Nicholls, in his biography Big Nick, wrote of James; "Often his actions reminded me of a cat, because he could take freakish marks by twisting his body in the air. In his ground play he twisted and weaved, sometimes running backward out of packs, and he was hard to tackle because his strength was unreal. John was not a good kick, but his brilliant marking and ball-getting made up for this, as did his versatility".
At 27, James took out Carlton's second Brownlow Medal after Bert Deacon almost 50 years ago - on August 30, 1961 - the night after he earned the Robert Reynolds Trophy as Carlton's best and fairest for an unprecedented third time.
James polled 21 votes (five x 3 votes and three x 2 votes), to finish two votes clear of North Melbourne's Laurie 'Twinkle Toes' Dwyer and a further two ahead of Hawthorn's Ian Law.
That night, James was in the relaxed company of his wife Maureen, three-year-old daughter Maryanne and one-year-old son Mark, together with teammate Sergio Silvagni, at his home in Station Street, Burwood when news of his win in the count came through.
"I can remember the night John James won it. I just know I was there
at the James' house
because players never sat in on the Brownlow Medal or the Carlton best and fairest in those days," said Silvagni, recently quoted for the book Out of the Blue. "They were calling the count on 3DB radio and we were listening in."
James' Brownlow Medal triumph was hailed by the then Carlton President Lew Holmes, who in his annual report of 1961 penned the following;
"It is Carlton's proud boast that over the near century of the club's existence, it has made each season some valuable and exciting contribution to Victorian League football.
The 1961 season was no exception, for, though our match play was not distinguished by great success, two brilliant individual performances earned the admiration of the football public, and lifted the spirits of our big army of supporters.
The first was the magnificent achievement of John James in taking out the Brownlow Medal for 1961, and the second was the feat of football 'natural' Tom Carroll, in topping the League goalkicking list in his first season of League football.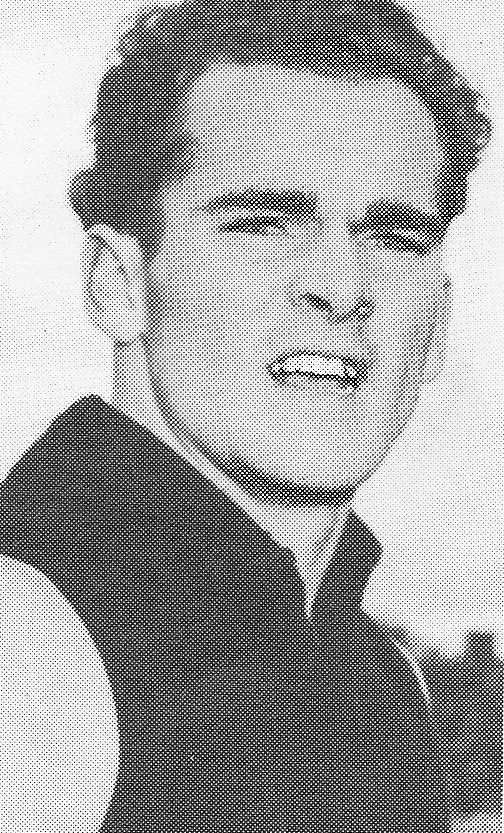 John James, over the nine years of splendid service he has given our Club, has steadily been building up to Brownlow success by his intelligent and often inspired play in the half-back flank position."
James was considered amongst Carlton's best afield in its Grand Final loss to Essendon in 1962. At the completion of the following season, he gave League football away to take on the coaching job at Robinvale for what would be a six-year stint and the premiership seasons of 1965 and '67.
The enormous respect for which he was held as a Carlton footballer was borne out in May 2000, when James was named on a half-back flank in the club's Team of the 20th century.
In March this year, James completed a tour of the Visy Park redevelopment, in one of his final pilgrimages to the old ground. In the new rooms, he was photographed by the locker carrying his famed No. 10 - a number also worn with distinction by Paddy O'Brien, Jim Francis, Fred Stafford and Adrian Gallagher - and soon to be worn by the club's No.1 national draftee of 2010, Matthew Watson.
On viewing the players' extensive weight training facility at the time, James' thoughts were drawn to a makeshift barbell he used to work out on back in the 1950s - a piece of steel railway track onto which pieces of iron piping were hammered at either end.
James was in the room at the Crown Palladium in September when Chris Judd's name was called as Carlton's fifth Brownlow Medal recipient. At the time he was quoted saying: "I've never had the chance to hold a conversation with Chris in my life, but if I did I'd simply congratulate him and welcome him to the group as a worthy and most deserving winner".
"I'm quite proud of him and am very excited there's another man in the group," he said. "We've had five in 87 years and that's not enough is it."
Carlton President
Stephen Kernahan
said that James would be forever remembered as "one of the truly great players in this club's long and proud history".
"The Carlton Football Club is poorer for the loss of John James, a Life Member of Carlton and a much-revered member of our Team of the 20th century. I know that I speak for all connected with Carlton in extending my deepest sympathies to the James family at this sad time," Kernahan said. "I never saw John James play, but it's clear that his impact on the Carlton Football Club was immense. He was this club's second Brownlow Medallist - one of only five Carlton players in the history of the count to realise that rare honour - and was the first Carlton player to achieve three club best and fairest awards. "In an era when team successes were all too rare, this was one Carlton footballer whose individual brilliance supporters came to see."
One son,
Michael
, represented Carlton in 12 senior matches in 1991, while another, Paul, turned out for the Blues at Under 19 and reserve grade level
Links
James' Blueseum Biography
| Image Gallery