| | | | | | | | | |
| --- | --- | --- | --- | --- | --- | --- | --- | --- |
| Carlton | 4.6 | 30 | 9.11 | 65 | 13.16 | 94 | 18.21 | 129 |
| Sth Melbourne | 3.4 | 22 | 4.8 | 32 | 6.14 | 50 | 7.17 | 59 |

Venue: Princes Park
Date: Saturday April 24, 1937
Result: Win by 70 points
Umpire: Batt
Crowd: 33,000
Goalkickers: H.Vallence 3.6, A.Clarke 3.3, B.Butler 3.2, K.Dunn 3.0, K.Shea 2.1, C.Davey 1.2, J.Carney 1.1, M.Crisp 1.1, B.Green 1.0, J.Wrout 0.3, rushed 2.
Reports:
Injuries: E.Huxtable (thigh) replaced by J.Park at half time
---
Game Review
At the end of this round Carlton were in 1st spot on the ladder with a percentage of 218.6.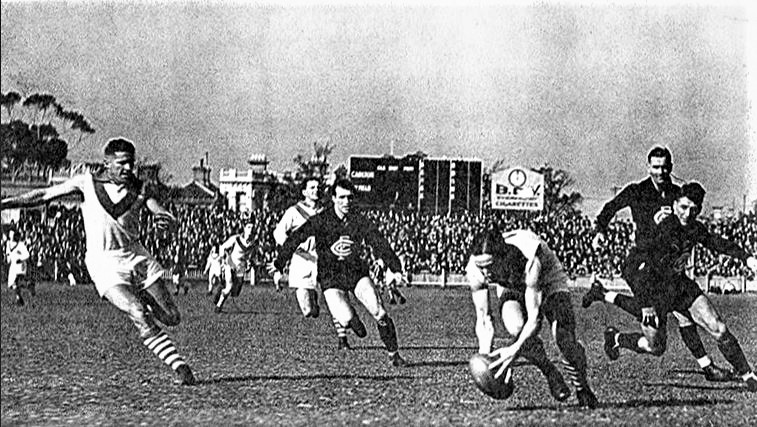 First quarter action on the Blues' forward line. Carlton players L - R: Keith Shea, Harry Vallence and Bert Butler
South players, Austin Robertson Snr, Bill Faul and Jack Austin with the ball.
Good shot of the old score board and quarter clock. The letters on the scoreboard to our right, correspond to letters on a page in the Football Record.
The end of quarter scores from the five other VFL games were displayed and updated.
The ornate white building on Garton Street, to the left of the scoreboard is still standing eighty years on.
(This image Blueseum. Original image Argus April 26 p6)




Trove; Sporting Globe April 24
Team
B:
6 Fred Gilby
21 Frank Gill
14 Rod McLean
HB:
9 Eric Huxtable
1 Frank Anderson
11 Jack Hale
C:
7 Jack Carney
10 Jim Francis (vc)
32 Bob Green
HF:
8 Keith Shea
28 Jack Wrout
12 Creswell 'Mickey' Crisp
F:
5 Keith Dunn
22 Harry Vallence
29 Bert Butler
Ruck:
17 Charlie Davey
20 Will Kuhlken
31 Ansell Clarke (c)
19th Man:
26 Jim Park
Coach:
Percy Rowe
---
1937 | Round 2