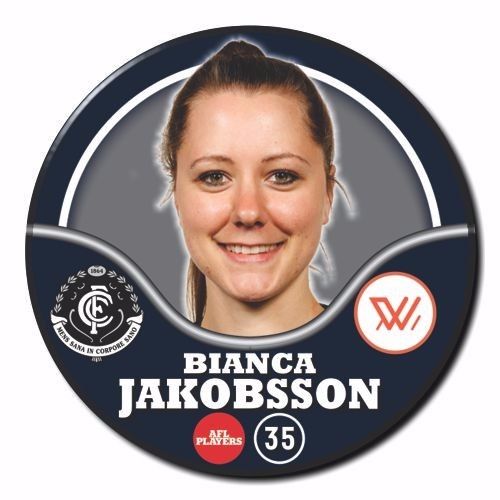 Career : AFLW 2017
Debut : Round 1 2017 vs Collingwood
Carlton Player No. 14
Games : 7
Goals : 4
Last Game : Round 7 2017 vs Brisbane Lions
Guernsey No.: 35
Height : 174 cm
DOB : March 30, 1993
Carlton secured the services of Bianca 'BJ' Jakobsson who is of Swedish decent, selecting the forward with its first selection in the AFL Women's draft. Hailed as one of the elite players in the 2016 talent pool, she will further strengthen the Blues' forward line. The 23-year-old has "incredible" athletic attributes according to senior women's coach Damien Keeping, matching her ability to take strong contested marks. "Bianca has supreme decision-making skills when she has the ball," Keeping said. "Not only will she aid our forward line, but she has the versatility to play a role through the midfield and down back when required." After recovering from a severe knee injury, Jakobsson was named the Western Bulldogs' most influential player in the team's win over Western Australia in early 2016 – a true testament of her character.
Bianca Jakobsson quote after she was drafted by the Blues; It's a dream come true and it's something I never thought would happen in my career. I grew up in New South Wales and moved down here when I was nine years old and got on the Blues bandwagon ever since and it's a dream come true to play for the team I grew up barracking." Jakobsson was studying in the process of obtaining her Bachelor of Exercise Sport Science at Deakin University.
Recruited from: Cranbourne (VIC)
In May 2017, Jakobsson was traded to Melbourne in exchange for a second round pick (number 12 overall) in the forthcoming 2017 AFL Women's draft. In her 3 seasons at Melbourne Jakobsson would play a further 13 games and boot 3 goals. At the end of the 2020 season Jakobsson would be traded to St Kilda for the 2021 season.
Jakobsson's partner Darcy Guttridge also plays for AFLW club St Kilda.
Cranbourne vice-captain Bianca Jakobsson selected with pick three in draft
BIANCA JAKOBSSON is in the history books as Victoria's first female draft pick after being selected with pick three yesterday by Carlton in the inaugural AFL Women's draft.
Jakobsson, 23, vice captained Cranbourne's VFL Women's side this year after a stint at Berwick. Having played her junior career at Narre South Lions, playing league football was Jakobsson's dream. She joined Cranbourne in 2014 but sat out most of the season after undergoing a knee reconstruction. All told she spent 22 months on the sidelines.
Told on Sunday that she'd been selected to play for Carlton, Jakobsson had to keep the announcement secret until the draft had taken place. "I was over the moon, honestly it didn't sink in until last night. I was going to play AFL footy," Jakobsson said. "I wasn't allowed to tell anyone … it was so hard to stay quiet, but it was a very special moment." Jacobsson, a lifelong Blues supporter always wanted to be picked by Carlton. "I'm so pleased to be at Carlton, it's going to be my extended family for years to come and I can't wait to put my heart and soul into supporting the girls and the club." Jacobsson was coached by Carlton's Damien Keeping in the AFL's two exhibition games earlier this year and said that he played a big role in her development. "(Damien's) such an awesome coach … he's a big part of me wanting to play at Carlton." A sign writer by trade, Jacobsson said the AFL and the eight women's clubs would do their best to accommodate those who have jobs or are studying. "Training will be outside of work hours and the club's taken into account that most of us are still working full time or studying." Notably, Jacobsson also won Cranbourne's best and fairest award last week. The Eagles polled well as a club at the draft securing seven picks, three of whom will play at the Blues next year. Bianca Jakobsson, second from the left, with the seven other first round draft picks. Cranbourne president Shane Baker said he was "totally surprised" at how many Eagle's girls were picked in the draft. "We expected to have a few girls go through but to have seven was just incredible," Baker said. "I'm so proud of the girls. (Cranbourne) has the number one Victorian draft … that's a fantastic achievement for our club." "There's so much interest in women's footy and it's grown incredibly overnight since the draft." Jacobsoon will line up for the Eagle's VFL side next year after the AFL season concludes, indicating that she'll likely step up to captain the side in 2017. "I'm so grateful to have such a supportive family and group of friends. They've allowed me to put my heart and soul into it." "Yesterday was such a historic day for women's footy. I always watched the men's AFL draft and wished that I could experience that feeling one day … and now I have." -
Bryce Eishold, Cranbourne Leader
Jakobsson right where she belongs
Bianca Jakobsson has been a Blues supporter her whole life, and always dreamed to one day play AFL for her favourite side. That dream came true when she was selected by Carlton at pick 3, which was also the coveted first pick in Victoria, in the AFL Women's draft last year. Jakobsson now dons No.35 on her Carlton guernsey, the number she's stuck with ever since she first picked up a footy. "One of the girls at primary school got me to play with her," Jakobsson recalled. "I think I was 11 at the time, and she told me I had some talent. They gave me the jersey with number 35 on it and I just pulled on that jersey and I never looked back. I just love it." As the profile of Women's AFL has risen, so has Jakobsson's profile in the game, but it wasn't an easy path for her to get to where she is now. She spent two years on the sidelines recovering from a serious knee injury and only returned to the elite level last year for the Western Bulldogs in an exhibition game against Western Australia. True to form, Jakobsson used her return to football to assert herself as one of the best players in women's footy. She was awarded best-on-ground honours in that match - her first at the elite level since 2013. "I didn't want to lose my elite ability, and I did often wonder if I'd get back to that elite level," she said. "I kept working and persevering. There was a lot going on in the background, there was the first time an exhibition match got televised and I wasn't playing. Seeing that on TV pushed me harder because I knew I belonged there on the field with those girls." Such persistence and resilience in the face of what could of been a career-ending injury shows strength of character to match Jakobsson's elite skills as a footballer. Coach Damien Keeping describes Jakobsson as an incredible athlete, who will bring versatility to the Blues this season. Her ability to take strong contested marks in the forward line but also play a domineering role in the midfield or backline when required makes her a real asset to the Bluebaggers. For now the focus for Jakobsson is very much on the upcoming season and what she can do to ensure the Blues have a very successful first season in the AFLW. "I want to bring the strong form I had in 2016 into this season," she said. "I just want to be a really strong asset to the team and get some wins on the board for Carlton." Jakobsson is also aware that all eyes will be on her as the highest pick in Victoria, but they are expectations she's taking in her stride. "I think we're all equal. I'm at Carlton now and whether you're the marquee or rookie, we're all equal and I just want us to play good footy and be the best we can be." -
Lucy Watkin, Carlton Media February 2, 2017
Jakobsson's 'Blue' ribbon day
Having grown up a one-eyed Blues supporter, Carlton forward Bianca Jakobsson says running out in front of a packed house at the Club's spiritual home last Friday night was an "unreal" experience. "The support behind us was amazing. To go out there and see that sea of navy blue was unreal," Jakobsson told afl.com.au after Carlton's win in the historic first NAB AFL Women's competition match, against Collingwood at Ikon Park. It was far and away the biggest crowd Jakobsson and most others on the field had played in front of. She said the key to the Blues' performance was staying focused early. "We had to settle our nerves and try to play with some freedom," Jakobsson said. The 23-year-old gathered 17 disposals and kicked a goal in the Blues' big victory. Carlton coach Damien Keeping praised Jakobsson's efforts after the game and emphasised how important her second half had been to the result. "Her influence grew as the game grew and we'll look to build that consistency across four quarters for her," Keeping said post-match. Jakobsson was the first Victorian selected in last year's AFLW draft. Being drafted was a relief for her after a long stint away from footy recovering from an ACL tear in 2013. She returned to footy in 2015, playing for Cranbourne in the VFL Women's competition, but wasn't 100 per cent ready. "I came back and tried to play a few games and it just didn't feel right," said Jakobsson, who was born in Binnaway, a small town in central NSW, and moved to Victoria at age nine with her family. Keeping coached Jakobsson in her first representative game back, for the Western Bulldogs in an AFL women's series exhibition match early last year. Jakobsson, who started playing footy when she was 11, credited Keeping for getting her back on the right path. "He instilled a lot of belief in me after that March game. He told me to just do what I do – take my high marks and run," she said. Keeping said he rated Jakobsson highly because of her "incredible" athletic attributes through the midfield and up forward. "She is a great lead-up target between the arcs and has an enormous athletic capacity," he said. "She'll be the source of a lot of our ball movement through the forward line. "I got to know her very well as an individual and her resilience to come off her knee injury has propelled her into the top end of talent in the competition." A sign-writer by day, Jakobsson admitted she never had a plan B for her career, even while injured. "I didn't really think about (other professions) because I was always just so focused on football." -
Nic Negrepontis and Ben Guthrie, AFL Media February 10, 2017
AFLW Mega Trade
Carlton has continued to strengthen its AFLW stocks after reaching an agreement with Brisbane to welcome
Tayla Harris
to the Blues. The complex trade made on Thursday sees Harris arrive at Carlton along with the Western Bulldogs' pick 12 in the 2018 AFLW National Draft. To secure Harris, the Blues traded three of their inaugural players –
Bella Ayre
and
Nat Exon
to Brisbane and
Bianca Jakobsson
to Melbourne. The Western Bulldogs have secured former Melbourne midfielder/forward Deanna Berry for the 2018 AFLW season in a four-way trade with Melbourne, Carlton and Brisbane. As a part of the deal, Carlton has received pick 12 in the 2017 AFLW Draft from the Western Bulldogs.
Career Highlights
2017 -
AFLW Allies Representatives
Links
Blueseum:
Jakobsson's Blueseum Image Gallery