Author: Anthony De Bolfo - Published Mon 01 of Feb, 2010 19:32 AEDT - (5807 Reads)
First published: February 2010




Before
"Sticks"
, before
"Jezza"
, before "Turkey Tom", before
"Fev"
and even before "Soapy", the vibrantly-named full-forward Wallace Alfred Richard O'Cock stood front and centre in the first team fielded by the football club in the VFL's maiden season of 1897.
And now, more than 113 years after he took to the field for that historic opening round match against Fitzroy at Brunswick Street, the first confirmed image of
"Wally" O'Cock
has surfaced, with the assistance of a descendant, Graeme Cumbrae-Stewart OAM.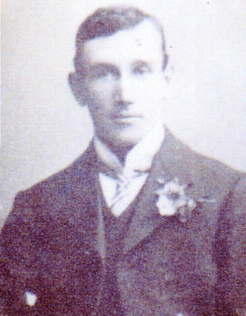 "Wally" O'Cock
was born in the Melbourne inner-city suburb of Clifton Hill on June 17, 1875. His father, was a bank manager named Alfred Ferrie O'Cock, his mother, Anne Wallace, and records indicate that Wally's paternal grandfather originally hailed from Somerset in south west England
The dedicated Carlton website Blueseum notes that Wally was already established in Carlton's team when the first four matches of the VFL were staged on Saturday, May 8, 1897. It also notes that Wally lined up a placekick in the second quarter of the Fitzroy match and sent it sailing through the posts - the first goal kicked by a Carlton footballer in League competition.
That July, after being laid up for a period with injury, Wally endeavoured to force his way back into the team. Initially he was overlooked for selection after failing to obtain a medical clearance, but the club registered him under the name Alfred Wallace and he promptly booted two goals in a match-winning performance against the Fuschias.
The Wallace surname is itself famous in sporting circles. Wally's uncle Donald Smith Wallace was an MP and pastoralist who owned the respective Melbourne Cup winners of 1888 and 1890, Mentor and Carbine - and as Cumbrae-Stewart added, "the story goes that Donald got Carbine on the cheap".
Wally's 15 goals from ten matches through season 1897 earned him the plaudits as the club's first leading goalkicker. He would manage a further 31 appearances for the club over the next four years, despite having been in absentia for all of 1900 for reasons unknown.
He was only a few days short of his 26th birthday when he turned out for Carlton for the last time, against Essendon at the East Melbourne Football Ground in June 1901. He later fronted for a local outfit in Preston, but his the glory days on the paddock were long gone.
"I remember Dad telling me that Wally was a nuggety little bloke with a fiery temper," Cumbrae-Stewart said recently.
"I believe he had to give up footy after he copped a spike from a boot to his leg. He was also left with a permanent limp, which forced him to give up his work as a commercial traveller with MacRobertson's.
"Wally moved to Holbrook to work for his brother-in-law Adam Anderson and his wife Alice who managed at property called Wentworth . . . it was probably share farming of some sort.
"He later took on his own property, but fire wind and rain ruined it and he went broke. He then started as a stock and sales agent in Holbrook, during which time he and his wife Luisa Durrant raised six children.
Wallace Alfred Richard O'Cock died in Richmond on June 14, 1951, aged 74. He was buried in the New South Wales township of Holbrook, in a grave shared with his beloved wife, who died nine years previous.
But his name, and now his visage, are indelibly aligned with all things Navy Blue.
Links
Blueseum:
O'Cock's Blueseum Biography