Author: Tony de Bolfo - Published Fri 13 of May, 2016 08:49 AEST - (7681 Reads)
Article published in May 2016 on carltonfc.com.au, republished on the Blueseum




Of the thousands who claim it as an "I was there the day moment", none was more impeccably placed to view
Peter Bosustow
's Mark of the Year than the bloke in the No.10 dark Navy Blue guernsey.
Rodney Steven Waddell
was front-on to the pack when "The Buzz" completed that famous leap in the shadows of the since-demolished Robert Heatley Stand at Princes Park.
"I was under the pack waiting for the crumbs, when all of a sudden Bosustow came out of nowhere and took this big mark," Waddell said this week.
"I was right in front of it, No.10, and that was a huge grab. It was inspiring and really lifted the team to another level."
Waddell emerged from the dugout that day, for what was the first of five senior appearances for the Carlton Football Club through the Premiership seasons of 1981 and '82.
This was a landmark moment in Carlton history - Round 18, 1981 versus Geelong, in what doubled as Bruce Doull's 250th senior appearance for the club. In the lead-up to the match, injury and illness had robbed coach David Parkin of household names Barry Armstrong, Rod Austin, Jim Buckley, Wayne Harmes, Warren Jones, Robbert Klomp, Alex Marcou and Val Perovic - and yet the replacements still found a way in crafting a meritorious 33-point victory over the visitors.
"We were pretty much depleted but we actually beat them and David Parkin rated it as one of the greatest victories," Waddell recalled. "I remember he had a plaque made up of that team and it's probably still up at the club today."
Magnificently, Waddell's clearance to Carlton came at a cost of four Premiership points to Collingwood's reserve grade team, as Waddell had turned out for the Magpies illegally.
At the time he was chasing leather for the then Diamond Valley League club Lalor, then coached by the former Collingwood half-forward Barry Rist. Rist was hell-bent on getting Waddell to Victoria Park on the strength of Waddell's best afield showing against Reservoir-Lakeside in the 1980 DVFL Grand Final
"Naturally he (Rist) was a mad Collingwood supporter and wanted me to end up there, so he took me over to his place in Diamond Creek which was in Collingwood's zone. But I lived in Lalor which was Carlton's zone."
Not surprisingly, Collingwood and Carlton soon waged war over Waddell, and a subsequent VFL investigation ensued. Ultimately the League ruled that the player was indeed zoned to Carlton, and the black and whites were duly fined $500 and stripped of the four competition points they had earned with Waddell in their team.
This week, with Carlton and Geelong meeting in the AFL's Indigenous round, Waddell, whose League career ended after a further 20 senior appearances for the Cats, will watch on with much interest. Co-incidentally, Rod's sister is the mother of Steven Motlop, who'll be going around in the hoops at Etihad Stadium on Sunday.
It's more than 30 years since Waddell, now nearing 60, last played League football, and interviews have been truly scarce – perhaps the legacy of his disinterest in the world of social networking, mobile phones and the internet.
But Carlton's No.10 is going well and was only too happy to reflect on his amazing life and times, after being located in his home, just a few kilometres south-west of the Bendigo CBD.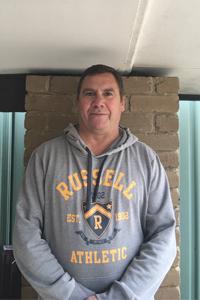 This is Rod Waddell's story:
"I was born in the Kimberleys in Western Australia. My mother, Mavis Lacey, was Indigenous and my father, Steve Waddell, was white. He was born in Heidelberg in 1931 and lived on the family's dairy farm. I remember he used to tell this story to my Aunty Maureen that he jumped on a horse in Heidelberg and said 'Tell Dad I won't be home' - and that was the last my grandfather ever saw of him.
I grew up in a place between Derby and Kununurra, on the Mount Elizabeth cattle station run by my father's people. My father was a bullcatcher and he used to drag guys around the bush with him chasing wild bulls. I was only eight and he had me tying up these wild bulls by the legs. It was so isolated up there that some of the wild cattle lived and died without seeing a man.
In terms of my family story I can go back as far as when I was a kid on the cattle station. I remember going out hunting natural game with the Aboriginals on the station. We used to hunt flying foxes and goannas. We'd use boomerangs to catch the flying foxes, then skin them. We'd then dig a hole, fill the hole with rocks and heat the rocks. We'd put the foxes on the rocks and cover them with paperbark. We'd leave them to cook for an hour and a half, and they were quite nice to eat.
With the goannas you'd get them in holes or up trees. You'd hunt them with a stick or a boomerang, skin them and cook them under the ground or on hot coals. If you didn't know any better you'd think you were eating chicken breast.
We also used to find honey from a native bee which they call "sugar pot". The bee was like a little bushfly which produced wonderful native honey . The honey was protected by a dark casing in the side of a tree, you could cut the casing out to find the honey, and a lot of honey there was too. You could basically stick your hand in to retrieve the honey because the bush bee didn't sting.
In the end, Mum resolved to send my younger brother and I down to Melbourne for schooling. I moved to Lalor with Raymond and I was probably seven or eight at the time. I lived with one aunty and he lived with another, and my sister Stephanie returned to Darwin to live with my mother.
That was hard for me because when I was up there I didn't want to come down to Melbourne and when I got to Melbourne I didn't want to go back. No sooner had I settled in one place than bang - I was suddenly back in another.
I never played footy in Darwin, but I did at Lalor Primary School where Alex Marcou and David Glascott went. I started playing playground footy there, I caught on to the game, I really enjoyed it and the rest as they say is history.
When I came to Carlton the famous 'Mosquito Fleet' was up and running and it was difficult to break in. In saying that, I didn't want to leave Carlton, but in those days the contract they had put to me wasn't going to kick in until the end of the '82 year. If that was the case I could be approached by other clubs - and that's what happened with Geelong, even though David Parkin didn't want me to go.
Funny thing, I sat in the stands watching the 1981 and '82 Grand Finals. I was actually close to making the 1981 Grand Final. I trained right through the '81 finals series at a time when Rod Ashman was battling a niggling injury and it looked like I might have got a run in his place. But we knocked Geelong off in the semi and got the week's break, which gave Rod the chance to get himself right . . . and he won everything but the Brownlow Medal that year.
If there was 22 a team back then like today I would have been there. But the main thing is that the team won.
I had no problem at all with Carlton. It was a great club, I didn't really want to leave, I had a lot of mates down there and it was just that I got a better offer and my girlfriend at the time encouraged me to take it.
After finishing at Geelong I went back to Lalor to play a few games then joined Jerilderie in the Murray League. We were up against teams like Finley, Deniliquin and Cobram, and won a few Grand Finals. I played with Russell Jeffrey and Mark and Paul Motlop who played all over Australia. Russell Jeffrey, who played at St Kilda, was a good mate of mine and he helped me out when I was coaching there for a time.
I also used to play footy up in Darwin, for Nightcliff, which meant that in those days I was playing 12 months of the year.
After I finished my playing days with Jerilderie believe it or not I started shearing. I knew nothing about shearing, but I got into the industry and started to travel. It was around 1989 and work took me to south-west Queensland, which is when I gave football away. A friend of mine, Bill Stapleton, who was the runner at Carlton through the 1980s, then bought an abattoir in Ararat. He phoned me to say "Can you come down to help me for 12 months?", which I did . . . and 12 months turned into 15 years.
When I came back to Ararat I came out of football retirement after 12 years of not playing football and ended up playing for the Marong Football Club just outside of Bendigo, after meeting up with a bloke named Teddy Rogers. I'm now living outside of Bendigo and I'm back involved in the shearing run. I have a mate in the industry and I help him out a bit but it's more casual thesedays. When you're young you think you're bulletproof, but it catches up with you.
I never had any kids of my own, but I was with a lady for 16 years and she had three kids which I helped bring up. The eldest one at the time was six and they're all in their 20s now, and they're really good kids.
These days I'm still a Carlton and a Geelong man. I've got a soft spot for both of them and my nephew plays at Geelong of course.
I still love Carlton and I still catch up with old teammates. At a 70th birthday for one of the old Blue Diamonds Dicky Merton I caught up with Wayne Harmes and Des English.
The Indigenous round was unheard of when I was a playing, but it's a good thing I reckon. When I was playing I got a fair bit of racial abuse, more from the crowd than the players, but I actually took it the other way and used it to my advantage. My view was 'If they're calling me this I must be doing something right' and you lifted to another level.
These days I'm happy where I am living and I'm in no hurry of moving, but who's to know?
Healthwise I'm not too bad. Other than a groin problem and a bruised achilles I never got a lot of injuries out of the game. That's about all I got out of football, so I was quite lucky."
Links
Blueseum:
1981
|
Waddell's Blueseum Biography