Career : 1925
Debut : Round 1, 1925 vs South Melbourne, aged 22 years, 126 days
Carlton Player No. 404
Games : 17
Goals : 0
Last game : Round 17, 1925 vs Fitzroy, aged 22 years, 259 days
Guernsey No. 2
Height : 178 cm (5 ft. 10 in.)
Weight : 70 kg (11 stone, 0 lbs.)
DOB : 27 December, 1902
Alan Leitch was one of six sons of the legendary Tasmanian football administrator William Leitch, who served as Chairman of the Tasmanian Football League for more than 50 years, and was an early Vice-President of the Australian National Football Council. An even more accomplished all-round sportsman than his father, Allan excelled at football, athletics and cricket. In
1925
, he spent one brief season with the Navy Blues, but returned home the following year while still at his peak.
Leitch started his senior football career with Hobart-based New Town Football Club in 1922. Three years later, he was recruited by Carlton after representing Tasmania with distinction as a centreman in the 1924 Hobart Carnival. In Melbourne, he made a big impression before he had even played a game for his new club, by running a close second in the Victorian 440 yards (400 metres) state championship.
When the 1925 VFL season began in earnest, Allan was assigned the
number 2 guernsey
previously worn by
Newton Chandler
. He was always going to make an early debut, and played his first game on a wing against South Melbourne at the Lake Oval in
round 1
. With another Taswegian,
Stan Trebilco
, in the centre, and
Harry Bell
running the opposite wing, Leitch was given a taste of what was to come, as a ragged Carlton team went down to the Bloods by six goals.
Leitch went on to play 17 consecutive matches that year, but celebrated only five wins as the battling Blues fell to ninth place on the ladder, under three different captains and three different coaches. Princes Park wasn't a happy place by season's end, so Alan didn't take much convincing to abandon VFL football and head back across Bass Strait to New Town.
Over each of the succeeding seven seasons, Leitch led New Town as either captain or captain-coach, and was regarded as one of the Island State's champions. He won the Wilson Bailey Trophy as the Best and Fairest player in the TFL in 1929 (the year before the award was renamed the William Leitch Medal in honour of his father) and captained Tasmania in his second ANFC Carnival in Perth. In 1931, he went within one vote of collecting his second League Best and Fairest, but was edged out by ex-Collingwood champion Albert Collier. Between 1926 and his retirement in 1932, he represented the TFL on 24 occasions.
In 1957, New Town amalgamated with Glenorchy Rovers, relocated to Hobart's northern suburbs, and became the Glenorchy Magpies. Eight Premierships followed by 2008, matching the eight won in the green and white colours of New Town between 1919 and 1956. Throughout that time, Alan Leitch remained closely involved with the game at all levels, until his passing at the age of 73 on July 1, 1976.
In 2000, Alan Leitch was selected in the back pocket in Glenorchy's Team of the Century. Five years later, he was inducted into the Tasmanian Football Hall of Fame. In 2006, he was joined there by his father.
Footnote
"Alan Leitch (son of the Southern League president, Mr. Wm. Leitch), and who played with New Town last year, in the match against Geelong last Saturday, was Carlton's outstanding man, playing on the wing. His performance was a nippy one, and was the mover in many of the side's attacks. He was fast to the ball, and when he obtained it he put it to good use."
The Advocate
, (Tasmania), June 6, 1925.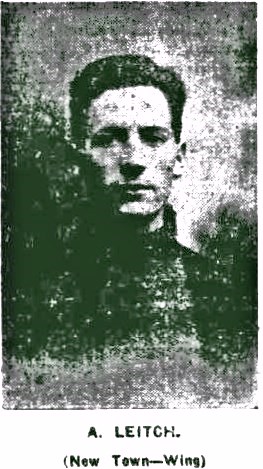 News (Hobart) July 25 p4 1924

Image: Trove; Sporting Globe August 22 1925
Links
Blueseum:
Summary of playing statistics for Alan Leitch
|
Leitch's Blueseum Image Gallery