| | | | | | | | | |
| --- | --- | --- | --- | --- | --- | --- | --- | --- |
| Carlton | 1.1 | 7 | 4.6 | 30 | 4.6 | 30 | 6.9 | 45 |
| Essendon | 1.7 | 13 | 1.10 | 16 | 3.14 | 32 | 5.15 | 45 |

Venue: East Melbourne Cricket Ground
Date: Saturday April 29, 1911
Result: Match drawn
Umpire: Noseda
Crowd: 20,000
Goalkickers: J.Wells 2, N.Bowen 1, V.Gardiner 1, R.Johnson 1, J.Marchbank 1.
Reports:
Injuries: J.Marchbank (sprained knee), T.Hanson (minor injury), F.Elliott (stitches required to gash over left eye), J.Wells (knocked unconscious, later returned to the field)
Game Review
Amended rules for 1911 saw boundary umpires instructed to face the boundary fence when throwing the ball into play, and players now would be free-kicked if they stepped inside the centre circle prior to, or when the umpire bounced the ball.
Essendon kicked down the slope to the railway goal and quickly scored a behind.
New man
Ned Bowen
repulsed an attack and dashed down field, he got the ball to the other newcomer
Tom Hanson
who enabled
Jim Marchbank
to goal. The home side dominated the remainder of the quarter but could only manage six behinds. At quarter-time Carlton trailed by 6 points, 1.1 - 1.7
Vin Gardiner
's shot just missed but he made amends moments later when he scored the Blues' second goal. Then
Jack Wells
' long kick from an angle scored the third goal. Debutant
Roy Johnson
kicked Carlton's fourth. Close to half time the Blues slackened the pressure and the Dons added three behinds. At the break Carlton led by 14 points, 4.6 - 1.10
Essendon attacked for most of the quarter and added two goals and a couple of behinds to hit the front, and kept the Blues scoreless. Carlton trailed by 2 points, 4.6 - 3.14
Within a few minutes of the start of the final term,
Jack Wells
snapped the Blues fifth goal and then
Ned Bowen
scored the sixth. Essendon then took charge and goaled, adding a behind they led by two points with just two minutes to play. The exhausted Blues doggedly stuck to their guns and managed a couple of behinds to equalise the scores, 6.9 - 5.15
Jack Worrall
, Carlton's triple premiership coach, had joined the Same Olds after a year away from coaching. His first appointment with his new club pitted him against his former charges at his new East Melbourne home.
A titanic battle ensued. Essendon's poor kicking for goal allowed the Blues to hold sway throughout the first half before the Same Olds forged to the lead in the third quarter. Late in the last quarter Carlton's Jack Wells twice had opportunities to snatch back the game but 2 behinds resulted, and the match finished in a tie.
After this round Carlton were 6th on the ladder, with a percentage of 100.0.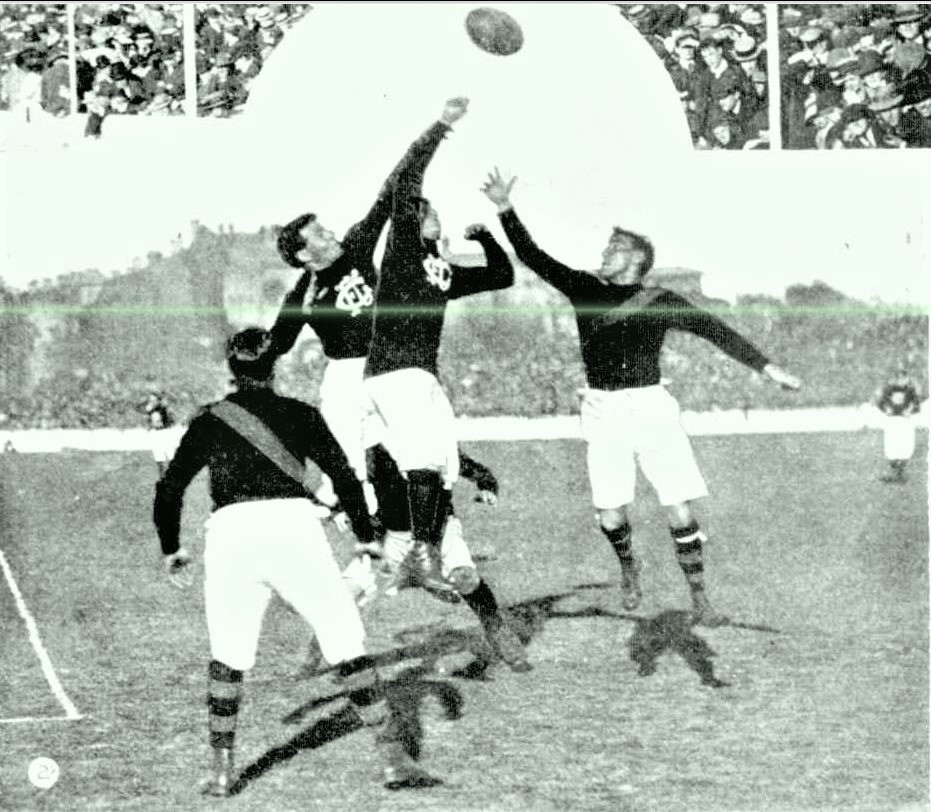 Blues' Bruce Campbell and Rod McGregor
Image: Weekly Times May 06 (p28)
Team
Milestones
Debuts:
Ned Bowen
,
Bruce Campbell
and
Roy Johnson
Debut (Carlton):
Harry Matheson
and
Charlie Taylor
Debut and Only Game:
Tom Hanson
First Game (Against us as Coach):
Jack Worrall
---
1911
|
Round 2