Career : 1910 - 1914
Debut : Round 1, 1910 vs Collingwood, aged 27 years, 116 days
Carlton Player No. 232
Games : 105 (66 at Carlton)
Goals : 55 (51 at Carlton)
Last Game : Round 5, 1914 vs Fitzroy, aged 31 years, 139 days
Guernsey Nos. 16 (1911), 8 and 19 (1912), 20 (1913) and 1 (1913-1914
)
Height : 177 cm (5 ft. 9 in.)
Weight : 89 kg (14 stone, 0 lbs.)
DOB : January 4, 1883
Club Captain
1912
Captain-Coach 1913
Another gifted player whose career was curtailed by injury, Jack Wells appeared in only 66 games in five seasons at Carlton, but was nevertheless worthy of captaining both his club and his state.
Born in Stawell in western Victoria, Jack travelled to WA in his teens and began his senior football career with the Rovers club. He then crossed to Perth in the WAFA and started impressing the football public with his often freakish ability. A barrel-chested, 177 cm powerhouse with an abundance of football smarts, he was quite simply a match-winner who was equally effective across the centre, up forward or in the ruck. On one famous occasion, he kicked 11 goals at full-forward against Subiaco.
But even with Wells in its side, Perth couldn't overcome East Fremantle (with future Carlton defender Martin Gotz roving superbly) from taking out the 1904 WAFA Premiership. After that, a number of VFL teams came knocking at young Jack's door, and in 1906 he returned to his home state to play with St Kilda. He was appointed captain of the Saints in 1907 and led them into the finals, but two years later he was embroiled in a factional brawl among the St Kilda committee, and quit the club.
Carlton were delighted when Wells all but fell into our lap in 1910, especially because Princes Park too, had earlier been seething with discontent after seven star players resigned before the new season began. Finding his niche in the ruck alongside captain-coach Fred 'Pompey' Elliott, 27 year-old Wells was a revelation as he helped drive the inexperienced Blues to the minor Premiership.
But he probably thought that by changing clubs he had jumped from a frying-pan into the fire, when three more Carlton players were sensationally dropped from the team just before the second semi-final against South Melbourne. Amid allegations that those left out had accepted bribes to 'play dead,' the unsettled Blues promptly lost by 12 points. However, as minor premiers, Carlton were still guaranteed a Grand Final berth against Collingwood, who proved too good for South Melbourne in the Preliminary Final.
Two members of each side were reported and suspended in a fierce, willing
1910
Grand Final, a game that was probably decided by the unfortunate knee injury to Carlton's champion centreman
Rod McGregor
. The black & whites won by 14 points, and ignited one of football's great rivalries in what ultimately proved to be Wells' only VFL Grand Final appearance.
Season 1911 was a very good personal one for Jack. Playing often brilliant, consistent football, he was selected in the Victorian State side, as well as being one of the prime movers behind Carlton's late-season surge into third spot on the ladder. The VFL allowed individual guernsey numbers to be worn for the first time during the finals, and Wells wore number 16 in the Blues' disappointing semi-final loss to eventual Premiers Essendon. Throughout the remainder of his career, he also played in numbers 1, 5, 7 & 10.
When Carlton captain-coach Fred 'Pompey' Elliott retired after that finals campaign, The Blues replaced him with two of the club's favourite sons; Norman 'Hackenschmidt' Clark as coach, and Jack Wells as captain. Principally because of his form the previous year, Wells was also appointed captain of the 1912 State side. However, just a week before the scheduled interstate carnival, he suffered a leg injury and was forced to relinquish the honour.
Carlton finished second on the ladder to South Melbourne in 1912, and an impressive 28 point victory over Geelong in one semi-final boosted our confidence for the Preliminary Final against Essendon. Late in that vital match, with only a few points separating the teams, Wells called to Rod McGregor to push forward, but McGregor refused and the pair argued at length. At the bell, Essendon won their second flag in a row just four points, and Carlton reacted harshly. McGregor was called to account for his dissent, and suspended by the club for twelve months. Norm Clark then asked the club for a year's leave of absence, and Jack Wells accepted the position of captain-coach.
Ten consecutive seasons of finals, including six Grand Finals and three flags, came to an end for Carlton in September, 1913. A string of narrow losses, and injuries to key players (including Wells, who made only 12 appearances) saw the Blues slide to sixth place by year's end. Jack's one and only season at the helm of the Blueboys was not a particularly happy one, and it is highly likely that he handed the coaching reins back to
Norman Clark
with some relief. At the same time, he also relinquished the captaincy to the team's star centre half-back,
Billy Dick
.
The international tensions leading up to the outbreak of World War 1 provided the backdrop to Carlton's great comeback Premiership in
1914
, and also to the frustrating run of injuries that were to end the Carlton career of Jack Wells. After finishing six points clear on top of the ladder, the Blues – with half the team playing in their first season – went on to beat South Melbourne by just one straight kick in the Grand Final. Sadly, Wells missed all but five games throughout the year, and wasn't considered for the finals.
After the bitter disappointment of not making the Premiership team, and aged 32, Jack agreed to a transfer to VFA club North Melbourne in 1915. So while Carlton went on to take sweet revenge on Collingwood with an emphatic, five-goal VFL Grand Final win, Jack Wells' notable career petered out in one last season before the VFA went into voluntary recession for the duration of the war.
Surely deserving a
place among the very best players not to have won a Premiership with the Blues
, Jack passed away on December 17, 1966.
Milestones
50 Games (Carlton) :
Round 1, 1913
vs Essendon
50 Games (VFL) :
Round 11, 1910
vs Geelong
100 Games (VFL) :
Round 18, 1913
vs Fitzroy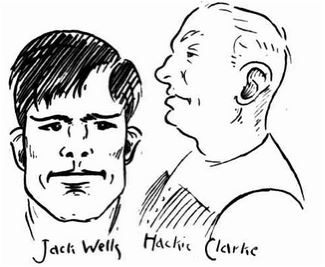 Semi Final, 1907 captains
Image: Trove; Punch Sept 19 p13
Links
Articles:
Our Greatest Flagless Greats
Blueseum:
Summary of Wells' playing career
|
Career Breakdown
|
Wells' Blueseum Image Gallery