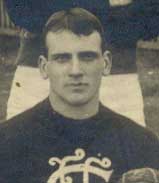 Career : 1903-04, 1906 - 1913
Debut : Round 17, 1903 vs St Kilda, aged 25 years, 11 days
Carlton Player No. 159
Games : 115
Goals : 43
Last Game : Round 17, 1913 vs Geelong, aged 35 years, 6 days
Guernsey Nos. 10 (1911), 15 (1912) and 2 (1913)
Height: 188 cm (6 ft. 2 in.)
Weight : 85.5 kg ( 13 stone, 9 lbs.)
DOB : 17 August, 1878
Premiership Player 1906 & 1908
Jim Marchbank was a mountain man, and to many of his opponents, a man mountain. Raised in the small gold-mining settlement of Woods Point (near Jamieson in the Great Dividing Range in south-eastern Victoria) he spent his formative years climbing hillsides and wielding a timber-cutter's axe.
By the time he arrived for a trial at Princes Park in 1903, Jim was a strapping 24 year-old with a powerful physique. Standing 188 cm and weighing in at 86 kg, he was one of the most imposing figures in the game at the time, although off the field, he was also apparently a man of quiet disposition and good manners. Carlton coach
Jack Worrall
gave Marchbank his first opportunity at senior level in
round 17 of 1903
, against St Kilda at their home ground, when the Blues scraped in by 3 points to hold on to third place on the ladder. Jim played on a half-forward flank, but didn't have much of an impact, so he was dropped for the following week's
Semi Final against Collingwood
- a torrid contest the Blues eventually lost by four points.
Marchbank's career began in earnest in 1904, when the big, raw-boned forward played 12 games and booted 9 goals. Although he was seen as a ruck prospect because of his height and weight, Jim's surprising speed (he had been a star schoolboy sprinter) and endurance (from his hard physical labour in the mountains) was a valuable bonus to a team already blessed with a powerful ruck division. A couple of strong performances at centre half-forward late in that year must have brought a grin to his coach's face – before Big Jim told Worrall he was unsettled in Melbourne and intended heading home at season's end.
Perplexed, Worrall could only agree to let Jim go, but he no doubt stressed to the big bloke that he was welcome back at any time. Without Marchbank, but bolstered by some clever recruiting, the Blues went all the way to the
Preliminary Final in 1905
, only to fall at the last hurdle in a 27-point loss to Fitzroy. Even so, the disappointment was eased somewhat by the knowledge that Carlton had assembled a great side, and the best was yet to come.
The Blues' drive to the 1906 Premiership – comprehensively covered in the Blueseum feature article
The First of Many
, received a boost late in that fabulous season when Marchbank agreed to resume his career. Settling back into the side for the last six games of the year, Jim's comeback culminated in that glorious, comprehensive first
Grand Final victory over Fitzroy
. At centre half-forward, he worked tirelessly all match to create opportunities for his smaller team-mates, using his pace to get to numerous contests, and his strength to keep the opposition at bay. Jack Worrall was just one of many who were full of praise for the big man's efforts.
By the second half of 1907, Carlton was well on track for another flag when the Blues met their fiercest rival, South Melbourne, at the Lake Oval on August 17. The Bloods won a tough, spiteful encounter by 17 points, but the real sensations came well after the match. At a time when dirty play was becoming more and more prevalent, the VFL had pledged to act, so when complaints about the actions of both sides poured in after that game, the authorities decided to make a firm statement about their intention to clean up the game.
Carlton actually began proceedings by reporting South's Bert Franks for striking several Blues players at various times throughout the game. South retaliated by accusing Marchbank,
Fred 'Pompey' Elliott
and
Martin Gotz
of similar offences. The charge against Gotz was quickly dismissed, but the other two were found guilty and heavily penalised. Despite acknowledging that Jim's record was "irreproachable as a man and a footballer" the tribunal suspended him for seven matches, while Elliott was outed for four, and both missed out on a place in Carlton's
1907 Premiership team
.
After serving that harsh penance, Jim came back into the Carlton line-up for the last seven games of the 1908 season – the year in which
Jim's younger brother Bill
arrived at Princes Park to make three senior appearances – and the year Carlton completed the first ever hat-trick of Premierships. Losing only one game all season, the Blues
overcame a plucky Essendon by nine points on Grand Final day
, to set the seal on Jack Worrall's credentials as a master coach, and Carlton as a League power. And the Blues came agonisingly close to making it four on the trot in 1909, despite Worrall's departure under duress, and his replacement by Elliott. Carlton went into the Grand Final as favourites, but South Melbourne's pace proved decisive and they hung on to beat the Blues by just two points. Previewing his future role, Marchbank was played as second ruck that day, resting in a back pocket.
In 1910, after almost 60 games played predominantly as a key forward, coach Elliott felt it was time to hand more responsibility to big Jim, and began playing him more as a specialist ruckman. Marchbank responded as Elliott expected, becoming even more valuable to the side, and evidence suggests that he was a better player after the age of thirty than he was earlier in his career. What evidence? Well, he was 32 years old when he was named Best on Ground in Carlton's hard-fought win over South Melbourne in the
1910 Semi-Final
, and equally valiant two weeks later when the Blues lost the
Grand Final
to Collingwood. At the Carlton Football Club's Annual General Meeting of 1911, Jim was presented with a gold medal by
The Victorian Football Follower
(a popular weekly newspaper) when he was their choice as Fairest and Best Player in the VFL that season. Meanwhile, individual player numbers had been introduced during the 1911 final series, and Jim became the inaugural bearer of
Carlton's number 10
. Comfortable with change, he also wore numbers
15
and
2
in 1912 and 1913 respectively.
In
round 14 of the 1912 season
, Jim played his 100th game in Carlton's 5-point victory over Melbourne. Aged 33 years and 344 days by then, he remains the oldest Carlton player to have reached this milestone. He wasn't quite done however, and played on for one more season, until the Blues lost to Geelong at Princes Park in
round 17, 1913
and slipped out of finals contention.
After football, Jim turned his hand to his other great sporting interest; horse racing, and became a successful trainer. Many years after his passing, his daughter Ellie Rosier recalled; "My father was a very keen racegoer and a successful racehorse owner. Two of his horses, Confusion and Eucumbene, won at Williamstown, and another won at Moonee Valley on the same day Carlton knocked Collingwood over – one of his happiest days."
An iconic figure in the history of the Navy Blues, James Alexander Marchbank passed away at Berrigan, NSW on January 6, 1959, aged 80. In April of that year, Jim's ashes returned to Princes Park, where a simple ceremony was held in the presence of a number of his former team-mates, including
Alf Baud
,
Vin Gardiner
,
Ernie Jamieson
,
Mort Keily
, Paddy O'Brien, Andy O'Donnell,
Billy Payne
,
Viv Valentine
and
Jack Wells
. Afterwards, the ashes of one of the Navy Blues' finest were scattered on the sacred turf by Carlton President
Lew Holmes
.
Some 57 football seasons later in 2016, the Marchbank name began gracing Princes Park once more when
Caleb Marchbank
– great-grandson of Jim's brother
Bill
– joined the Navy Blues in a high-profile trade from the GWS Giants.
Career Highlights
1906 – Premiership Player
1908 – Premiership Player
1911 –
Victorian Football Follower
Fairest & Best
Milestones
50 Games :
Round 18, 1909
vs Essendon
100 Games :
Round 14, 1912
vs Melbourne
Footnotes
From 1903 to 1913 Jim Marchbank owned and operated a saw mill south of Gaffney's Creek just past the A1 Mining Settlement. There is a roadside marker with the story of the mill and photographs. It says Jim used to catch the train into Melbourne each weekend to play football. Now, to catch a train the nearest railway station was at Healesville approx 40 miles (64km) via a rough mountain track on horseback. In 1930 the Sporting Globe May 07 (p8) interviewed Jim and he said that this involved "travelling over the roughest roads on horseback or in a jinker." (A jinker is a horse drawn wagon for hauling heavy logs) He would return on Sunday to Healesville and make the trek back to Gaffney's Creek to be ready for work on Monday at 8am.


Some of the text from Marchbank's Saw Mill roadside marker near the A1 Mining Settlement. Blueseum image
447 ounces is approx $1.1 million dollars (2021)
The Broadford Courier and Reedy Creek Times
September 02, 1904
"Punch's photo of the Melbourne-Carlton match of last Saturday is a very good one. One of our local lads is very prominent -- Jim Marchbank -- who according to this journal sings,
"Come rest on my* bosum, my own footie dear." Possibly one of the first references to football being called footie/footy that has been found.
This was the caption to a photo taken by the newspaper Punch at the match showing Marchbank taking a chest mark.
See
Round 16, 1904
- this match was one of the few times Carlton wore a white sash on their guernsey
.*Punch's caption says, this, not my.
The Referee
of September 18, 1907, on page 9 noted; "The two disqualified Carlton men, F. Elliott, the captain, and J. Marchbank, were presented with testimonials by the Carlton committee and players on Saturday night. Accompanying the presents were addresses embossed on silk as follows;
'The committee and players of the Carlton Football Club desire to express their sympathy in what they consider the unjust disqualification imposed upon you by the League. We trust that such unjust treatment will not deter you from again displaying your skill as a footballer with the Carlton club.'
This is a smack at the investigation Committee of the League. The spirit in which games subsequent to the disqualifications have been contested, has undoubtedly improved."
The Broadford Courier and Reedy Creek Times
of Friday, May 14, 1909 reported ; "J. Marchbank scored a double at Williamstown races on Saturday with his horses Confusion and Eucumbene. Commenting on the event, The Age says, 'the owner fared better with his horses at Williamstown than did his club (Carlton) at the hands of South Melbourne.'"
The Essendon Gazette
of May 13, 1915, claimed that Jim Marchbank had gone to Hawthorn, along with his brother W.(Bill) Marchbank (ex Carlton) who was then at Fitzroy. (Considering that Jim was rising 37 by then, someone got it wrong).
Hawthorn played Port Melbourne May 08 1915 and both Marchbanks were named in the Hawthorn team. Bill played on the halfback flank and Jim was at centre half forward. (Herald May 08)
Sporting Globe
April 29, 1944
Jim Marchbanks's horse, a two year old named Parelle won the Stanhope Handicap at Flemington this day.

Jim Marchbank & Ryan (Coll), Fred Jinks (Carl) on left - Princes Park Round 13, 1907
Image: Trove; Punch August 08
Links
Blueseum:
Summary of playing statistics for J Marchbank
|
Marchbank's Blueseum Image Gallery