| | | | | | | | | |
| --- | --- | --- | --- | --- | --- | --- | --- | --- |
| Carlton | 3.5 | 23 | 5.5 | 35 | 7.11 | 53 | 7.16 | 58 |
| South Melbourne | 2.2 | 14 | 8.4 | 52 | 8.8 | 56 | 8.13 | 61 |

Venue: Princes Park
Date: Saturday July 15, 1905
Result: Loss by 3 points
Umpire: D'Helin
Crowd: 20,000
Goalkickers: M.Grace 2, A.Snell 2, F.Caine 1, G.Johnson 1, J.Kennedy 1.
Best: F.Caine, A.Snell, B.Parke, M.Grace, E. Kennedy, C.Roland, R.McGregor, F.Elliott
Reports: Nil
Injuries: Nil
Game Review
This game is notable for the debut of the great
Norman 'Hackenschmidt' Clark
- who would play a central role in each of Carlton's first five Premierships.
The Blues came into this game in danger of a third successive defeat, and that is what happened. Despite keeping South Melbourne goalless in the second half, the home side went down by 3 points, after conceding too great a margin at half-time. Carlton had given up their entire buffer over the fourth and fifth-placed Essendon and South Melbourne, who now joined the Blues equal third on 20 points.
The Blues hit the post twice and the Southerners once.
Meanwhile, down at Corio Oval, Geelong caused a huge upset by easily defeating second-placed Fitzroy - leaving Collingwood comfortably clear at the top of the table.
At the end of this round Carlton were in 4th spot on the ladder with a percentage of 96.7.
Team
B:
Bert Parke
Archie McNeel
Bill McVeigh
HB:
Charlie Hammond
Billy Payne
Norman Clark
C:
Ted Kennedy
Bob Boyle
George Bruce
HF:
Charlie Roland
Mick Grace (vc)
George S Johnson
F:
Rod McGregor
Frank Caine
Jim Kennedy
Ruck:
Jim Flynn (c)
Fred Elliott
Archie Snell
Coach:
Jack Worrall
Changes
In:
R.McGregor, B.McVeigh, N.Clark, A.McNeil
Out:
G.Topping, B.Leeds, A.Sharp, J.Slater
Milestones
Debuts:
Norman Clark
,
Archie McNeel
Last Game:
Bill McVeigh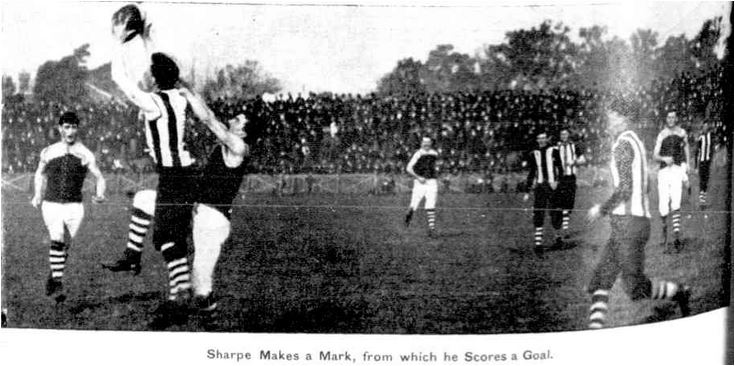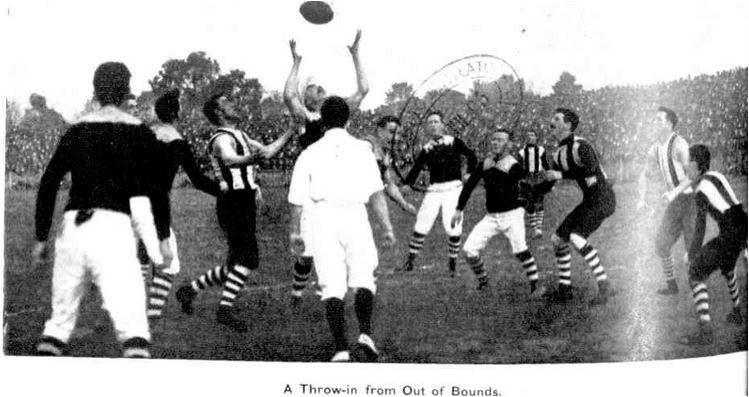 Images: Trove; Punch July 20 p12
---
Round 9
|
Round 11