| | | | | | | | | |
| --- | --- | --- | --- | --- | --- | --- | --- | --- |
| Carlton | 0.3 | 3 | 3.6 | 24 | 9.10 | 64 | 11.14 | 80 |
| Footscray | 3.2 | 20 | 3.4 | 22 | 5.4 | 34 | 7.8 | 50 |

Venue: Princes Park
Date: Saturday June 25, 1960
Result: Win by 30 points
Umpire: Hodgson
Crowd: 26,979
Goalkickers: W.Lofts 3, J.O'Keefe 3, L.Brereton 2, S.Silvagni 2, J.Williams 1.
Best: J. James (BOG), D. Strauch, B. Buckley, J. Sullivan, M. Sankey, B. Cox
Reports:
Injuries: C. Pavlou (bruised thigh) replaced by B. Smith in last quarter. B. Crowe (bruised thigh)
---
Game Review
Carlton's big second half of 8.8 to the Bulldogs' 4.4 got the Blues home by 30 points at Princes Park, lifting the team to 7th on the ladder, and rekindling hopes of a place in the finals.
Leo Brereton
's two goals gave him a progressive tally of 28 for the season, second only to Ron Evans of Essendon, with 32.
John O'Keefe
playing his first full game scored three quick goals in the third quarter.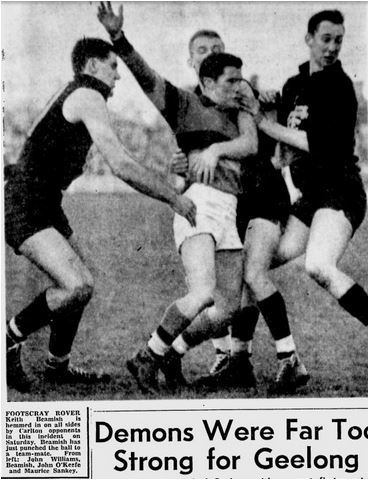 Images; Age June 17
Team
B:
30 Jack Sullivan
22 Denis Strauch
4 Brian Buckley
HB:
19 Denis Zeunert
14 Bob Crowe
10 John James
C:
28 Graham Gilchrist
9 Berkley Cox
23 John Chick (acting capt.)
HF:
11 Barry Bryant
3 Dave McCulloch
39 John O'Keefe
F:
1 Serge Silvagni
47 Wes Lofts
35 Chris Pavlou
Ruck:
16 Maurie Sankey
31 John Williams
6 Leo Brereton
Res:
26 Max Miers
36 Barry Smith
Coach:
Ken Hands
Changes
In:
J. Sullivan, S. Silvagni, J. O'Keefe, B. Smith
Out:
B. Comben, G. Donaldson, J. Heathcote, V.Varlamos
---
Round 9
|
Round 11