| | | | | | | | | |
| --- | --- | --- | --- | --- | --- | --- | --- | --- |
| Carlton | 4.3 | 27 | 6.6 | 42 | 8.9 | 57 | 10.10 | 70 |
| Richmond | 1.3 | 9 | 5.6 | 36 | 7.9 | 51 | 9.13 | 67 |

Venue: Princes Park
Date: Saturday July 8, 1933
Result: Win by 3 points
Umpire: McMurray
Crowd: 43,000*
Goalkickers: H.Vallence 3.4, A.Clarke 2.1, R.Leffanue 2.0, M.Crisp 1.1, A.Egan 1.1, C.Davey 1.0, L.Hughson 0.1, C.Street 0.1, K.Shea 0.1
Best: E. Huxtable, C. Davey, A. Clarke, H. Bullen, R. Cooper, G. Mackie
Reports:
Injuries: F.Gilby (leg) replaced by J.Green late in the last quarter.
---
Game Review
When Carlton hosted Richmond at Princes Park in round 11, the game was billed as the Match of the Year, and lived right up to expectations. In front of another jam-packed crowd of 43,000, the two top sides in the competition turned on a fast and skilful exhibition that eventually went to the Blues by 3 points.
Carlton made two changes to the team. Opray was omitted and Johnson could not be considered with his thigh injury. Hughson and Kelly, recovered from injury, were the replacements.
A stiff south-westerly breeze was blowing across the ground as play commenced. Richmond won the toss. A quick start from Carlton had Crowe and Crisp combining and Crisp with a nice drop kick passed to Vallence who goaled after a fine mark. Play was strong, fast and fierce from the opening bounce. Carlton, attacking well, forwarded to Hughson, who cleverly shanked his kick to Lefannue, scouting the fringe of a pack, and he snapped a fine goal. Crowe and Clarke were both playing strongly. Some good team work from Richmond came unstuck when they kicked into the man on the mark when kicking for what should have been their first goal. Weight was being thrown around freely and Umpire McMurray had his hands full. Following some good play from Hughson, Egan kicked wide from a good drop kick for a behind. Richmond opened their scoring with a behind and followed with another shortly after Huxtable was penalised. Another Richmond attack was relieved when Gilby received a free. Bob Green took a great mark on the wing and from that Cooper, running hard through the centre, kicked to Vallence who was pushed in the marking contest. The subsequent free brought Carlton's third goal. Carlton's pace this quarter had been stunning, with Bob Green, Kelly and Cooper the highlights. Richmond's first goal came from a good snap after some fine attacking work. In a chain of passes, Clarke, Lefannue and Davey combined to get the ball forward, where Clarke was necked. He goaled from the free for the fourth goal. Shea, eluding three defenders, kicked a behind and Davey, from a fine mark late in the quarter, passed to Vallence who also could only manage a behind. Carlton led by three straight goals at the first change.
Kelly was caught with the ball at the opening of the second quarter and Richmond attacked quickly, but only a behind resulted. Shortly after, they scored their second from a free kick near goal. Cooper showed some nice play in the centre and kicked to Egan but his hurried shot was off line. Davey received a free following a throw in and brought up the Blues' fifth goal. Both sides were giving a great display all over the ground and the contest was very tight. Mackie was having a great tussle with his opponent with both playing brilliantly. Bob Green and Crisp worked well together and got the ball to Vallence for a goal, but Richmond responded in kind from a fine mark. Bullen was ferocious in the packs and playing well. Late in the quarter Richmond, rallying strongly, kicked two goals to make the difference six points at half time.
On the resumption, Cooper attacked for Carlton, but Richmond repelled well and attacked. Mackie and Crowe defended well for only a rushed behind. Carlton went forward and Lefannue was pushed. His goal from the free kick was Carlton's seventh. Still the relentless struggle continued, with attack following counter-attack and great defence from both sides. Hughson just missed a goal following a great mark. Davey flew high over a Richmond player to take a fine mark, but his opponent was injured from this and spite and rough play came into the game. Carlton attacked again and Vallence missed an easy shot for a behind only. Clarke kicked to Crisp who marked well and goaled to provide some relief for Carlton. However, a late Richmond rally resulted in two goals to the unguarded
Percy Bentley
(the same man who would guide Carlton to two flags in the forties) to leave the difference just one goal at the final change.
Carlton attacked strongly at the start of the last quarter, with Shea prominent. Richmond repelled quickly and goaled to level the scores. There was tremendous excitement around the ground, with neither side able to gain any advantage over the other. Crowe saved Carlton at a crucial stage and then Davey, Lefannue, Hughson worked well for
Ansell Clarke
to goal and restore the lead. Park outmarked a Richmond defender close to their goal but a free to Richmond gave them a behind. Bentley missed twice but brought the scores to within three points, before Bob Green kicked to
Alf Egan
who took a fine mark and goaled to make the difference nine points. A Richmond goal to that man Bentley brought the game to within a kick and the Tigers again attacked desperately; Mackie saving scores twice. A behind to Clarke made it four points the difference and a free to Park prevented a certain Richmond goal. The atmosphere was electric, with only a minute or so remaining, when a tiger rover swooped on the ball and sprinted toward an open goal, only to be bumped as he kicked and the shot sprayed wide for a point. From the kick-out, Richmond launched one last desperate assault, but
Eric Huxtable
flew above a huge pack in the goal-square for a match-saving mark, and the final bell rang out only seconds later. In one of the great games, Carlton were victorious by three points.
In other matches, Bob Pratt kicked 10 goals in South Melbourne's big win over North Melbourne, and Collingwood climbed into the four when they knocked over Essendon at Victoria Park. Heading into round 12, the top four sides were Richmond (36 points, 136.5 %) Carlton (36 points, 118 %) Geelong (32 points, 150.4 %) and Collingwood (28 points, 113.9 %)
Footnote:
Although there were 43,000 in attendance Carlton's share of the gate was 332 pounds, which seems reasonable. But according to the Sydney Sportsman July 29 (p16), the ground manager, ie: the Carlton Cricket club pocketed 533 pounds with and extra 61 pounds for expenses!
.* Monday's Age gave the attendance as 54,000
Carlton's Cocky
"Carlton's cockatoo screamed with joy when the Blues won. This bird and its owner have followed Carlton for years, and 'Cocky' has even gone as far as Geelong and has had some really tough pecking duels with the seagulls." (Sporting Globe July 12 p8) See
Carlton Mascots
Team
B:
23 Jim Crowe
26 Jim Park
29 Horrie Bullen
HB:
9 Eric Huxtable
24 Gordon Mackie
6 Fred Gilby
C:
7 Joe Kelly
19 Ron Cooper
32 Bob Green
HF:
8 Keith Shea
27 Alf Egan
12 Creswell 'Mickey' Crisp
F:
1 Les Hughson
22 Harry Vallence
34 Rod Leffanue
Ruck:
17 Charlie Davey (acting capt.)
20 Charlie Street
31 Ansell Clarke
19th Man:
14 Jack Green
Coach:
Dan Minogue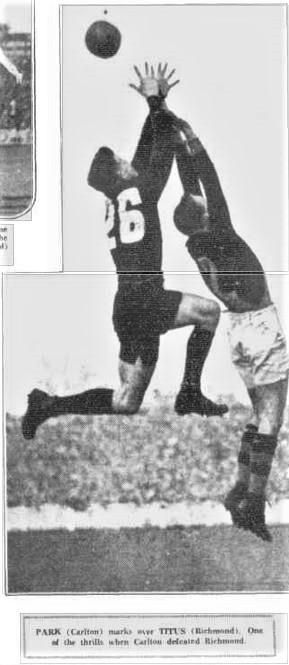 Above; possibly Alf Egan running in.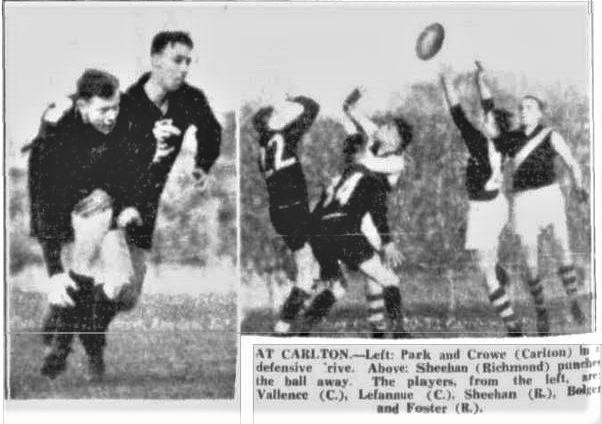 ---
Round 10
|
Round 12