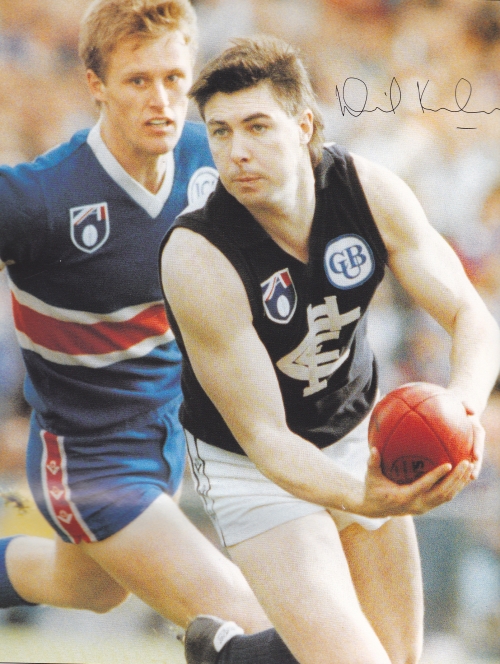 Oh man we all have brothers, well most of us do. Some suck big time, some are OK, some are good, and some are just great.
The younger and smaller brother of Carlton's immortal
Stephen Kernahan
, David spent six seasons at Princes Park from 1988 to 1993. He seemed destined for a good career when he kicked the match-winning goal in his first senior game against Hawthorn, and then making the top 5 in the B&F in both 1990 and 1991. Incidentally, it was in 1990 that he brought up the only Brownlow Vote of his career, with a strong game against the Swans in
Round 14
..
To read his Bio,
click HERE
.
Player of the Week Archive
Meet the new 2024 Blues!
Are YOU a keen Bluebagger?
Have you ever had the urge to be a football writer or researcher ?
Well, here's your chance to have a crack at it! WE SURE NEED SOME HELP!
The Blueseum is looking for some additional help in
2022
and beyond – particularly with Game and Player Reviews. Open tasks are on the
Task List
.
Since 2006, this website has been produced by a dedicated group of volunteers who spend their free time delving into and recording the history of the Carlton Football Club. The site is based on the wiki concept (think of wikipedia) where registered users are able to create and edit content independently.
Therefore, everyone interested is cordially invited to join us. No experience is necessary, because you'll be guided every step of the way and you will be making a real contribution to your club.
So come on, why wait ?
Contact us and register by
clicking here
.