Over the years, Carlton has also had it's fair share of mascots or associated characters to accompany being 'the Old Dark Navy Blues'. Now we should all recognise for a team called the 'Blues', that this is a little harder than most other Clubs (who can simply re-invent their moniker).
1900's - 1939: 'Cocky Marr'
Off field in the 1930's, a cockatoo named 'Cocky Marr' and owned by Mr Bob St.Marr of Carnegie became something of a symbol of the Blues. The cockatoo stood week after week behind the goalposts, greeting each Carlton goal with wildly flapping wings and squawks!
The Adelaide Advertiser November 30 1939, reported Cocky Marr's death, aged 43 years, his antics, and his sayings.
To read the article click here>
http://nla.gov.au/nla.news-article48852874
Umpires Got Bird
"When the great football matches under Australian Rules get into full swing this season in Melbourne." remarked the enthusiast, "one or two famous umpires will find life a little easier on the field than in past years. For one of their most fearless critics is no more.
"He was a cockatoo, the mascot of the Carlton Club, and for over 30 years he never missed a match in which the senior team was engaged. Before fashion changed the mode of attack upon an umpire who made himself unpopular to Carlton, the team's lady barrackers - and they were legion - used to perforate him generously with hatpins after the game, but Cocky Marr, so named after his owner, had a more sudden way of humiliating the man.
"Who told you that you could umpire? the bird would screech when Carlton did not get the breaks. And you could hear it all over the ground. Then he would advise the player Harry ("Soapy") Vallence to even things.
"Up there, Soaps," he would scream "Soapy, Soapy, give him a go!"
Like many Australian parrots in captivity, this bird had particular fancies in his diet. Bacon and eggs for him every morning, or there was a row in the house.
(World's News (Sydney) May 25 1940 p18)
'Carlton's Cocky'
The cartoon on the right is from Trove: The Australasian June 03 1944 (p11)
The Argus had a report on Cocky Marr after he was presented as a gift to the club in 1955, he is pictured with skipper Ken Hands.
When Cocky Marr was Carlton King
Club historian Tony De Bolfo's article about Cocky Marr, click
here.
1954 Jumbo?
The Age April 17, in a Samuel Well's cartoon about the start of the 1954 VFL season, there is a depiction of all the clubs' mascots inside half of an Easter egg. Carlton is shown as an elephant wearing a large CFC.
See
1954
page.
Wells used the elephant theme a few times, even up to
Round 5, 1966
where he depicts
Ron Barassi
wearing an elephant suit after a match against Melbourne.
1980's: 'Bluey' (NB There must have been a better name here)
We all know him - the big blue giant in the Carlton guernsey who adorned Carlton paraphernalia in the 1980's.
2000's: 'Captain Carlton'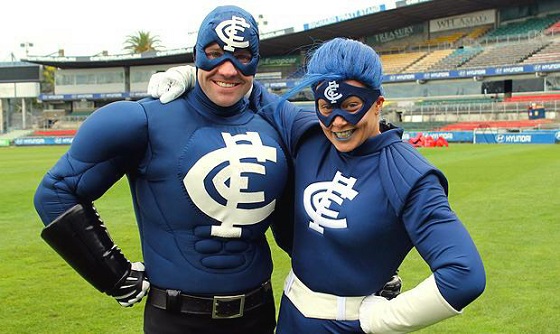 Captain Carlton was joined by new mascot Navy Nina on March 30 2016
To be added
For the Carlton Mascot image gallery, click here
.
Links
Emblems and Tradition
Other Club Nicknames
Blueseum Index