| | | | | | | | | |
| --- | --- | --- | --- | --- | --- | --- | --- | --- |
| Carlton | 2.1 | 13 | 5.7 | 37 | 6.11 | 47 | 14.12 | 96 |
| Geelong | 4.4 | 28 | 8.4 | 52 | 13.6 | 84 | 15.10 | 100 |

Venue: Colonial Stadium - Docklands
Date: Sunday June 9, 2002
Result: Loss by 4 points
Umpires:
Crowd: 37,294
Goalkickers: Carlton - B.Fevola 4, L.Whitnall 3, M.Lappin 2, S.Fletcher, J.Plunkett, B.Campbell, C.McKernan, S.Wiggins 1.
Goalkickers: Geelong - Kingsley 4, Riccardi 4, Lord 3, Sholl, Kelly, Burns, Clarke 1.
Reports:
Injuries:
---
Game Review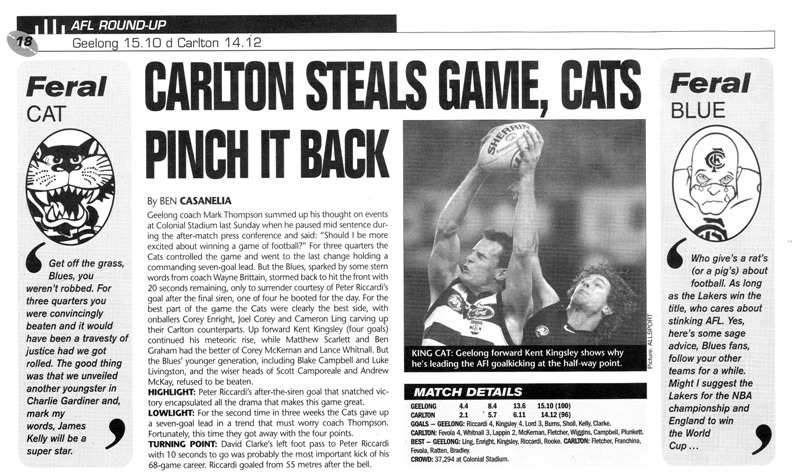 A game that for 3 and a half quarters that was never in doubt for the Cats. then in an amazing burst home the Blues almost gave their long-suffering fans some joy. Almost.
The game had gone to script for the most part. The Cats had won a few in a row and were in the middle of a seven game winning streak. They controlled the game quite easily for the most part and with about 20 minutes to play in the final quarter, it looked like an stress free victory for Geelong.
In fact Geelong started unwinding just like it had hit 4:30 on a Friday arvo and had a few lazy cans. Thankfully the Blues took advantage of this and started a massive comeback.
Michael Mansfield
started getting some touches and
Lance Whitnall
fired in front of goal kicking 3.
Brendan Fevola
slotted through a couple in the last including one from an impressive pack mark grab (not one of his strengths as a young player).
With only a couple of minutes left, livewire
Matthew Lappin
was close by as Geelong's Darren Milburn (not one of the Carlton fans favourites) bundled the ball out of bounds and was penalised. Lappin booted the ball 50 meters for a great goal! With the crowd going berzerk, the Blues went forward again and Skinny took a nice grab about 50 meters out on the opposite boundary line.
Taking a line out of the Greg Williams appeal for something when nothing was there, Lappin fell to the ground in (mock) agony as soon as he grasped the ball, making out Geelong defender Jared Rooke belted him in the marking contest. Of course the umpire fell for it and the Blues got a 50 meter penalty giving Lappin an unmissible shot in front of goal. He slammed it through and the Blues were in front!!
Carlton supporters thought that finally our year had turned around and we were about to witness a great come from behind victory. Of course with 14 seconds left the Cats won the centre bounce and a bullet like pass from future Carlton player in
David Clarke Jnr
hit Peter Riccardi on the chest. Riccardi turned around and gave the ball a mighty left foot roost from 55 meters out. On route between his foot and the goal, there was some very strong evidence that
Simon Wiggins
touched the ball when on Riccardi's mark. In any case the ball swayed through the goals and the Cats had won.
Corey McKernan
punched the goal post. Brittain said 'Riccardi's never kicked a floater in his life' and Carlton was living the nightmare.
Carlton's best included
Craig Bradley
,
Brett Ratten
,
Simon Fletcher
and Fevola.
This game is remembered as one of Carlton's controversial finishes, a theme explored in a Blueseum exclusive article available
here.
Team
B:
10 Michael Mansfield
4 Luke Livingston
32 Bret Thornton
HB:
34 Simon Wiggins
29 Simon Beaumont
45 Anthony Franchina
C:
5 Andrew McKay (vc)
7 Brett Ratten (c)
21 Craig Bradley
HF:
9 Adrian Hickmott (dvc)
8 Lance Whitnall
16 Scott Camporeale
F:
12 Matthew Lappin
2 Corey McKernan
18 Justin Murphy
Ruck:
37 Trent Hotton
31 Simon Fletcher
40 Jim Plunkett
Interchange:
25 Brendan Fevola
19 Andrew Merrington
48 Jordan Doering
35 Blake Campbell
Coach:
Wayne Brittain
Emerg:
Ang Christou
Sam Cranage
Jordan Doering*
In:
Andrew Merrington
Adrian Hickmott
Jordan Doering*
Out:
Ang Christou
Ian Prendergast
Justin Davies (flu)*
-*late change Doering for Davies
Brownlow Votes
3:
Cameron Ling (GEE)
2:
Peter Riccardi (GEE)
1:
Craig Bradley
(CARL)
---
Round 10
|
Round 12