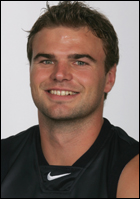 Career: 2004-2005
Debut: Round 1, 2004 vs Fremantle, aged 23 years, 317 days
1068th Carlton Player
Games: 12 (101 total AFL)
Goals: 2 (50 total AFL)
Last Game: Round 11, 2005 vs Sydney, aged 25 years, 20 days
Guernsey No. 9
Height: 183cm
Weight: 84kg
DOB: 15 May, 1980
The two David Clarkes in the list of Carlton players were
father / son
; this little tribute is towards David Clarke junior who was on the Carlton list between 2004-2005. Interestingly, both Clarkes played with Geelong before joining the Blues.
Clarke junior was part of a 3 way trade between Hawthorn and Geelong at the end of Season 2003:
Clarke was given the number 9 and played 12 games over the 2 seasons. A fast and fit runner, Clarke generally played on the wing but was often asked to 'mind' a player. Clarke's achilles heel all along was his kicking - he is one of these guys that gets the ball but often overshoots his passing. This error came to the fore in some AFL games, and saw him demoted to the Bullants more & more. Of his 12 Carlton games, only 2 came in 2005. Coming from a strong sporting family, his father David Clarke played over 200 games for Geelong and his brother Tim played with Hawthorn, while his sister is Olympic runner Georgie Clarke.
Clarke was a tireless trainer and worker, and was clearly a popular player at the
Northern Blues
. Clarke was often in the best at VFL level. Clarke, a pacy wingman, graduated from the Geelong Falcons to make his AFL debut in 1999. He was a prolific ball winner but was often let down by kicking and put together 68 consecutive games from 2000 to 2003. Clarke had the second largest number of disposals for Geelong in 2001 and 2002, averaging 17 a game in both seasons.
After 89 games at the Cats, his 12 at Carlton puts Clarke in the position of being a 100 gamer at AFL level; a fantastic feat for any player. Clarke was not offered a contract for 2006.
From 2006 until 2007, Clarke played with South Adelaide in the SANFL. In 2008, he switched to North Adelaide, and played there until 2009. In 2010, Clarke returned to the city of Geelong, and joined St Mary's in the Geelong Football League (GFL), where he played until 2012.
2012 - Clarke whilst playing for GFL team St Marys received a 12 week suspension for tripping an umpire, he got on all fours behind an umpire who as he moved backwards and being unaware of Clarke's presence fell/tripped over Clarke. The incident brought Clarke's cumulative career suspensions to 20 matches, which resulted in his deregistration under the nationwide Player Deregistration Policy, bringing an end to Clarke's playing career.
2014 - Clarke played for Mansfield FC in the Goulburn Valley FL
2015 - Clarke then moved to play with Lockington-Bamawm United FC in the Heathcote District FL.
Clarke graduated from Torquay FC, through to Geelong Falcons, Geelong and then to Carlton.
Milestones
100 AFL Games:
Round 10, 2005
Vs Adelaide
Links
Blueseum:
Summary of playing statistics for David Clarke
|
Clarke's Blueseum Image Gallery