| | | | | | | | | |
| --- | --- | --- | --- | --- | --- | --- | --- | --- |
| Carlton | 5.3 | 33 | 7.10 | 52 | 12.12 | 84 | 13.13 | 91 |
| Fitzroy | 1.1 | 7 | 4.2 | 26 | 6.4 | 40 | 8.7 | 55 |

Venue: VFL Park - Waverley
Date: Saturday June 24, 1972
Result: Won by 36 points
Umpire: I.Coates
Crowd: 29,380 Receipts: $21,308
Goalkickers: G.Kennedy 4, R.Walls 3, D.McKay 2, A.Gallagher 1, S.Jackson 1, P.Jones 1, I.Robetson 1.
Best: T.Keogh, R.Walls, G.Crane, B.Doull, D.McKay, V.Waite.
Reports:
Injuries:
---
Game Review
Keith McKenzie
coached Carlton in this match, with
John Nicholls
,
Alex Jesaulenko
and
Geoff Southby
all on state duties for Victoria. All up, the Blues were forced to make five changes, but this seemed to energise the team, and they snapped back to something like their best to thump Fitzroy by six goals on the wide expanses at Waverley.
In other important matches, Collingwood vanquished Richmond at Victoria Park, allowing Carlton to displace the Tigers from the top of the ladder, while Melbourne beat Hawthorn by one solitary point at the MCG to topple the Hawks out of the top five.
Fitzroy proved a huge disappointment to both club officials and supporters when they were completely 'taken apart' by a patched-up Carlton. With more desire for a win, the Blues registered their second win in a row over the Lions, who kicked their lowest score against Carlton for nine matches. The Lions can almost certainly say goodbye to their early season hopes of making the 1972 Finals, although they will still cause many upsets before the season is finished.
- Football Record.
Carlton ended Fitzroy's season at VFL Park on the weekend. The professional Carlton players completely outclassed a bewildered, baffled bunch of Fitzroy players to score an effortless 36-point win. Fitzroy played without cohesion and looked a pack of second-raters against the precise, persistent Carlton. It is impossible to detract from Carlton's display. With David McKay and Peter Jones dominating the rucks, Trevor Keogh and Andy Lukas working most effectively as ruck-rovers, and Adrian Gallagher and Garry Crane roving well, Carlton had persistent thrust. Even though key forwards Robert Walls and Greg Kennedy were patchy, Carlton had sufficient attacking chances to overcome this. The Carlton defenders particularily Bruce Doull, Paul Hurst and Vin Waite held firmly against Fitzroy's spasmodic bunch of forwards.
- Graeme Kelly; The Australian.
I am very thrilled for Big Nick. The way the players responded was tremendous. I have never seen such keenness and enthusiasm before a game and I knew we had it won before the players ran out on the ground. It is a real thrill to coach a winning team, and certainly so when the team is such a bunch of professionals as Carlton.
- Keith McKenzie; Carlton's Assistant Coach.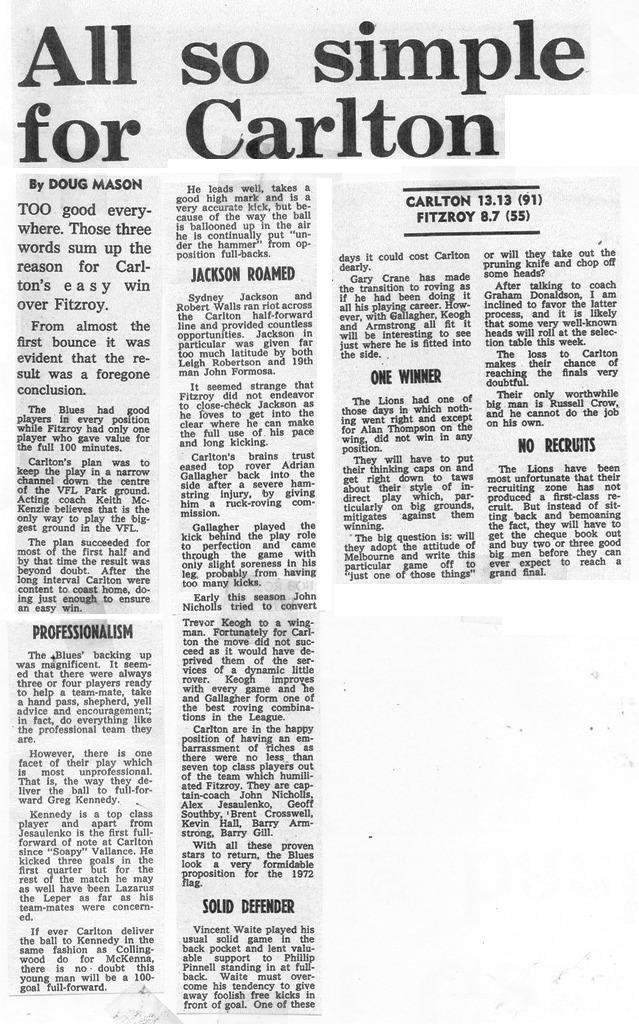 Team
B:
45 Rod Austin
15 Phil Pinnell
30 Vin Waite
HB:
19 John O'Connell
11 Bruce Doull
33 Paul Hurst
C:
27 David Dickson
34 Ian Robertson (acting vc)
32 Bryan Quirk
HF:
8 Trevor Keogh
42 Robert Walls (acting capt.)
5 Syd Jackson
F:
28 Peter Jones
16 Greg Kennedy
6 Garry Crane
Ruck:
43 David McKay
7 Andy Lukas
10 Adrian Gallagher
Res:
29 Paul O'Brien
18 Brian Walsh
Coach:
Keith McKenzie
Changes
In :
A. Gallagher, B. Walsh, S. Jackson, P. O'Brien, R. Austin
Out :
A. Jesaulenko, J. Nicholls, G. Southby, B. Crosswell, B. Armstrong
Note :
Andrew Lukimitis had changed his name to Lukas from 1971.
Milestones
100 Games :
Robert Walls
Last Game :
Paul O'Brien
---
Round 11
|
Round 13