| | | | | | | | | |
| --- | --- | --- | --- | --- | --- | --- | --- | --- |
| Carlton | 4.3 | 27 | 10.6 | 66 | 13.6 | 84 | 14.13 | 97 |
| Collingwood | 4.2 | 26 | 5.6 | 36 | 8.16 | 64 | 9.16 | 70 |

Venue: VFL Park Waverley
Date: Saturday July 7, 1984
Result: Win by 27 points
Umpires: G.James & K.Smith
Crowd: 48,218 Receipts: $154,547
Goalkickers: R.Ashman 4, W.Johnston 3, J.Madden 2, K.Hunter 2, P.Meldrum 2, J.Buckley 1.
Best: R.Ashman, J.Buckley, P.Meldrum, P.McConville, D.Glascott, S.Kourkoumelis, J.Madden.
Reports: Nil
Injuries: Nil
---
Game Review
Confident after destroying Richmond the previous week, Carlton again travelled to Waverley to take on a rival even more despised than the Tigers – and came away with a win that was much narrower, but every bit as satisfying.
After an even first quarter, the Blues broke Collingwood wide open, kicking six goals to one in the second term to set up the 30-point advantage we held for the rest of the game. Collingwood mounted a challenge for a while after half time, but a string of missed set shots at goal sapped their confidence and the game was over with half a quarter of football left.
Rod Ashman
was superb around the packs again for Carlton.
Rod Austin
,
Bruce Doull
and
Val Perovic
led a watertight defence, and
'Wow' Jones
was tireless in the ruck.
These consecutive wins over teams also fighting for finals places were doubly valuable to the Blues' cause. After a round of matches that all went as broadly expected, a gap of 8 Premiership points had suddenly appeared between Carlton in third place, and the next four teams; Melbourne, Collingwood, Geelong and Footscray. The Blues were back on course for another tilt at the flag.
Celebrating his 200th game, Rod Ashman continued his dynamic form of recent weeks and picked up three votes for a fine game capped off by his brilliance near goals. Ashman is making a late charge at our $2000 award and is now in second place, one vote off the pace. Jim Buckley played a mighty game for the Blues, but was slightly overshadowed by fellow Blues rover, Rod Ashman, Another Blue who is in good form of late is the versatile Paul Meldrum, who collected the one vote.
- Inside Football Player of the Year.
Carlton displayed its overall strength and depth last weekend with convincing wins in both the senior and reserves 18. The same team pattern emerged in both games with Carlton having an abundance of talented small men mid-field. Rod Ashman is back to his best after an injury plagued first half of the season. Ashman seems to thrive on slippery conditions. He did everything you could ask of a rover. He collected a bundle of kicks around the ground, got the ball out of the centre and kicked goals while resting in the forward line. Beside Ashman, Johnston and Buckley always seem to be able to provide that spark at critical times. Collingwood's inaccuracy in front of goal once again proved costly. The third quarter was a fine team effort by our players but we failed to finish it off by kicking goals. We kicked three goals 10 points in that quarterto Carlton's three goals from three shots. Opportunities like that make the difference between winning and losing.
- Graham Teasdale Inside Football.
The Blues virtually assured themselves of third spot by comfortably fending off the Magpies challenge at VFL Park. In the heavy conditions, the Blues made the game safe with a six goals to one second term after an even opening.
Rod Ashman
and his purple patch continues. Since the advent of windy and/or wet weather in mide-June he hadn't put a foot wrong.
Jim Buckley
, too, was starring each week, and these two contributed half of Carlton's goals. -
Football Record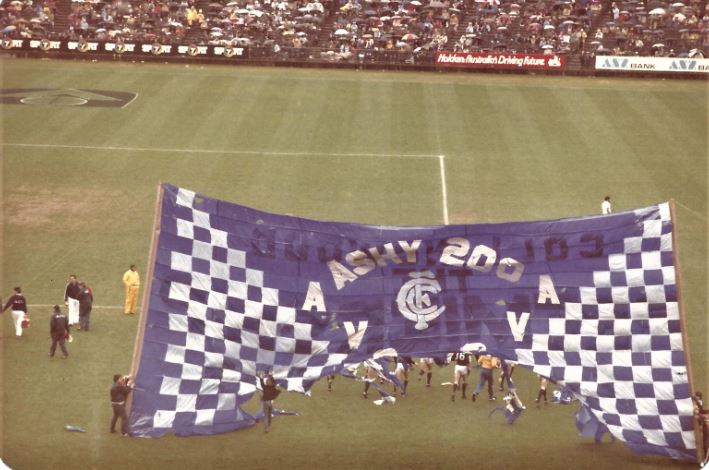 "ASHY 200" and "AVCO" club sponsor.
Image: courtesy Kevin McNair
Team
B:
27 Des English
21 Rod Austin
15 Val Perovic
HB:
33 Peter McConville
17 Bruce Reid
11 Bruce Doull
C:
18 Allan Montgomery
7 Wayne Johnston (c)
23 Paul Meldrum
HF:
28 Spiro Kourkoumelis
36 Mark Maclure
8 Wayne Blackwell
F:
44 Justin Madden
9 Ken Hunter (vc)
30 Fraser Murphy
Ruck:
2 Warren 'Wow' Jones
16 Jim Buckley
14 Rod Ashman
Interchange:
35 Peter Dean
32 David Glascott
Coach:
David Parkin
Video
Milestones
200 Games:
Rod Ashman
200 Goals:
Wayne Johnston
---
Round 14
|
Round 16