1885 - 1900
Henry J. "Bonner" McKay
also club's Property Master.
1904
C. Tiley (amateur trainer) Stephen Turner (hon. massuer) P. J. Blakemore (first aid assistance)
Harry Sampson
(1906-1943)
Hon. Massuer: Stephen Turner
First Aid Assistance: P. J. Blakemore
Hon. Medical Officer: Dr. R. H. Strong
1906 - 1944
"Mr Harry Sampson, head trainer of the Carlton Football Club has tendered his resignation to the committee after 38 years' service." (The Argus 7 Nov)
Passed away circa 23 May 1953
1909
Alex McKay (H.J.McKay?) now in his 20th year as a trainer.
A. Boyd, N. Bragge, Bert Snell, Harry Sampson, P. Lanigan, H. Hawley.
Harry Sampson was the caretaker of the Fitzroy ground way back in 1883 when
Jack Worrall
came to Brunswick Street. (Herald April)
1916
"At one time when players were disabled, trainers dashed on to the field and rubbed their stomachs. That treatment was the cure-all, even if the players' injury was a sprained ankle. The method is different nowadays, and the trainer seizes the player's legs as if they were part of a wheelbarrow and almost stands him on his head. He argues that this movement sends the blood back to the head." (Herald July 28 p3)
1921
W. Colenso
,
E. Leslie
The Argus May 1947, Charlie Anderson has been the head trainer at Carlton for 22 years.
To read the article, click here>
http://nla.gov.au/nla.news-article22429808
1925
Ted Leslie has gone to Hawthorn as head trainer.
1936
"George Hamil, one of the Carlton Football Club trainers, completed his eighth year, and becomes a life member of the club. All seven trainers are now life members, and their periods of service aggregate 111 years.
They are;- H. Sampson, head trainer (30 years); C. Campbell (23 years); W. Clarke (17 years); R. Place (12 years); C. Anderson (11 years); P. Gillet (10 years); and G. Hamil (8 years)" Argus May 06 (p18)
1939
Trainers: Charlie Anderson, C. Campbell, W. J. Clark, P. Gillet, W. Hamill, R. Place
1947
Bert Deacon, Charlie Anderson and Ern Henfry, September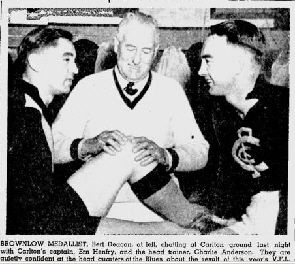 1949
George Harrison, Carlton Football Club massuer
1951:
Charlie Anderson (Head Trainer), Harry Crompton,
George Harrison
,
Ron Kee
, Hector Maggs, Bob Sutcliffe.
1954
Training Room Staff: C. Anderson (Head), H. Crompton, G. Harrison,
Ron Kee
, H. Maggs, R. Sutcliffe and R. Vincent.
Hon. Chiropodist: A. Emery
1959
New Trainer's Uniforms
Ted Harrison (1954-1974)
Ossie Vincent (1957-1980)
Perc Gillett
George Hamill (In 1937 he received life membership.)
George Harrison
Ron Kee
Graham McColl
Jim Taylor
Hugh Turner
Kevin Bogle
Bill Clark 1919 - at least 1946
Harry Crompton
Hec Maggs
circa 1946 -
John Lamont
Alex McKay
Ralph Place 1938
Mick Scanlon
David Scanlon
Sean Scanlon
Peter Sullivan
Keith Leach
Percy Sweet
Ron Vincent
Gary Boucher
Rohan Bromley
Tom McLeod
Russell Roberts
Eric Mushins
(1994 - Current)
Ray Spiteri
(Head Trainer 1998-Current)
Paul Danzi
John Faulkner
Rob O'Gorman
Greg Jarvis
Simon McDonald
Sam Kouroumalis (1999 - Current)
Brett Parry
Ross Tripodi
Mark Walsh
Alysha Cliff
Simon Ward (1999 - 2007)
Tony Wullaert (2006 - Current)
Adam Doherty (2001-02)
Dan Rgalski
Henry Phillips
Adam Winch
Derek Cramer (1978-1983)
1965:
George Christie (according to
Dennis Munari
George was partly responsible for getting him to Carlton and that Christie was mainly a Reserves' trainer.)
1976:
R.Vincent (Head), R. Ebbage, G. Harrison, J. Taylor, R. Lambert, G. McColl.
1978:
R.Vincent (Head), R. Ebbage, G. Harrison, J. Taylor, G. McColl, R.Lowrie.
1979:
R.Vincent (Head), J.Taylor, G.McColl, J.Kidney & J.Carney (Training Room Supervisor).
1981:
Ron Vincent (Head), Jim Taylor, G. McColl, Mick Scanlon,
Leon Bazin
, Albert Young, Keith Leitch & Henry Phillips.
1981:
Training Room Manager: Jack Carney
2009:
Head Trainer: Ray Spiteri
Links
Administration
|
Board Members
|
Vice Presidents
|
Pre VFL Administrators
|
Football Department
|
Volunteers