Victorian Football Association
Team Trainer & Property Master: 1885 - 1900
Second Twenty Player
Career: 1881 - 1883
McKay/MacKay/Mackay
Left: Photo from 1899, August 24 Punch Magazine. Official listed as H McKay, assumption is he is now a CFC official, looks the right age.
1881
Good forward player, a straight kick.
(The Footballer. 1881 p24)
1881 Second Twenty or Reserves. Good forward player, straight kick.
(The Footballer. 1881. p24)
1882 May 24 Wednesday Queen's Birthday
McKay was named in the 23 man Carlton Reserves squad that played Colac at Colac.
1883 May 26
McKay named in the Carlton Second Twenty/Reserves team squad of 20 to play a Fitzroy team on Princes oval.
Opening round
1939
and the Blues were unfurling their premiership flag, former Carlton players were invited, one of these was a Banner/Bonner McKay
McKay was given the nick name "Bonner" by Carlton legend
George Coulthard
.
In 1885 he was appointed Carlton property master and trainer, a position he held until 1900.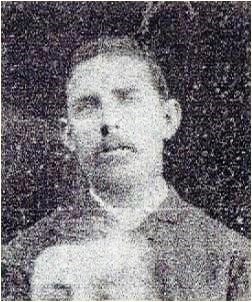 Above: H. MacKay/McKay (trainer) appears in
1888
Carlton Football Club team photo in Tasmania.
1891 June 20
Carlton played Geelong on the M.C.G.
Although not named in the team squad the Geelong Advertiser in its Monday match report mentions Mackay among the Carlton players. This could be a misprint as Islay McOwan was also named in the team squad and the match report.
Note: There were three separate entries.
It has now been determined that it was the same player as H. MacKay and Henry J. McKay.m
1909
In an article in The Herald, April, it mentions Alex McKay now in his 20th year as a Carlton trainer.
Links
Blueseum:
Pre VFL Players