Career : 1928
Debut : Round 12, 1928 vs Fitzroy, aged 24 years, 25 days
Carlton Player No. 451
Games : 2
Goals : 4
Last Game : Round 16, 1928 vs North Melbourne, aged 24 years, 60 days
Guernsey No. 24 (1928)
Height : 158 cm (5 ft. 2 in.)
Weight : 57 kg (9 stone)
DOB: 12 June, 1904
One of the physically-smallest players ever to don the navy blue of Carlton, Paul Cameron was an opportunistic goal sneak who kicked an impressive 38 goals in 22 matches for South Melbourne between
1926
and
1928
. Later that same season, he transferred to Carlton, and added another two games and four goals to his career tally.
Cameron wore
guernsey number 24
in both his matches for the Blues. He scored two majors on debut when Carlton narrowly lost a thriller to Fitzroy in
round 12 of 1928
, and two more in a 26-point victory over North Melbourne in
round 16
. The reasons for his departure from the club after just those two appearances were not recorded.
Paul had an on going leg injury which he sustained in 1928 which he found difficult to overcome. He sought out Yarraville's massuer Fred Wren who did wonders for him, and after a week of treatment Paul was able to begin to train again.
(Sporting Globe June 12 p9)
Carlton cleared Paul Cameron to Yarraville on Thursday 23 May 1929 (Herald May 24)
When he joined Yarraville he became the smallest player in the VFA.
In 1929 Paul Cameron was photographed at Yarraville VFA, see his image gallery.
In
1936
, Cameron captain-coached NSW club Berrigan to the Murray Football League Premiership, and in
1942
began three years of service with the Australian Army during World War II.
Cameron passed away New Year's eve, 1978 aged 74.
Picture: Paul Cameron during Carlton's 1928 trip to Tasmania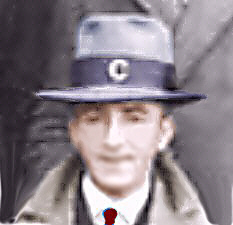 Picture: Paul Cameron South Melbourne 1926
Footnote
Paul Cameron was the uncle of the late
Phil Ereaut - pblue
Phil's professional skills and expert knowledge added to the richness of our Blueseum web site. His legacy can be seen all over this site wherever the pblue name appears.
In a reproduction of a Sporting Globe article on the Australian Football web site, Paul is mentioned by none other than Roy Cazaly who fondly recalls how Paul used to pinch the ball off him when he was running into goal.
Links
Articles:
Blues' Little Big Man Remembered
Blueseum:
Summary of playing statistics for Paul Cameron
|
Cameron's Blueseum Image Gallery