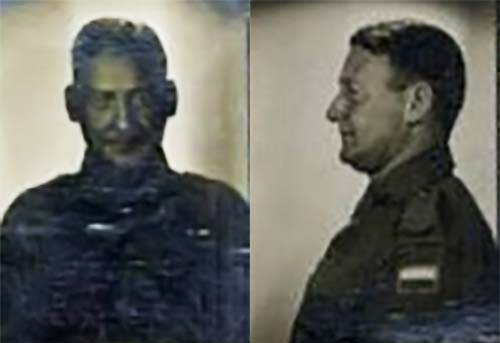 Career : 1930
Debut and Only Game : Round 7, 1930 vs North Melbourne, aged 23 years, 251 days
Carlton Player No. 470
Goals : 0
Guernsey No. 25
Height : ?
Weight : ?
DOB : 6 October 1906
On the afternoon of Saturday, June 14,
1930
, Carlton played North Melbourne at the Arden St oval. Two young men made their debut that day;
Bill Flynn
(a forward from Fitzroy Reserves) and Griffith Henry Thomson; a defender from Ararat. Flynn put in an eye-catching effort with three goals from a half-forward flank in the Blues comfortable victory by 50 points, while Thomson was hardly sighted. In that same month Thomson was
granted a permit to Melbourne from Carlton
.
For both, that game was to be their one and only appearance for the Navy Blues, because in the midst of the Great Depression, even three goals in a first-up effort couldn't guarantee a place in the team for the next game. Thomson drifted back to his home town, and little is known of his circumstances until Australia was plunged into turmoil with the outbreak of World War II in September
1939
.
Within days of Australia's declaration of war against Germany, Thompson volunteered for overseas service. By then he was 33 years old, unmarried, and working as a stock clerk. The Army obviously valued his office skills over his potential as a front line soldier, because after basic training he was posted to 6th Division Headquarters in the Middle East.
Soon after Japan bombed the American naval base at Pearl Harbour in December
1941
, and the Pacific Ocean became the theatre of war closest to the Australian mainland, Thomson took up a new posting with the Australian Army Pay Corps at Batavia, on the Indonesian island of Java. Only a few months later, in February
1942
, the Japanese army flooded south to conquer Singapore, Malaya, Hong Kong and Java in quick succession.
More than 2,800 Australians were captured on Java, and most of them were destined for the horrors of the Burma Railway – a 420 kilometre track through thick jungle that the Japanese High Command ordered to be built by Allied prisoners. On the railroad there was little food, clothing or shelter, no medical supplies, and only basic tools. Work started at dawn and ended at dusk. Worse still, squads of Japanese and Korean guards constantly brutalised the weakened prisoners, who were literally worked to death.
Some 13,000 Australian prisoners of war worked on the Burma 'Railway of Death', and almost 2,700 died of disease, malnutrition or were simply murdered by their captors. One of them was Carlton footballer Griffith Henry Thompson, who died beside the line in May 1943 - thirteen months after his capture on Java.
Links
Articles:
The Blues at War
Blueseum:
Summary of playing statistics for Henry Thomson
|
Thomson's Blueseum Image Gallery