Challenge Cup Competition - Victorian Football Association
DOB:
DOD: 23 December 1921?
Career: 1871? - 1882
James Robertson
J. Robertson played in both Carlton-Waratah games at the M.C.G. on June 29 (Rugby) and July 1 (Australian Football)
1878
.
Just after half-time in the Monday July 1 match, Jas. Robertson was involved in the clash with
George McGill
and a Waratah player in which MacGill suffered a (
career ending
) broken leg.
(Peter Pindar, The Australasian p70)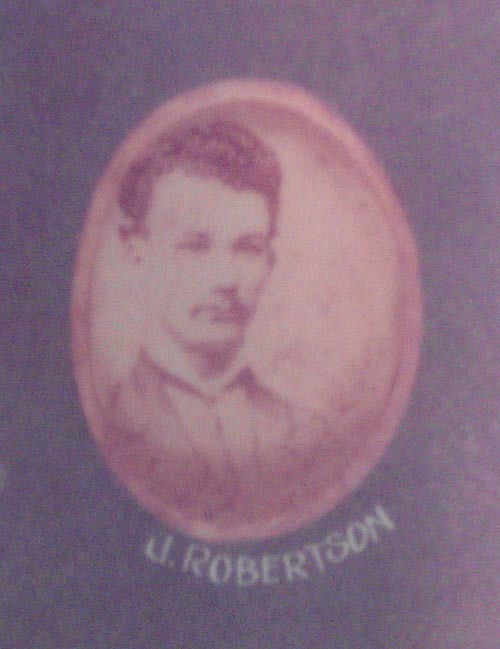 1879
As a centre and cool effective player, has done some good service in his day - which is unfortunately fast waning.
His name will ever be associated with the "dark blue".
(The Footballer 1879. p29)
1881
Has played occasionally.
(The Footballer 1881 p24)
1882
May 24 Wednesday Queen's Birthday
J. Robertson was named in the 23 man Carlton Reserves squad that played Colac at Colac.
Jimmy Robertson later played with North Melbourne/Hotham.
Described in an article in The Argus May 9 1936 as a very fast runner and adept at the hip and shoulder.
He played brilliantly for Carlton, but never quite reproduced his best form at North.
1908
The Referee (Sydney) September 02 (p9) interviewed Jimmy Robertson at the Australasian Football Carnival in Melbourne.
He says he was at Carlton for two or three seasons then went to Hotham where he became captain of the Hotham/North Melbourne team.
Apart from football Jim was a great athlete. He excelled at running winning many races.
"On the running track Jimmy Robertson won the Geelong Cup, Terang Cup (twice), Mortalke Handicap, Ararat Cup, Symthesdale Cup (biggest handicap in Victoria at that time). Gurney's Handicap at Flemington Running Grounds. At the end of two football seasons a 440 yards scratch race for players took place. J.R. winning on both occasions."
WERE THERE TWO PLAYERS NAMED JAMES ROBERTSON AT CARLTON?
Robertson is pictured in the 1871 Challenge Cup team photo, above right. The other photo, top left, was taken in 1881. Are these two images of the same person?
If anyone can shed some light on the two Robertson's please contact Bluesuem.
admin@blueseum.org
In the above Referee interview Robertson says he was at Carlton for only 2 - 3 seasons and now we have two death notices, 1921 and 1929.

The Age December 24 p1 1921

The Age September 19 p6 1929
1936
May 9
The Argus published a letter about Jimmy Robertson.
To read the letter, click here>
http://nla.gov.au/nla.news-article11033401
Brother or relation of
George Robertson
and relation of
Wally Robertson
?
Links.
Blueseum:
Pre VFL Players