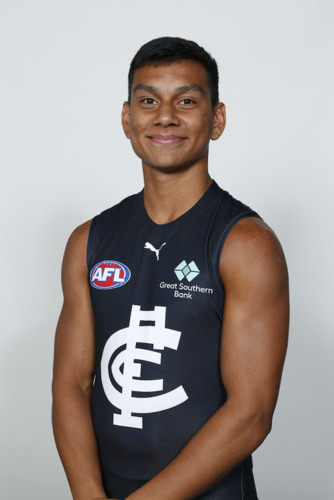 Career : 2022 - ?
Debut : Round 9, 2022 vs GWS Giants, aged 18 years and 173 days.
Carlton Player No. 1230
Games : 18 *
Goals : 18 *
Guernsey: 3
Height : 176 cm (5'10")
Weight : 88 kg (13' 8")
DOB : 23rd November, 2003.
Jesse Motlop is a clever small forward, with plenty of the sort now in vogue with uncanny goal awareness, speed and defensive pressure. Whilst Motlop was eligible for Fremantle's Next Generation Academy (NGA), the Dockers couldn't match a bid inside the top 40 when the Blues snapped him up with their first pick in the 2021 National Draft. His father Daniel played 83 games for Port Adelaide and 47 for North Melbourne, though Jesse was not father-son eligible for either club.
It was a good year for Motlop, playing at Under 18, school and senior level. He had little trouble finding the goals in each competition, with nine from eight games in the WAFL League grade and six from four Colts games. Motlop was also solid representing WA against SA in the national carnival, playing his standard brand. He showed some promising signs late in 2020 to suggest he would be a player to keep an eye on, not just because of the Motlop name, but also for his goal sense and class. Motlop averaged nine disposals and two tackles a game at League level this season, and 15 disposals and three tackles a game at Under 18's level where he found some midfield time. Agility is Motlop's greatest athletic attribute, registering a top five finish at the national combine with a time of 8.063 seconds. That trait is showcased on-field as well, with his slick movement in tight situations making him hard to grab for the opposition, and he isn't afraid to use it at anytime. It proves a particularly dangerous weapon inside 50, where Motlop is able to weave through multiple would-be tacklers and kick goals out of nothing. Combined with his smaller frame, it makes him hard to tackle as he wins free kicks by being on the move. Being clean is another great skill he possesses as a small forward. With time not on your side inside 50, you need to be able to take the ball cleanly at every chance and that is something Motlop does well in all parts of the ground.
Motlop oozes confidence in his game and rarely looks flustered, typically in complete control when going for the ball and then using it. You also need a bit of confidence to run your own podcast and that's something Motlop can hang his hat on with his Deadly Discussions show, which makes it easy to see Motlop making a name for himself within the AFL landscape. The overall confidence is made even better with his impressive football smarts, as Motlop possesses a high footy IQ and is just a natural footballer. A skilful player by hand and foot, he finishes well in front of goal and often hits his targets by around the ground. Even though he is a natural forward, he could really make it as a creative half-back with his smarts and skill. Motlop is also very competitive, not afraid to mix it up with senior players despite his size and age which should hold him well at the next level. Although he doesn't mind getting physical, Motlop still lacks the strength to make the most of it and was often pushed off the ball at senior level this year. As long as he doesn't lose that agility, he will get the most out of his style by adding some strength like Anthony McDonald-Tipungwuti, who is a solid size but still very quick. Consistency is always an issue when you're a small forward and getting a solid four-quarters of football has been a challenge for Motlop, but when he is on he often makes his low amount of touches count.
Motlop was considered as one of the best small forwards in the 2021 draft, he has the belief and skillset to really make his own name at AFL level, with his natural flair and play style sure to make him a fan favourite. Motlop's senior experience and pedigree should help him have an earlier impact at AFL level compared to others in this year's draft and any club looking for a small forward to come in soon will be rewarded with Motlop.
Jesse Motlop's uncle
Rod Waddell
played for Carlton and later Geelong.
Motlop was recruited from South Fremantle / South Coogee JFC / ​Aquinas College (WA).
Links
Blueseum:
A summary of Motlop's playing career
|
Motlop's Bleuseum Image Gallery