Challenge Cup Competition - Victorian Football Association
DOB: 1856 July 09 Collingwood
DOD: 1885 December 19 Prahran, aged 29, buried Melbourne General Cemetery
Career: 1876 - 1879
1876
Julius Evan Petherick recruited from Comet/Clifton
J. E. Petherick was vice president of the Comet Cricket Club (est.1870) during 1876-1877 season. A player, H. E. Petherick was the club's highest run scorer. (could be brother Henry Edmond Petherick 1861-1908)
(Conway's Australian Cricket Annual 1876-1877 p131)
According to The Footballer 1876 (p27) J. Petherick was captain of the Comet, formed in 1875, their colours were scarlett and white stripes and played in Royal Park.
1876
July 15
Petherick was named in the Second Twenty team squad of 26 to play St.Kilda Second Twenty at St.Kilda.
1876
July 22
Petherick was named as one of Carlton's best players for the Reserves or Second Twenty in their 1-0 win over Carlton Imperial at Royal Park.
(The Argus)
1876
July 27
Named in the Second Twenty squad that played the Melbourne Second Twenty at Melbourne.
1876
The Footballer 1876 edition mentions Petherick as a good player for Carlton's Second Twenty this year.
1877
June 30
Carlton played Williamstown on the Madeline Street ground Carlton.
Senior players were delayed in returning to Melbourne from Sydney
A combined team of senior and reserves players were called upon to play Williamstown.
Petherick was named in the Carlton squad of 25.
Carlton won 2 - 0
1877
October 13
Carlton Annual Sports Day at Madeline Street.
J. Petherick won the 150 yard Handicap Race.
1878
May 24 Friday Queen's Birthday
Petherick named in the Senior Twenty that played the Sale F.C. at Sale.
1878
August 03
Petherick was named in the Second Twenty squad that played Adelphians in Royal Park.
1878
September 13
Julius E. Petherick aged about 23, boarded the S.S.Lusitania sailing from Melbourne to London via Adelaide.
Was he travelling to Adelaide, or London?
1879
November 10
J. E. Petherick was a competitor in the Playing Members Handicap races at the Carlton Sports Day.
1883
June 20
Julius married Thirza Smith at Kooringa S.A. (Burra Record June 29)
Petherick stood for local council elections in 1883 as the member for South Ward, he was defeated.
Julius was a watchmaker/jeweller and had a shop in Kooringa, Burra.
Kooringa was a company owned mining town, it is now known as Burra South.
1885
December 19
Julius Evan Petherick died of pneumonia aged 29 in Prahran Vic.
http://peopleaustralia.anu.edu.au/biography/petherick-julius-evan-22957
1886
February 20
Julius Petherick left £828 estate
(Australasian p365)

Julius' signature on an 1878 petition presented to the Melbourne City Council calling for the establishment of a dedicated Carlton Football Ground.
Public Records Office Victoria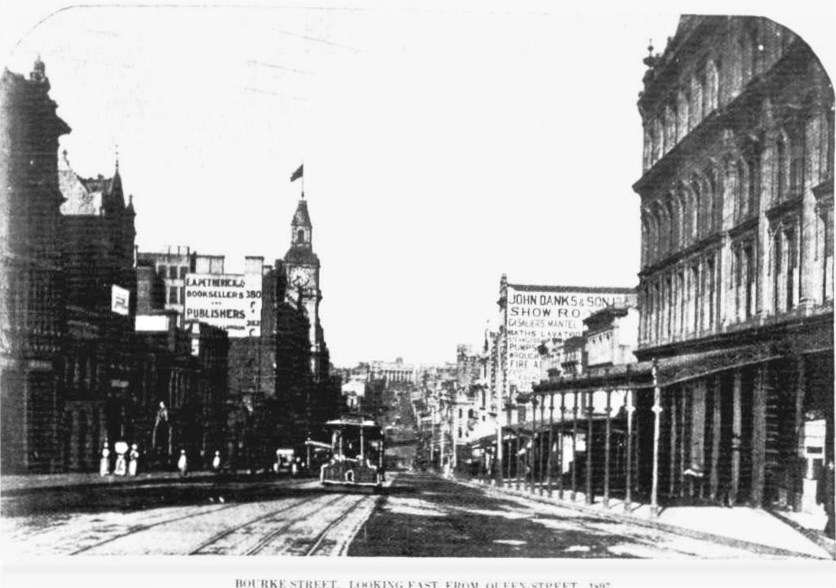 There are two Carlton connections with this 1897 photograph of Bourke Street looking toward Parliament.
First, John Danks & Son hardware was Carlton champion Harry Guy's life long employer where he rose from office boy to head Danks' Sydney operations.
The site is probably where McEwans hardware store later stood.
Second, directly across the road is E. A. Petherick booksellers (with the Melbourne G.P.O. clock tower on left and an on-coming cable tram).
Edward Augustus Petherick founder of the book store was the older brother of Carlton's Julius Evan Petherick..
It seems that there were no parking problems 120 years ago.
Venables/Downes/Lines/Walshe/Worth/Merrit/McMellon/Eaton-Cannon family trees Ancestry
Links
Blueseum:
Pre VFL Players