Melbourne Rules - Challenge Cup Competition - Victorian Football AssociationOriginal Carlton Football Club player
DOB: Circa 1846
DOD: March 13 1919 Concord Sydney NSW
Games: 59 - 70
Goals: 3
Carlton Captain: 1875
Carlton Committee: 1871
Career: 1864-1875. (1876-1878)

John Henry (Harry) Guy
A defender.
Best player for Carlton in
1864
.
Harry was on the first committee for The Carlton Football Club.
(The History of The Carlton Football Club, Brian Hansen p.10,12.14)
A pioneer player in
1864
.
The first of a long line of champions Carlton has produced was Harry Guy, a fast-moving back-man, whose disposal won high praise from critics of his time.

Image: Leader Aug 22 1908
1866
Distinguished himself for Carlton against South Yarra.
(The Carlton Story, H.Buggy and H.Bell, p6,12,33,37.)
1867
The finest fellow ever to have toed a ball.
Where would Carlton be without him?
Among leading players for 1867.
1867
Guy was named in The Argus report as one of Carlton's better players in the 2-3 loss to Geelong at Geelong 17th. August.
1868
Presented with an illuminated address signed by every player and member of the AGM. April 16 1868.
As a tribute to his play and conduct during his association with the Club, and an outstanding player during the 1868 season.
Guy named in squad to play Emerald Hill at Emerald Hill Saturday 6th June 1868.
1868
October 29
At Polmer's Hotel Cardigan St. the club held a special meeting, the purpose was the presenting of 5 silver belt buckles to to the 5 players who distinguished themselves during the season.
The five players were, Adamson, Lanty O'Brien, Duncan, Barfoot and Harry Guy.
Harry Guy's Silver Belt Buckle 1868
Inscription says;
"Carlton Football Club,
Prize Trophy
To
J. H. Guy,
Season 1868"
1869
A leading player.
1870
An outstanding player.
1871
April 27
Guy is elected onto the committee at the Carlton AGM.
1873
October 10 Friday
The Carlton Sports Day was held on Saturday (11th) at the University ground.
W. Guy was named as one of the competitors in the non playing members 150 yard handicap flat race.
J. H. Guy is at scratch in the 100 yard handicap race giving as much as 14 yards start to some of other runners.
(Herald p3)
1874
Still unrivalled as a back player.
1875
Guy captained a Carlton First Twenty side against a Carlton 25 team in a scratch match at Royal Park on Saturday 8th. May.
1875
Captain, and unequalled as our back.
1876
After 11 years of service retired but still on the committee.
(Centenary Souvenir of Carlton Football Club, p8,8,9,10,11)
1875
A brilliant back player, fleet with the ball, unerring in his judgment in placing it safely, the pride of his Club, and the oldest player in it.
(The Footballer. 1875.p27)
1876
June 10
The Blues were two players short in the match against Melbourne at Royal Park.
Harry Guy and
Orlando 'Lanty' O'Brien
took to the field for their old club admist great applause from the crowd of 10,000.
1876
. Assisted now and again in time of need, and always suggested the idea "as good as ever".
(The Footballer. 1876. p31)
1877
Guy was called on to play in the match against Williamstown on June 30.
The Carlton team had played matches in Sydney against the Waratah club the previous Saturday and Monday.
The team was expected back in time for this game but had not arrived.
McGill the Carlton vice captain was determined the match would go ahead and arranged for former players and second twenty/reserve players to fill the places.
This match was played on the Madeline Street ground and the Blues won 2-0.
1878
Harry Guy played in the match against Albert Park on the East Melbourne Cricket Ground on July 27.
1878
Was once again called on in time of need, and did useful service, although not the "Harry" of old.
(The Footballer 1878. p31)
PETITION
In
1878
a rate-payers' petition of more than 3,500 signatures was forwarded to the Melbourne City Council to provide a ground in the southern portion of Princes Park for the use of the Carlton Football Club.
In December 2015 this petition was unearthed in the Public Records Office and contained the signature of J. H. Guy of 16 Villiers Street Hotham.

CFC Image
To read club historian Tony De Bolfo's article on the recently unearthed petition (Dec 2015) click here>
www.carltonfc.com.au/news/2015-12-15/historic-princes-park-petition-found
1881
April 15
The Record Emerald Hill (South Melbourne) on page 3, reporting on the local Albert Bicycle Club's outing to Coburg mentions that "J. H. Guy rides a Dank's machine and has plenty of pluck."
Harry Guy started with John Danks & Son as an office boy and rose to head it's Sydney branch.
1889 John Danks classified advert. J. H. Guy - Director
1888
June 14 Tuesday
John H. Guy Esq (Messrs John Danks and Sons) appears in a list of provisional directors of the Burwood Township Land Company Limited which was selling 190 acres of land at Burwood.
(Trove; Melbourne Punch p18)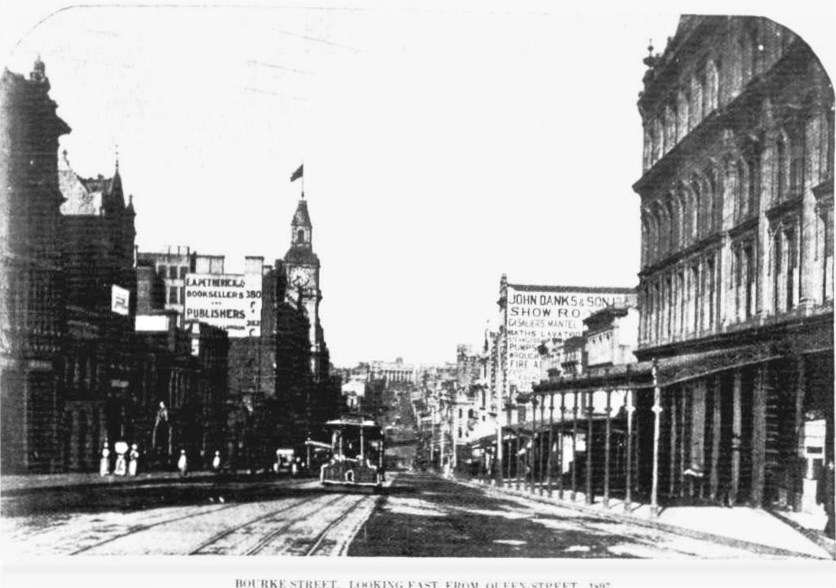 There are two Carlton connections with this1897 photograph of Bourke Street looking toward Parliament.
First, John Danks & Son hardware was Harry Guy's life long employer. Harry rose from office boy to head Danks' Sydney operations.
This site is probably where McEwans hardware store later stood.
Second, directly across the road is E. A. Petherick booksellers (with the Melbourne G.P.O. clock tower on left and an on-coming cable tram.)
Edward Augustus Petherick founder of the book store was the older brother of Carlton's Julius E. Petherick who played in the late 1870's.
It seems that there were no parking problems 120 years ago.
1900
October 09 Tuesday
There was an intercolonial conference of Chambers of Manufacturers in Sydney to consider the implications of the approaching Federal tarrifs. Members were entertained at a luncheon in the I.O.O.F. Temple Elizabeth Street, by J. H. Guy, the resident partner in Sydney of Messrs. John Danks and Son Limited.
1903
February 26
The newly formed Australian Football club in Sydney, the Paddington Football Club elected J. H. Guy as one of the vice presidents.
Australian Test cricketer Victor Trumper was elected as co-secretary of the new club, in 1908 Trumper became one of the founders of Rugby League in that city.
1903
July 13
"Mr. J. H. Guy, a vice president of the Paddington F. C., an old Carlton footballer, accompanied the team up north, and gave an interesting speech in response to the toast of the visitors."
Paddington went to Newcastle to play Wallsend.
(Australian Star (Sydney) p7)
1915
The Referee (Sydney) March 17 interviews a Mr. Dunkinson one of the founders of the Richmond Cricket Club in 1853. He talks about cricket players that he has seen. But he does stray into talking about football.
"Mr. Dunkinson took an interest in other pastimes. He umpired at football when the official stood between the goal-posts, and was the first to go into the field to take control. Harry Guy, the old Carltonian, was the best player he had ever seen. Guy was a fine runner, and a great kick. It was a treat to see him. There was nothing dirty in his play, and if there were thirty-six like him in a game no umpire would be necessary."
1918 OLD TIME FOOTBALLER - By J. W. (Jack Worrall)
"A famous old Carlton player in Harry Guy, who paid Melbourne a visit from Sydney the other week, is wonderfully well and active. From an old book called the "Footballer," dated 1876, I quote: - "Harry Guy, the finest fellow that ever toed a ball (where would Carlton's victories have been without him?), a rosy athlete in his way." It is pleasing to hear of the pioneers who laid the foundations of the game. All veteran players in Victoria will be pleased to know that the old Carltonian is hale and hearty."
(Australasian May 04 p18)
1919
Died suddenly March 13 1919 at Concord Golf Links Sydney, aged 73.
Despite the attention of four doctors who were on the course that day, Harry passed away. His body was taken to his home "Avoca," Woodside Ave, Strathfield.
Harry was the Sydney director and manager of John Danks & Sons Pty. Ltd. He had been with the company since he was 17 in 1863.
Danks is a hardware supplier which began as a plumbing business in Melbourne in 1859 and is still in operation.
1919
March 15
DEATHS
GUY - A tribute to the memory of my highly esteemed and true friend, John Henry Guy, who passed away, suddenly, on the 13 March, 1919
(inserted by
John Macgibbon
, Auburn)
Argus p11
1919
March 15
"Friends of Mr. J. H. Guy, of Sydney, will regret to learn of his death, which occurred suddenly while he was playing golf at the Concord (N.S.W.) links. Mr. Guy who was an old Victorian sportsman, held an important position in the firm of John Danks and Son Pty. Limited for many years. He had been a director of the company since its inception, and had been manager of the Sydney branch of the business for 24 years. With four others he was able to claim a period of service of over 50 years with the firm. In business circles he was always held in the highest esteem.
Sporting enthusiasts of the early days will remember him as one of the fastest short-distance runners in the State. In the early seventies he was captain of the Carlton Football Club, and his brilliant work in the field was a strong attraction for crowds of spectators."
Argus March 15 p18
THE LATE MR. J. H. GUY
Sydney Morning Herald March 17 1919.
http://nla.gov.au/nla.news-article15829964
DEATH OF MR. J. H. GUY
Australian Town and Country Journal (NSW) March 19 (p5)
http://nla.gov.au/nla.news-article263704056
"THEY LOVED THEIR GAMES"
A tribute to Harry Guy in the Sydney newspaper The Referee (April 02 1919) written by Melbourian Pat O'Hanlon.
To read click here>
http://nla.gov.au/nla.news-article120306667

SLV; ATCJ (NSW) March 19 (p5) 1919

R.I.P. Harry
Enfield St.Thomas Cemetery Sydney
Inscription ID 9840794 Portion L Row 8
If someone could take a clearer image it would be much appreciated.
Image: courtesy Australian Cemeteries Index
Just over 100 years since his death, this writer visited Harry's grave on November 01 2019.
In a quaint Anglican church yard full of gravestones (a la olde England) We found Harry in the front row on Coronation Drive. Guy is with his wife Mary and son who both pre deceased him. The couple's only son W.H.Guy died February 1915, aged 44.
The grave site is in poor condition, looking like it has been vandalized at some time in the past.
Links
Blueseum:
Pre VFL Players
|
Pre VFL Captains
|
Pre VFL Administrators