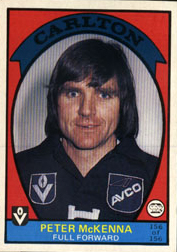 Career : 1977
Debut : Round 2, 1977 vs Fitzroy, aged 30 years, 225 days
Carlton Player No. 864
Games : 11
Goals : 36
Last Game : Round 18, 1977 vs Melbourne, aged 30 years, 337 days
Guernsey No. 27
Height : 191 cm (6 ft. 3 in.)
Weight : 86 kg (13 stone, 8 lbs.)
DOB : 27 August, 1946
AFL Hall of Fame
One of the game's all-time great full-forwards, Peter Julian McKenna created yet another headline when he was traded by Collingwood to Carlton at the age of 30 in
1977
. Often described as the "pop star footballer," McKenna had played 180 games and kicked a mammoth 838 goals in 11 seasons for the Magpies, but by
1975
he had fallen out of favour at Victoria Park, and was often playing with the seconds.
Midway through that year, McKenna was severely injured when an opponent's knee crashed into his lower back during a Reserves match. He was rushed to hospital, and had part of one kidney removed. Although that incident ended his season, he was keen to play on in 1976, so Collingwood sent him across Bass Strait to Devonport to assess his future. In 17 games with the Tassie Magpies, McKenna booted 79 goals and re-ignited his desire to play VFL football. However, when he approached Collingwood about a comeback, he was told there was no longer a place for him on their list.
Meanwhile, Carlton was struggling with the anguish of losing the
1976 Preliminary Final
to North Melbourne by a solitary point. When the news broke that McKenna was open to offers, the Blues match committee decided that he was worth taking a punt on, and negotiations resulted in a swap of players between the two clubs. Collingwood asked for, and got 1972 Premiership wingman
David Dickson
. McKenna got Carlton's
number 27 guernsey
, and the opportunity to make the Blues attack his domain.
At first, McKenna's arrival at Princes Park was not universally popular among the Carlton faithful, because until then he had been a despised rival, and many Blues supporters believed that he was past his best. Only those who recalled his stellar
1970
season (when, in four clashes against the Blues, he had kicked bags of 8, 9, 9 and 6 goals respectively) thought he might have something left to offer.
Well, was the McKenna experiment a success? Probably not, because it failed in its primary objective of getting the Blues into another final series. Carlton wound up the year sixth on the ladder, and it was obvious by mid-season that McKenna was a spent force – particularly after he was quoted as saying that he hated playing against Collingwood. Still, he had some memorable moments - especially early on – when his deadly accurate right-foot drop-punts produced 24 goals in five matches between rounds
3
and
7
.
Overall, McKenna averaged better than three goals a game in his 11 matches as a Blue, and his VFL career ended on a positive note when he steered through his last four goals in
Carlton's big win over Melbourne at VFL Park, Waverley in round 18
. On that same day, a young
Ken Sheldon
kicked six goals, and a barrel-chested teenager named
Wayne Harmes
impressed on his debut in
guernsey number 54
.
In 1978, McKenna was cleared to VFA club Port Melbourne. Later, he also turned out for Geelong West and Northcote before his retirement in 1980. When his playing days were over, he became a long-serving football commentator for the Channel 7 network.
Footnotes :
While at Collingwood, McKenna recorded two pop songs;
Things to Remember
and
Smile
, both of which made the Melbourne singles charts. Later he published a book;
My World of Football
, which was floridly subtitled; "the candid, provocative, innermost thoughts and technical secrets of an Australian football hero."
He was a regular on Melbourne television in those days, and in 1971, he joined Daryl Somers as the first co-host of
Hey Hey It's Saturday
, which was broadcast on Saturday mornings by Channel 9. But after eight episodes, the Magpies told him to choose between television and football, so he was replaced by Ossie Ostrich.
McKenna began his working life as a teacher at Fairfield state school, a job that lasted only until he became a VFL star. After a varied business career and almost two decades as a football commentator, he was appointed a chaffeur to the Victorian Parliament in 2004.
Video
Links
Articles:
The Magical 'Three Goal Average'
Blueseum:
Summary of playing statistics for McKenna
|
McKenna's Blueseum Image Gallery