| | | | | | | | | |
| --- | --- | --- | --- | --- | --- | --- | --- | --- |
| Carlton | 0.3 | 3 | 4.5 | 29 | 12.5 | 77 | 17.9 | 111 |
| Collingwood | 4.8 | 32 | 10.13 | 73 | 13.16 | 94 | 14.17 | 101 |

Venue: M.C.G.
Date: September 26, 1970
Result: Win by 10 points
Umpire: D.Jolley
Crowd: 121,696
Goalkickers: T.Hopkins 4.1, A.Jesaulenko 3.1, B.Crosswell 2.2, R.Walls 2.1, J.Nicholls 2.1, A.Gallagher 2.0, S.Jackson 1.2, S.Silvagni 1.0, Rushed 0.1
Best: B.Crosswell, D.McKay, S.Silvagni, I.Robertson, J.Nicholls, S.Jackson, A.Jesaulenko, R.Walls
Reports: Nil
Injuries: B.Thornley replaced by T.Hopkins at half time. J.Goold replaced by N.Chandler during final quarter. S.Silvagni (bruised nose), A.Gallagher (bruised shoulder)
---
Game Review
Often referred to as the greatest moment in the proud history of the Carlton Football Club, the 1970 VFL Grand Final victory over Collingwood is one of those occasions when every true Blue supporter fortunate enough to be alive on that day, will forever remember exactly where they were when the final siren sounded.
It was a match that fundamentally changed the way the game was played afterward, and it unfolded before the
biggest crowd
in Grand Final history. It was orchestrated with a stroke of genius by a master coach, sparked by a fairytale effort off the reserve bench, and topped off by one of the greatest high marks ever taken. It was unbelievable, it was unforgettable, and it shattered Collingwood's confidence for a decade.
The Magpies went into the match as strong favourites, having beaten Carlton twice during the regular season, and again a fortnight before in the Second Semi-Final. On a fine spring day at the MCG, a record 121,696 spectators packed in to watch the bitter rivals battle it out again for the ultimate prize.
Carlton gambled before the match by leaving out tough, experienced full-back
Wes Lofts
, and naming
Kevin Hall
to replace him. The Blues' match committee were looking to counter Collingwood's star full-forward
Peter McKenna
, whose pace off the mark had troubled Lofts in each of their previous meetings. Carlton's 19th and 20th men were
Neil Chandler
(who was valuable late in the '68 flag win) and perennial reserve
Ted Hopkins
, a quick and agile blonde rover who had already warmed the bench eleven times that season.
Carlton captain
John Nicholls
won the toss – but that was about all the Blues did win in the first quarter. Collingwood burst out of the blocks and though they were wasteful early, they dominated the quarter to lead 4.8 to 0.3 at quarter time.
David McKay
and Hall were solid in defence, but sheer weight of opportunities gave McKenna three goals by the first break.
The second quarter began like the first. Collingwood ruckman Graeme 'Jerker' Jenkin had the better of his early exchanges with John Nicholls and
Peter Jones
of Carlton, and Collingwood scored twice more before
Brent Crosswell
eventually kicked truly for the Blues first major at the 8-minute mark. Two more goals to McKenna followed, before he was crashed in a pack by one of his team-mates and seemed dazed for some time.
Three minutes into time on, Collingwood were 44 points in front when McKay kicked long out of defence to the Member's wing. Camped under the ball, Jenkin seemed ready to take it - indeed Collingwood half-back Denis O'Callaghan later remembered calling; 'It's yours Jerker - you're on your own!'... when suddenly, seemingly from nowhere, a former junior gymnast wearing the number 25 Carlton guernsey soared into the air, planted one knee on Jenkin's shoulder, and plucked the ball out of the sky. Photographs of
Alex Jesaulenko
's glorious mark that day are among the most famous Australian sporting shots ever taken.
Carlton were down and not far from out at half time, but Jezza's mark at least gave Carlton coach
Ron Barassi
an example of defiance against the odds, and a rallying point for his team. In one last throw of the dice, he recast Carlton's forward line, dragged high-profile WA rover
Bert Thornley
, and sent Ted Hopkins onto the field in a forward pocket. Then he ordered his team to run, to create, and to handball, handball, handball. And most of all, to forget that they were seven goals down. Meanwhile, in the Collingwood rooms, the place was full of back-slappers, and the odd champagne cork had already been popped.
A minute or so after the first bounce of the third quarter, a long kick to the Carlton goal square spilled off the pack and into the arms of Teddy Hopkins, who snapped truly on his right foot. Another minute later, he was perfectly positioned again when another opportunity presented itself, only this time he goaled with his left boot.
At centre half-forward,
Robert Walls
had begun running his opponent Ted Potter ragged, leading hard up the ground and marking everything that came his way. Brent Crosswell and
Garry Crane
were dominating across the centre, and McKay was still rock-solid in the middle of the Blues defence. Between the 7 minute and 23 minute marks of the quarter, Carlton piled on five more goals and suddenly, the margin between the teams was just four points. However, two late goals to Collingwood blew the deficit out again to 17 at three-quarter time; 13.16 to 12.5.
Many commentators believed that Carlton's enormous effort in fighting their way back into the contest had taken so much out of them, that there simply couldn't be enough energy left to battle out a close finish. But they were wrong. All over the ground, the Blueboys lifted, and, sensing that Collingwood were wilting, they willed their bodies to keep running.
At the 21 minute mark of the last quarter,
Syd Jackson
smothered the ball off his opponent's boot, recovered and fired out an instinctive handpass to Hopkins, who was streaming at full pace towards goal. Teddy's fourth major cut the margin to just one point. The Collingwood players' heads dropped, and miraculously, right around the MCG, Carlton fans sensed – no, damn it – we
knew
it.
( We are going to win this…! )
Three minutes later, when Crosswell won a free kick 40 metres out on a slight angle, his neat drop punt never looked like missing. For the first time in the match, the Blues were in front.
Then came one last, magical, unforgettable moment. Wheeling out of a pack, Jezza let fly towards an open goal from 40 metres. The ball bounced once, twice, and through the goals for the sealer.
( Eleven points in front – we're home! )
Collingwood did manage to send the ball into their forward line one last time, in the final minute of play. 'Twiggy' Dunne took a mark 50 metres out in front, but his shot for goal drifted wide and the Blues were back in attack when the final siren capped one of the iconic chapters in football history.
In the centre of the ground stood umpire Don Jolley. "The whole of the last quarter was played to the tune of one continual roar," he said later. "There was one great almighty noise when Carlton hit the front, and an even bigger one when the final siren sounded. I remember at the finish being a bit dazed. What a transformation. You had to be there to believe it."
Collingwood's devastation was summed up by their captain, Terry Waters. It took many years for him to speak publicly about the game, but when he did, he was simple and direct; "I don't think anybody could believe it, or wanted to believe it - or could imagine how they were going to live with it," he said.
David McKay
was judged Best on Ground by a panel of experts. 'Swan' had been good all day and instrumental in Carlton's recovery. He and Brent Crosswell were outstanding, but in the end it was inspiration, perspiration, superior teamwork and self-belief that created a miracle on that One Day in September, 1970.
Team
Scoreboard at the end of each quarter.
Incredible Win by Carlton in VFL
Journalist Rohan Rivett's story of the Grand Final.
To read click here;
http://nla.gov.au/nla.news-article110463079
Milestones
Last Games:
John Goold
,
Bert Thornley
Rivalries:
This was the fourth grand final between these great foes; and Carlton's third of 5 consecutive Grand Final wins - to this day - over Collingwood
Multimedia
Listen to 3KZ's Radio Commentary of the Second Half of the Grand Final
Colour Video of the 1970 Grand Final
40th anniversary highlights package telecast during 2010 Brownlow medal count
National Film and Sound Archive reveal new footage 50 years on
Youtube
Game Highlights in fairly good colour
1st Quarter.
2nd and 3rd Quarters
4th Quarter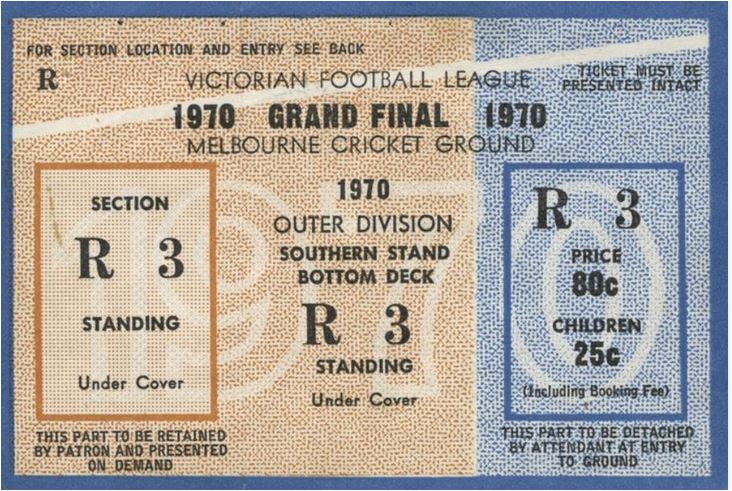 Links
---
Preliminary Final
|
1971