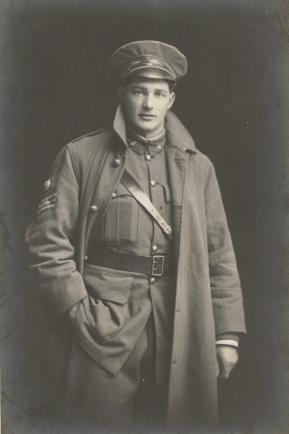 Career : 1912 - 1914
Debut : Round 4, 1912 vs Collingwood, aged 18 years, 224 days
Carlton Player No. 267
Games : 11
Goals : 2
Last Game : Round 3, 1914 vs University, aged 20 years, 215 days
Guernsey No. 22
Height : 183 cm (6 ft, 0 in.)
Weight : 82 kg (12 stone, 13 lbs.)
DOB : October 6, 1893
'He stood six feet in his socks, and was as handsome as a Greek god. He was the men's ideal of what a man should be, and to know him was to love him.' This was one army colleague's high opinion of Alf 'Lofty' Williamson, whose short but eventful VFL career at Carlton and Melbourne ended when he was killed in action in France in 1917.
Alfred Walter Williamson was born in the quaintly-named hamlet of Cowwarr in Gippsland in 1893. He grew into a tall, well-proportioned youngster and was handed the nickname 'Lofty' during his school days, because he always stood out in a crowd. It was a name that stuck, even though by his late teens his growth had slowed and he was no longer conspicuously taller than average. What was not average about Lofty however, was his football ability, his larrikin streak and the wry humour of a born leader. Although his family came from the land, Lofty became attracted to the idea of becoming a teacher himself while he was attending Sale Agricultural High School in 1909-10. So the following year, he began a Manual Arts course at Melbourne Teachers Training College, where his dominant form for the college on the football field soon attracted the attention of Carlton Football Club.
On Saturday, May 18, 1912, Lofty became the 267th player to represent the Navy Blues when he ran out onto Princes Park to play on a half-forward flank in the
round 4 clash with Collingwood
. The game was a typically tight, physical match between two fierce rivals, one that many spectators believed was a draw when the bell rang to end the game. But as the crowd streamed out of the gates, the goal umpires met to confirm their scorecards, and controversially amended the result to give Collingwood victory by one point.
Although that was to be one of only two games in his debut year, Lofty seemed to settle into the side in
1913
- at least until the
round 10 match
against Essendon at Princes Park in June. Carlton won a spiteful encounter by 27 points. Lofty was reported for elbowing an opponent, and rubbed out for three weeks in a portent of things to come. He reclaimed his place in the side for
round 14
, playing eight games all up in a disappointing year for the Blues. On a brighter note, by this time he had graduated as a teacher, and joined the staff at Melbourne High School.
Lofty's
eleventh and last appearance
in the Navy Blue
guernsey number 22
came in May,
1914
, against the hapless University club at the MCG. As Carlton steamrolled the Students to the tune of 70 points, events on the other side of the world were about to plunge Europe, and the British Empire, into bloody war.
Following that one-sided game against University, Lofty decided that his football future would be at the MCG with Melbourne. He crossed to the Fuchsias in June, and it wasn't long before he was in trouble with the umpires once more. In one of his first games for Melbourne, against St Kilda – Williamson was found guilty of unduly rough play and suspended again for three games.
Then, in his first game back, against Richmond, he was reported a third time for the same offence. On this occasion, the tribunal came down hard on Lofty, suspending him for 15 matches. In Europe, push had come to shove, and in August
1914
, France and Great Britain declared war on Germany. With no prospects of playing senior football for some time, Lofty responded to the call for volunteers to fight for King and country and embarked on new adventures with the military.
He trained in Australia and was assigned to the 8th draft of reinforcements for the 14th Battalion, which at the time was heavily engaged in the ill-fated Dardanelles campaign. Under immense hardship and constant danger at Gallipoli, Lofty's qualities shone through. As the Australian's casualties mounted, he was always one of the first in line for promotion. Rising from Corporal to Sergeant to Sergeant-Major within months, he was eventually commissioned in the field on February 1, 1916.
After a brilliantly-successful withdrawal from ANZAC Cove, the 14th Battalion was sent to Palestine for rest and replenishment, before being sent back into the thick of the fighting in the trenches of Western France and Belgium. On April 11, 1917, Captain Alf Williamson led his company in a charge across no man's land at Bullecourt. The attack was initially successful, and the first line of German trenches was captured. Lofty was last seen urging his men toward the second line of dugouts when an artillery barrage rained down right on top of them. His body was never identified, so his name has joined the hundreds of others venerated on the Australian war memorial at Villers-Brettoneux.
He may have died on foreign soil, but Lofty Williamson's legacy lives on, long after his passing. The great-uncle of AFL Legend Gary Ablett, Lofty's genes are still (as at 2015) gracing the football fields of his native land in the person of the Gold Coast Suns' brilliant captain, Gary Ablett Jnr.
Links
Articles:
The Blues at War
Blueseum:
Summary of playing statistics for Alf Williamson
|
Williamson's Blueseum Image Gallery