Victorian Football Association
DOB: 28 September 1878 South Melbourne
DOD: 27 April 1965 Wahgunyah Vic.
Height: 173cm - 5ft 8ins (on enlistment 28 May 1915 age 36yr 8mths)
Weight: 64kg - 10st (ditto)
Games: 15
Goals: 1
Career: 1895 - 1896
1894
June 15 Friday
A player named Dobbin was playing as a defender for Carlton College against Brighton Grammar on Punt Road Oval (A/asian June 23 p12)
1895
May 31 Friday
Is this the Carlton player? J
Dobbin was named as one of Carlton College's better players in a match against University High School on the East Melbourne Cricket Ground.
(Leader June 04 p7)
Dobbin was captain of Carlton College in 1895 (A/asian Sept 21 p20)
There was a Charles Dobbin attending Carlton College in Sydney Road Royal Park in 1895. He was in the Lower IV class, perhaps too young? (Argus Dec 21 p15)
1895
September 07
This seems to be the Dobbin's Carlton debut. If so, he would have been aged approx. 17 years old.
(16 years 344 days)
Carlton played Richmond at Richmond.
Dobbin was named on the half back flank, kicking one of Carlton's four goals, and his only goal.
1895
September 14
Dobbin was named in the Carlton starting 20 against Collingwood at Victoria Park.
He diid not take the field in the final match of the season next week.
1895
December 20
Charles Dobbin and another student received a prize for "Most Popular Boys" at the Carlton College Annual Speech Night
(Age p5)
1896
April 20
Carlton College v Malvern Boys College cricket.
Dobbin scored 41 for Carlton College First Eleven in a match played on the Carlton Cricket Ground. (Argus p6)
He appears in this
1896
team photo v Geelong June 20 at the MCG
Dobbin is seated far right, leaning forward.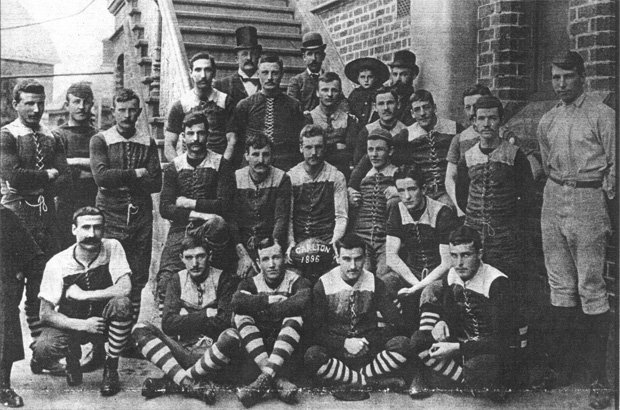 If anyone can identify any of the players, (see June 20 1896) please contact blueseum
There was a player named Dobbin who was the captain of Carlton College in 1896.
Cumloden school played Carlton College on the University ground, Dobbin was the Carlton College captain. (A/Asian June 27 p20)
At a game between Carlton College and Univeristy High School played at Fitzroy, "For Carlton College Dobbin played with his usual brilliancy and pace." (A/Asian September 26 p20)
A relation?
1896
Dobbin seems to have played most of this year's Carlton Football Club games.
He was named in most of the team squads and many of the starting twenties that have been found. He was named mostly as a defender with a couple of games on the forward line.
Possible candidates.
Without the first name, it is guess work.
It seems the Carlton College player may be the best bet.
1896
The Australasian September 05 (p20)
Carlton College v Caulfield Grammar School on the St.Kilda Cricket Ground.
"In the last quarter Dobbin, the Carlton captain, kicked a capital goal from a mark about 50 yards in front."
"On the Carlton side the lion's share of the work fell upon Dobbin, who was everywhere."
Most Likely;
1915
June 02
Charles Leonard Dobbin son of the same named late police magistrate, married Alisa Desailly of Mildura at South Yarra, prior to Charles leaving for (army) camp in Seymour. (Punch June 24 p28)
This Dobbin was educated at Carlton College and in 1898 became a winegrower at the ripe old age of 20 purchasing a winery for £2,400! With business partner David Masterton (aged 22) they called the enterprise Masterton and Dobbin Pty Ltd of Wahgunyah, near Rutherglen, Victoria. (now Pfeiffer Wines)
After purchasing the winery in December 1898, just five months later in May phylloxera arrived. It is an aphid like insect that destroys grapevines, which was first detected in Geelong in 1877 through imported American vines.
It quickly spread to other the states of New South Wales and Queensland, destroying most of Australia's wine industry, but also devasting wineries in France. South Australia remained free of the pest and now has some of the world's oldest grape vines.(wikipedia)
Some years before the out break of WW1 the company established vineyards at Merbien near Mildura in Victoria.
C. L. Dobbin worked and lived at Merbein establishing the business. Although Masterton and Dobbin were wine makers they also had a distillery to provide spirit for themselves and other wine makers, the spirit is used in the production of fortified wines.
Charles enlisted in the A.I.F. (No. 2640) when he was aged 36 and 8 months and gave his address as Merbein and occupation was listed as a distiller. His birth date was given as 28/9/1878. He passed the medical despite having a "hammer toe". This condition can be inherited, by wearing ill fitting tight footwear, or even by playing football.
(There is no mention of him playing for local Rutherglen teams. Perhaps his foot injury prevented this and was the reason for the termination of his career at Carlton?)
On completion of training he embarked from Port Melbourne on 27/10/1915 as part of the 6th Reinforcements 6th Infantry Brigade, 22nd Infantry Battalion. He was 5ft 8 ins in height and weighed 10 stone.
He was promoted through the ranks to Lieutenant and survived the war despite being badly wounded in action through both feet. He returned to Australia in June 1919.
During that year, Masterton and Dobbin along with other businesses formed a company called St. Leonards Pty Ltd and purchased the St. Leornards winery for £22,000.
Soon after returning, he was back in the Rutherglen district where he was serving as a Shire Councillor in 1921. He resigned his position as Councillor and Shire President in November 1935.
In 1937 Masterton and Dobbin Pty Ltd went into liquidation due to the illegal selling of spirit by the distillery workers and the enterprise was sold to Seppelts.
Charles died 27/04/1965 aged 86, husband of Alisa, father of Diana at his home "St. Leonards" Elizabeth Street Wahgunyah and was buried at Carlyle Cemetery Rutherglen. (Mildura Cultivator, Army records, Corowa Free Press, Age, Peffier Wines, St. Leonards and other records)
His father also named Charles Leonard, he was a Police Magistrate for the North Eastern District of Victoria. He died suddenly in July 1902 and had planned spending his retirement at his son's vineyard in the Rutherglen area.
He left a wife, a daughter and two sons. The elder son is W. Summers Dobbin, at the Customs and Excise Department, Fremantle.
Note:
The Cyclopedia Of Victoria (p411) writing about prominent of people of Wahgunyah;
"Mr. Charles Leonard Dobbin, is the son of Mr. C. L. Dobbin, the well-known police magistrate, and was born in South Melbourne, Victoria, in 1877,* and educated at the Carlton College." (Pfeiffer Wines)
.* One year earlier or a printing error? Perhaps he made himself out to be one year younger to improve his chances of enlistment?
In August 1914 voluntary enlistment was for men aged between 19 - 38, however by June 1915 this had been extended to include 18 - 45 years. Those under the age of 21 had to have parental approval.
1930
C. L. Dobbin mentioned at one of the councillors representing the Waygunyah riding in the Rutherglen Shire. (Weekly Times April 05 p10)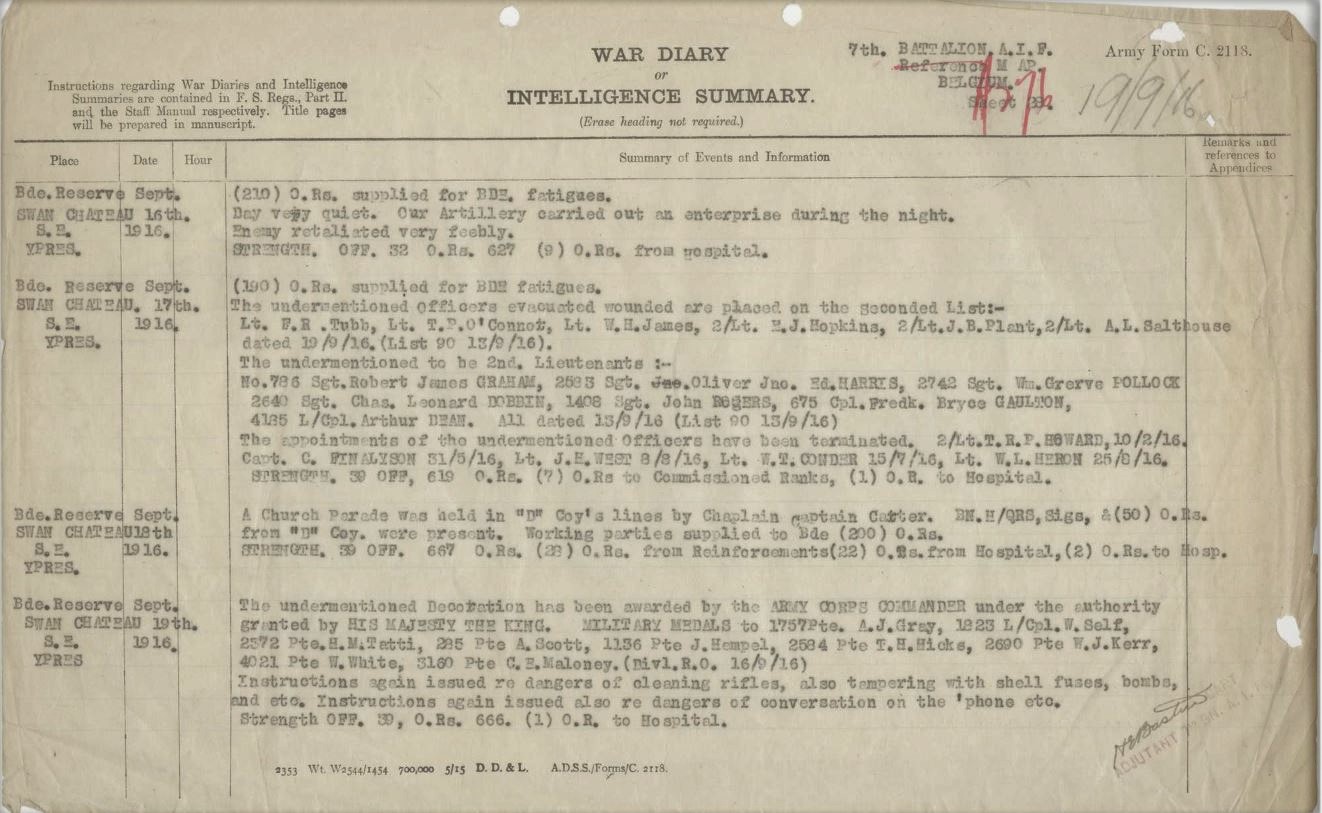 Dobbin's promotion at Ypres Belgium, from Sergeant to 2nd. Lieutenant 7th. Battalion AIF.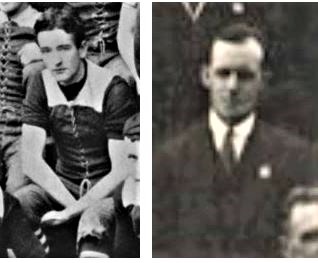 Dobbin 1896 and 1920 Rutherglen Shire Councillor
Links
Blueseum:
Pre VFL Players