Challenge Cup Competition
Carlton Captain: 1867
Committee Member: May 17 1865
DOB: 1847 Scotland
DOD: May 12 1897
Career: 1865 - 1868
Possibly a pioneer player in 1864.
1865
May 27
Named in the team squad that played against Melbourne Grammar on the Myall Ground, Prahran.
"Modest Dave" Adamson one of three (
Frank Hillsden
,
Harry Chadwick
) to lead The Blues in 1867.
(Centenary Souvenir of Carlton Football Club p6)
1867
Adamson one of 10 Carlton players selected to play in North vs South match in last game of season. North won.
1868
The Argus has Adamson named as captain of the Carlton side to play Geelong on Monday 25th. May.
Adamson (captain) named in squad to play Emerald Hill at Emerald Hill, Saturday 6th. June 1868. (The Argus)
1868
Captained Carlton in the first match against Melbourne (drawn game) at the Melbourne ground.
Adamson was an outstanding player in the 1868 season.
(The Carton Story. H.Buggy and H.Bell p16)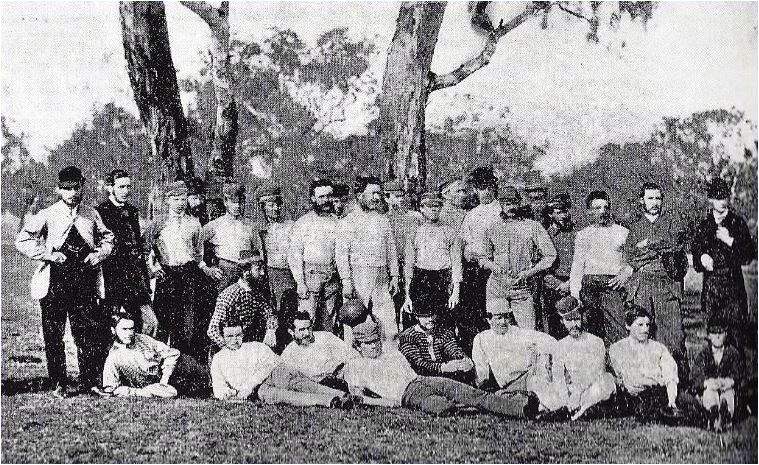 Mark Pennings in his book Origins of Australian Football Vol.1 speculates that the player holding the ball in this
1868
photo may be Dave Adamson. The only
1868
match in which Dave was named captain was for the opening game of the season against Geelong which was played at Royal Park.
Ben James
is standing far left, Dave Adamson is holding the ball,
Jack Conway
is on our left of Adamson,
Robert Robertson
is the tall man in the black hat four players to the right of Adamson.
1893
May 25
Original Carlton player
George F. Bowen
writing under the name of "Olympus" in the Melbourne Punch (p10) recalls Dave Adamson crossing to Melbourne along with
Harry Chadwick
and
James Byrne
in 1868.
The 1958 publication The Carlton Story mentions Byrne, Chadwick and
Charles Forrester
crossing to Melbourne in 1868.
Perhaps George got confused with Forrester.
Links
Blueseum:
Pre VFL Players
|
Pre VFL Captains
|
Pre VFL Administrators