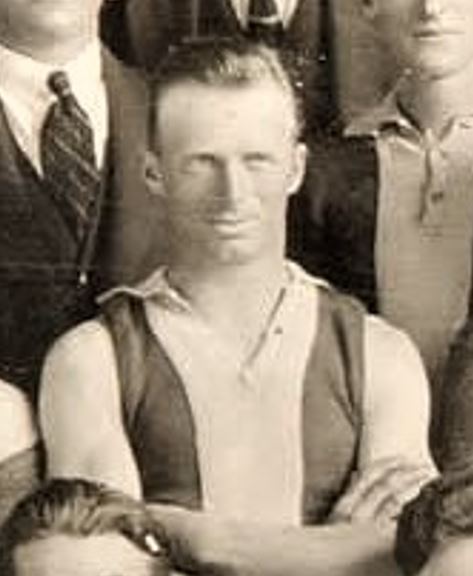 Playing Career : 1915 and 1918
Debut : Round 14, 1915 vs Melbourne, aged 19 years, 194 days
Carlton Player No. 307
Games : 3
Goals : 1
Last Game : Round 2, 1918 vs Richmond, aged 22 years, 127 days
Guernsey No. 30
Height : 178 cm (5 ft. 10 in.)
Weight : 67.5 kg (10 stone, 8 lbs.)
DOB: January 11, 1896
In August
1914
, Carlton born George Muir, an eighteen year-old apprentice carpenter and promising footballer, was faced with the most momentous decision of his young life. Australia had just joined Great Britain in declaring war on Germany, and a deeply-ingrained sense of duty urged George to volunteer to fight for his king and country.
However, at the same time, Carlton Football Club was showing interest in the strongly-built follower from inner suburban Northcote (he had originally played for Bendigo), confirmed by a written invitation to join the Blues at training. George's parents, too, were less than enthusiastic about sending their son off to risk his life on the other side of the world. They asked him to wait a year or so, and to complete his apprenticeship before signing up.
Eventually, Muir saw the wisdom in waiting. He settled down to complete his indenture, and accepted Carlton's invitation. In July
1915
, George burst through the streamers laced across the player's race at Princes Park, and jogged out onto the field for his debut match for the Blues against Melbourne.
Carlton won that tough contest against an even opponent by 21 points, although Melbourne's dreadful inaccuracy (they kicked 5.15 to the Blues' 11.8) cost the Redlegs dearly. Muir played in the ruck alongside
Charlie Hammond
and
Harry Haughton
. He kicked a good pressure goal, and did enough to showcase his potential – before telling the club that he wouldn't be playing again for a while, because at last he had made up his mind to join the army.
The authorities took advantage of his trade skills and assigned George to the Army Engineers. By December 1915, he was training in Egypt, when he was struck down by an attack of acute synovitus - a painful inflammation of the membrane lining the joints in the human body. After weeks of treatment that brought little improvement, George was invalided home to Australia. Eventually, he was discharged from the army as medically unfit for active service.
A long, slow recovery process ensued until May
1918
, when Muir made a surprise comeback to senior football for Carlton against Collingwood at Victoria Park. Playing at half-back in a Blues team unbalanced by the late withdrawal of captain
Rod McGregor
, George and his fellow defenders were overwhelmed in the second half as Collingwood won by six goals.
Muir's third and last game for the Blues came the following week, when Carlton hosted Richmond at Princes Park. Playing in a back pocket, George was rarely sighted on a day when, after 24 consecutive losses to the Blues, the Tigers finally broke their duck and claimed victory by 5 points. After that defeat, Muir was left out of Carlton's side for the remainder of the year. In
1919
he crossed to Fitzroy, where his second career goal was the highlight of his only outing for the Maroons.
When he walked off the field after his last match, George Maurice Muir was only 23 years old. There is little doubt that he was another in a long list of VFL/AFL players whose careers have been prematurely ended by illness or injury.
Muir headed to VFA club Preston whereupon he became a long-term player, notching over 100 games in the V.J.F.A. with Preston despite returning to Carlton a couple of times and also have a crack at Fitzroy.
Muir passed away on the 4th August, 1959 aged 63.
Northcote Leader, August 07 1915 (p2)
Under Further Enlistments; George Muir, High Street Northcote. Same person?
Send-Off To Volunteers
September 25 1915, the Carlton Football Club held a farewell at the London Tavern, for the players who had enlisted in the Army. President Jack Gardiner presented
Alf Baud
,
Frank Triplett
,
George Challis
,
Herb Burleigh
and
George Muir
with gifts from the club.
To read the article in full with a response from Blues' captain Alf Baud, which appeared in the Nagambie Times, October 01, click here>
http://nla.gov.au/nla.news-article141828831
Image
Thanks to the research work of Scott from
https://seriouslynot.blog/blog/
we have identified who we believe is George Muir. While we are very confident, this identification is not 100% so we offer some of the identification proof as an attached document to this page. Any confirmation or denial of this research would be most appreciated.
Links
Blueseum:
Summary of playing statistics for George Muir
|
Muir's Blueseum Image Gallery