Career : 1939, 1943
Debut : Round 15, 1939 vs Footscray, aged 22 years, 5 days
Carlton Player No. 550
Games : 15
Goals : 2
Last Game : Round 16, 1943 vs Fitzroy, aged 26 years, 28 days
Guernsey Nos. 29 (1939) and 23 (1943)
Height : 180 cm (5 ft. 11 in.)
Weight : 70 kg (11 stone)
DOB : 30 July, 1917
DOD : 23 December, 2021
Keith Stanley Rae was a capable midfielder whose career at Carlton was heavily interrupted by World War II. After playing in two memorable games for the Blues late in
1939
, he joined the Royal Australian Navy, where his wartime duties kept him away from Melbourne for three full seasons. Back at Princes Park in
1943
, he racked up another 13 matches, but was left out of Carlton's
Semi Final
team and departed at the end of that year.
Rae's path to Princes Park began at Williamstown in the VFA, the suburb in which he was born. He later joined Carlton's affiliated amateur side, Carlton Juniors, and in
1939
was training with the Blues when captain-coach
Brighton Diggins
told him that he would be playing his first senior game for Carlton in the following weekend's
round 15 clash at home against Footscray
.
Named in the centre, with
Jack Carney
and
Bob Green
as his wingers, Rae's debut was an unforgettable experience. Sitting one win out of the top four, but with the second-best percentage in the competition, Carlton launched a last-ditch assault on a finals place and slaughtered the Bulldogs by 88 points. Forwards
Ken Baxter
and
Paul Schmidt
kicked 8 goals each, and clever rover 'Mickey' Crisp bagged another five.
That great form continued with
another big win the following week
, against Hawthorn at Princes Park. This time, the margin was 62 points, as Baxter and Schmidt starred again with four goals each. However, Rae was omitted from the team after just those two appearances, and Carlton missed out on playing finals football when we crashed to a heavy defeat against Richmond in
round 17
at Punt Road.
A few weeks later, just as the '39 finals began, the world was plunged into crisis by the outbreak of another war in Europe. Because he was already serving with the RAN Volunteer Reserve, Rae was quickly called up by the navy, and spent the following three years in various ships and naval depots in Australian waters. Keith survived the sinking of his ship the HMAS Nestor in the Mediterranean June 1942. In
1943
he was posted back to Melbourne, and wasted little time in rolling up at Princes Park, where coach
Percy Bentley
made him welcome.
Rae's comeback match,
a home game against Richmond in the first round of the new season
, resulted in another huge win to the Blues, and another brilliant individual effort by a Carlton forward. This time it was
Jim 'Bones' Baird
who provided the game's highlight, by booting ten great goals in a 44-point victory. Rea was a handy contributor on a centre wing, and from then on held his place in the side for most of the season.
Carlton wound up the
'43
home and away season in fourth place on the ladder – one win behind minor premiers Richmond, but with a healthier percentage. The Blues were considered a real chance of pinching the flag that year, but stumbled when it mattered most and were bundled out of contention by Fitzroy in the
first Semi Final
. Although Rae had appeared in thirteen of the sixteen regular season games, he was omitted from the Semi Final side, and never represented the Blues again.
The Navy called Keith back to the colours in
1944
. Football again took a back seat, and he was still on duty when World War II eventually ended in August,
1945
. One of those who could genuinely claim that they served 'for the duration,' he was eventually discharged in May,
1946
.
Later that same year, he turned up at Richmond, where he impressed enough to be given a go by the Tigers, but managed only two more senior games and one goal.
Keith died in his sleep on December 23, 2021 when aged 104 years and 146 days old and was also the eldest of the 3rd known Carlton footballer to reach the age of 100, behind Newton Chandler and Mac Wilson.

Trove: Smith's Weekly 1941 November 08 p17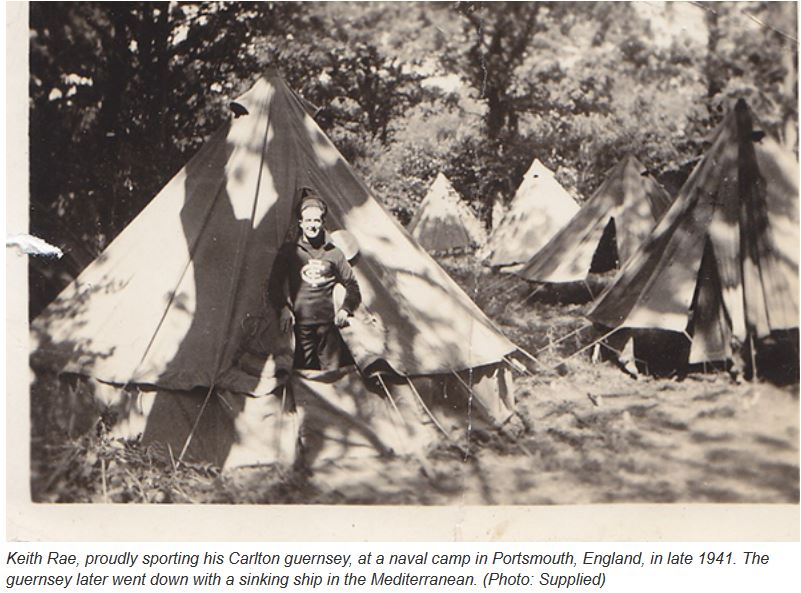 Possibly Keith two behind the man in front holding the ship's bell.
RAN image
100 up for a one in a million Rae
Carlton historian Tony DeBolfo caught up with Keith Rae on the eve of his 100th birthday.
Congratulations Keith, from all at Blueseum.
http://www.carltonfc.com.au/news/2017-07-29/100-up-for-one-in-a-million-rae
Keith's WW2 Rescue
Williamstown Chronicle, September 26, 1941
"Mr. and Mrs. Stan Rae, of 32 Hosking-street, have received word that their son Keith, who was a gunlayer on an armed cruiser, has been saved after his ship was sunk by enemy action. Prior to his enlistment Keth was a well known athlete, being a centreman with the Williamstown and the Carlton Football Clubs and also a cricketer with the Colts team, graduating from the Williamstown Cricket Club."
Links
Blueseum:
Summary of playing statistics for Keith Rae
|
Rae's Blueseum Image Gallery
|
Oldest Surviving Footballers