| | | | | | | | | |
| --- | --- | --- | --- | --- | --- | --- | --- | --- |
| Carlton | 4.5 | 29 | 8.8 | 56 | 13.12 | 90 | 18.22 | 130 |
| Collingwood | 1.3 | 9 | 4.6 | 30 | 8.9 | 57 | 10.13 | 73 |

Venue: Princes Park
Date: Saturday April 3, 1976
Result: Win by 57 points
Umpires: M.Henry & M.Dye
Crowd: 39,964 Receipts: $41,692
Goalkickers: T.Pickett 4, R.Galt 3, G.Towns 2, T.Keogh 2, S.Jackson 2, G.Southby 1, R.Ohlsen 1, R.Byrne 1, P.Jones 1, D.McKay 1.
Best: T.Pickett, A.Jesaulenko, R.Austin, G.Towns, R.Ohlsen, P.Jones.
Reports:
Injuries: Nil
---
Game Review
The Blues commenced Season
1976
with a bang by disposing of a disappointing Collingwood by a mere 57 points. A whopping 40 scoring shots to 23 told many a fan that the Blues of the early 1970's were busy reassembling into a new powerhouse - the Blues of the late 1970's / early 1980's.
In doing so, we welcomed former Hawk
Kevin Heath
and former Tasmanian
Tony Pickett
to the Carlton Football Club.
After
Rod Ashman
was taken out be a high hit early in the first quarter new recruit
Tony Pickett
was thrown into the roving duties a postion that he had never played before and scored 4 goals. The ex-Hawk forward pocket premiership player in
Kevin Heath
started and played his whole Carlton career in the back pocket.
Despite the loss of their coach in the week prior to the game, Carlton came out to completely outclass Collingwood in a match which has been described as "fiery". It was the Blues fourth consectutive win over Collingwood, an achievement they have not bettered or equalled since 1940 - 1942. - Football Record.
Full back turned full forward
Geoff Southby
was off target kicking 1.5, which could have been 5.1
The Blues drove the first nail into Collingwood's coffin as the Magpies would take out their first VFL wooden spoon this year.
Carlton began the season in turmoil when coach John Nicholls resigned in the week before the opening round. Despite that the Blues won a fiery match over arch rivals Collingwood by 57 points with Alex Jesaulenko and Tony Pickett the stars for the Blues. - Football Record.
NB Video - Round 1, 1976, title in error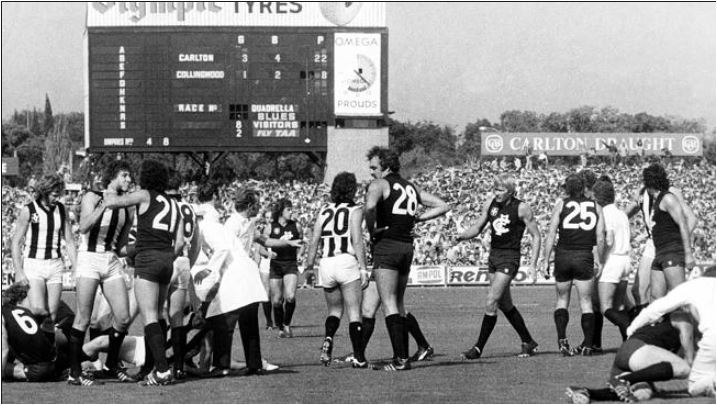 First quarter action. Image: Herald-Sun

Kevin Heath & Alex Jesaulenko. Image: Age April 05
Team
B:
19 John O'Connell
21 Rod Austin
18 Kevin Heath
HB:
36 Mark Maclure
11 Bruce Doull
25 Alex Jesaulenko (c)
C:
26 Ray Byrne
9 Greg Towns
30 Tony Pickett
HF:
31 Danny Halloran
43 David McKay
5 Syd Jackson
F:
17 Rod Galt
20 Geoff Southby
8 Trevor Keogh
Ruck:
28 Peter Jones (acting vc)
24 Russell Ohlsen
14 Rod Ashman
Res:
44 Eric Pascoe
6 Garry Crane
Coach:
Ian Thorogood
Milestones
Debut:
Tony Pickett
Debut (Carlton):
Kevin Heath
Last game:
Garry Crane
Debut Coach:
Ian Thorogood
---
1976
|
Round 2