| | | | | | | | | |
| --- | --- | --- | --- | --- | --- | --- | --- | --- |
| Carlton | 6.4 | 40 | 10.10 | 70 | 15.16 | 106 | 16.24 | 120 |
| Melbourne | 6.4 | 40 | 10.5 | 65 | 12.7 | 79 | 16.8 | 104 |

Venue: Princes Park
Date: Saturday July 24, 1937
Result: Win by 16 points
Umpire: Batt
Crowd: 16,000
Goalkickers: J.Wrout 4.10, P.Farrelly 4.1, K.Shea 3.1, H.Bullen 2.2, R.Cooper 2.1, J.Hale 1.2 H.Vallence 0.3, F.Anderson 0.1, A.Shields 0.1, J. Francis 0.1, C.Crisp 0.1
Best: K. Shea, J. Wrout, M. Crisp, H. Bullen, B. Chitty, R. Cooper
Reports:
Injuries: N. Cashin (kneed in stomach) replaced by H. Vallence in final term, J. Francis (bruised ribs), R. Cooper (bruised knee) J. Wrout (leg)
---
Game Review
Carlton relegated ladder leaders Melbourne to third spot and kept its finals hopes alive with a well-deserved, morale boosting sixteen point win at Princes Park. The Blues were faster, dominant in most positions and in the air, and kicked to position well. Had they kicked straighter, the margin would have been far greater. Keith Shea gave a best on ground display on his return from injury.
Coach Percy Rowe allowed no let-up in the intensity of training during the week, as the Blues still had a faint chance of finals football. On Tuesday, Keith Shea didn't train and was considered to be a 50% chance of playing, and Jim Francis, Mick Crisp, Jack Hale, Don McIntyre and Frank Gill were all given the night off to recover from injury niggles Ansell Clarke and Jack Carney trained well and were available (both were included in the reserves side). By Thursday, the Blues announced that only four players were unavailable through injury – Kevin Fox(knee), Fred Gilby (flu) Fred Ayers (broken hand) and Gordon Mackie (broken hand). Just two changes were made. Mick Price was unlucky to be omitted and Gilby was out with the flu. Harry Vallence (as 19th man) and Shea were welcome additions to the side.
Melbourne started like a house on fire and had two goals on the board within the first minute, before a Carlton player had touched the ball. Melbourne continued the attack but this time the Blues' defenders were ready and
Horrie Bullen
,
Jim Francis
and
Rod McLean
turned the tide. Only a slight breeze was blowing, but the play was mostly on the press box side of the ground. A newspaper report bemoaned the fact that players had little regard for their set positions. Good work by
Keith Shea
enabled
Pat Farrelly
to score Carlton's first goal. The visitors then rammed on two quick goals for a handy lead. Into the breeze the Blues entered their forward area and
Jack Wrout
from a free kick goaled. Wrout then took a spectacular mark and kicked his second goal. The Blues were now playing the better football and
Jim Francis
was the main driver of the Blues' forward thrusts. From one of Francis' passes
Keith Shea
goaled. Carlton kept applying the pressure and
Horrie Bullen
added Carlton's fifth. Melbourne then kicked two goals. Bullen to
Ron Cooper
and he booted the sixth goal for the Blues. Just before the bell
Jack Wrout
added a behind to equalise the scores.
Melbourne went forward but was repulsed. Francis passed to
Arch Shields
who kicked to
Jack Wrout
and the seventh goal was soon on the board. The Blues went forward again and this time
Pat Farrelly
soccered a goal. If not for Carlton's forward errors the Blues should have been further in front. Melbourne then kicked their seventh goal. The Blues attacked down the wing but only three behinds resulted and the Blues led by 9 points. Clever roving at the back of the pack and Melbourne goaled. Wrout then had three chances to goal but scored one goal and two behinds.
Jack Hale
then goaled for the Blues tenth.
Jack Wrout
was outstanding and did virtually what he liked. However, he then missed an easy shot. Melbourne not be outdone added two goals before the bell to be within 5 points of the Blues.
At the start of the quarter Melbourne missed two easy chances with one hitting the post. Melbourne attacked and a behind was rushed. The Blues then went forward for a behind before
Keith Shea
goaled.
Cresswell 'Micky' Crisp
was dominant in the centre and he and Shea combined to get the ball to
Pat Farrelly
and he kicked truly. Bullen from a free scored the thirteenth goal and shortly after Shea snapped the fourteenth. Melbourne then scored two goals.
Ron Cooper
goaled and then Wrout added another two behinds to the score.
At three quarter time Blues led by 27 points.
An attack by Crisp, Cooper, Hale, and Farrelly managed only one point. Then
Horrie Bullen
kicked to Farrelly and he added the Blues sixteenth major, which increased the Blues' lead to 34 points. Melbourne then added two goals to give their supporters a little hope.
Norm Cashin
went off injured and
Harry Vallence
received a "thunderous applause" when he ran on. The Herald reporter said; "...from the Carlton supporters who evidently disagreed with the selectors' policy of continually leaving him out of the side." Melbourne believed they could win and threw everything into their game. They goaled and reduced the margin to sixteen points, with still half a quarter to go. Both Shields and Vallence added behinds. Melbourne went forward only see Farrelly take a strong mark. Wrout added another point.* Melbourne goaled through the agency of Percy Beames and then Vallence added another two behinds.
The Committee adjudged Jack Wrout as Carlton's best player and he was awarded a prize. Micky Crisp also received an award. The win left Carlton in sixth place, still two games out of the four and six points in arrears of fifth placed Richmond. Fitzroy's loss put them a game behind the Blues.
.*
Jack Wrout
's 4.10 Stands as a Carlton record, now in its 81st year, and no other Carlton player is listed as being so inaccurate for having kicked 4 goals or less.
According to the AFL Record Stats Book 2018 p780,
Only six players have been more off target, 1.13 by Harry Moyes (St.K) 1922, 2.12 by Jack Titus (Rich) 1939, 4.11 Norm Smith (Melb) 1940, 2.11 by Lance Franklin (Haw) 2007, 0.11 by Tom Allen (Rich) 1949, 4.11 by Lindsay White (twice) at Geel 1941, and at South in 1942, are more inaccurate than Wrout. There are other VFL players who have scored 10 behinds.
Team
B:
2 Don McIntyre
21 Frank Gill
26 Jim Park
HB:
9 Eric Huxtable
10 Jim Francis (acting capt.)
33 Bob Chitty
C:
4 Norm Cashin
12 Creswell 'Mickey' Crisp
32 Bob Green
HF:
8 Keith Shea
1 Frank Anderson
25 Arch Shields
F:
20 Pat Farrelly
28 Jack Wrout
11 Jack Hale
Ruck:
15 Horrie Bullen
14 Rod McLean
19 Ron Cooper
19th Man:
22 Harry Vallence
Coach:
Percy Rowe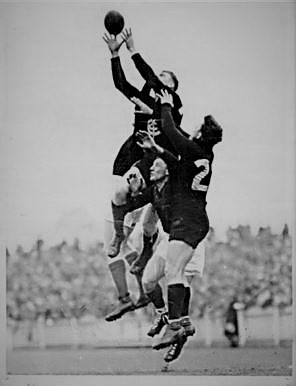 Pat Farrelly soars over Long and Chambers (Melb) and team-mate Jack Wrout at Princes Park.
Enhanced black & white photo
(Info from original image (Trove) Herald July 24 p13 1937)
Milestones
Last game:
Horrie Bullen
Score Records:
This was the first of 10 consecutive wins for Carlton, one of the best winning streaks in our history
---
Round 13
|
Round 15