| | | | | | | | | |
| --- | --- | --- | --- | --- | --- | --- | --- | --- |
| Carlton | 3.4 | 22 | 7.9 | 51 | 9.18 | 72 | 13.19 | 97 |
| Geelong | 3.2 | 20 | 3.5 | 23 | 3.6 | 24 | 3.9 | 27 |

Venue: Optus Oval
Date: Sat 01-Sep-2001
Result: Carlton won by 70 points
Umpires: C Mitchell, D Howlett, B Roseberry
Crowd: 26,314
Goalkickers: B.Fevola 3, L.Whitnall 3, A.Koutoufides 2, I.Prendergast 2, R.Houlihan 1, D.Hulme 1, M.Lappin 1.
Best: A.Koutoufides, L.Whitnall, C.Bradley, S.Silvagni, J.Plunkett, A.Hickmott, R.Houlihan.
Reports: G Kilpatrick (charging Porter), D Mensch (charging Koutoufides), Milburn (charging Silvagni) - 3 weeks.
Injuries: B.Ratten (elbow), A.Franchina (hamstring), M.Porter & S.Silvagni (concussion).
---
Game Review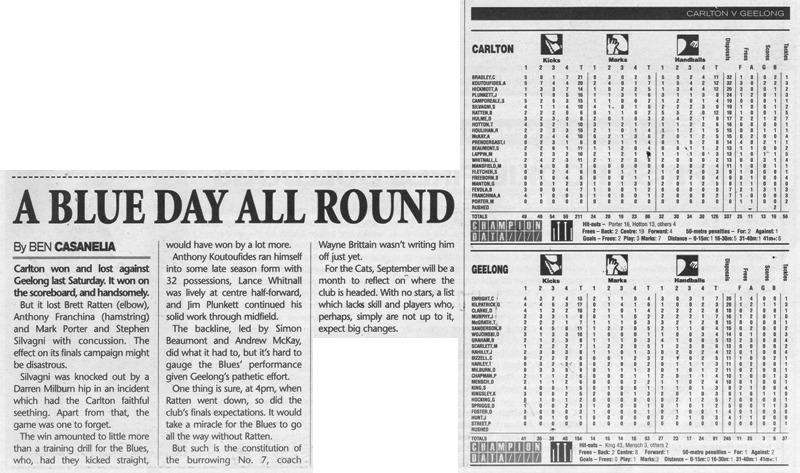 After an even first quarter, Carlton kept Geelong goalless for the remainder of the match and ran out 70-point winners. Late in proceedings, as the Blues were cruising toward victory, our champion full-back
Stephen Silvagni
was crashed to the turf and heavily concussed by a front-on shoulder charge from young Cat Darren Milburn. While Silvagni was being helped from the field, the home crowd vented their fury at Milburn, who responded with a single-finger salute even as one of the field umpires placed him on report. Milburn's deliberate attack on the man instead of the ball - and his provocative response - was deeply resented by all Carlton supporters, and was never forgiven. Although he was found guilty of charging at the tribunal (and suspended for three matches) from that day on, and throughout his lengthy career, Milburn would be roundly hooted by Blues fans each and every time Carlton played Geelong.
In further bad news, Carlton's finals chances were dealt a severe blow in the space of five minutes when we lost
Brett Ratten
with an elbow injury, and
Anthony Franchina
with a hamstring tear. Neither would play a part in Carlton's finals. In addition, both
Mark Porter
and
Stephen Silvagni
sustained concussion. While they recovered enough to play the following week, neither were at their best.
Anthony Koutoufides
and
Craig Bradley
each had 32 possessions and were the best two players on the ground.
Jim Plunkett
continued his good form - particularly after the loss of Ratten - and had 24 possessions. Before he was pole-axed,
Stephen Silvagni
was very good in defence with 19 touches, and
Lance Whitnall
continued his good form up forward with 3 goals and 8 marks.
Ian Prendergast
showed continued improvement with two goals in just his sixth game.
Final Ladder Position: 5th
Team
B:
29 Simon Beaumont
22 Glenn Manton
45 Anthony Franchina
HB:
5 Andrew McKay
1 Stephen Silvagni (vc)
10 Michael Mansfield
C:
9 Adrian Hickmott
7 Brett Ratten
31 Simon Fletcher
HF:
12 Matthew Lappin
8 Lance Whitnall
16 Scott Camporeale
F:
37 Trent Hotton
43 Anthony Koutoufides
27 Darren Hulme
Ruck:
11 Mark Porter
21 Craig Bradley (c)
40 Jim Plunkett
Interchange:
17 Scott Freeborn
25 Brendan Fevola
28 Ian Prendergast
33 Ryan Houlihan
Coach:
Wayne Brittain
Emg:
Ang Christou
Sam Cranage
Adam Pickering
In:
Scott Camporeale
Out:
Adam Pickering
Milestones
150 Games (AFL) / 100 Games (Carlton):
Adrian Hickmott
simultaneously achieved both milestones against the club he had played the first 50 of those games.
Interesting fact:
This would be the last time until
Rounds 11 to 13, 2004
that the Blues would win 3 games in a row.
Interesting fact:
The Blues wouldn't hold a team to 27 points again until
Round 13, 2020
when they defeated the Gold Coast Suns.
Brownlow Votes
3:
Anthony Koutoufides
(CARL)
2:
Craig Bradley
(CARL)
1:
Stephen Silvagni
(CARL)
---
Round 21
|
Elimination Final