| | | | | | | | | |
| --- | --- | --- | --- | --- | --- | --- | --- | --- |
| Carlton | 0.2 | 2 | 0.4 | 4 | 0.7 | 7 | 3.8 | 26 |
| Melbourne | 1.5 | 11 | 4.10 | 34 | 9.13 | 67 | 15.17 | 107 |

Venue:
MCG
Date:
Saturday 5 June 1897
Result:
Loss by 81 points
Crowd:
Goalkickers:
W.O'Cock 2, S.Chapman 1.
Reports:
Umpire:
Ivo Crapp
Injuries:
Best:
H.Dunne, E.Walton, J.Reekie, B.Hannah, C.Breese.
---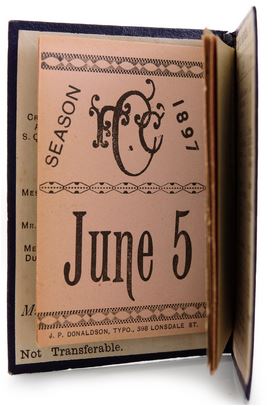 Dave Crone's collection - Leonard Joel
Game Review
Melbourne scored the first century (100+ points in a game) in the League and won by 81 points. This remained Melbourne's greatest winning margin against Carlton until
Round 6, 2004
when they won by 105 points.
Brook Hannah
was acting captain for Carlton in this game (according to the Age newspaper) instead of the appointed vice captain
Ernie Walton
. The Argus commenced their reporting of the game with this line; "In the many games that Carlton and Melbourne have played over the last 20 years, the strength of one side and the weakness of the other was never more farcibly shown".
During the match, Melbourne played good football and worked together as a team, while the Carlton side showed no unity whatsoever. The game opened brightly enough, with the Blues looking like they would make a contest for the first 10 minutes, but by the early stages of the last quarter Melbourne had scored 15 goals to none to make the game a rout.
Carlton scored three consolation goals towards the end through good passages of play. However Melbourne's forwards had been dominant, and the Blues simply had no answer.
This savage loss dropped Carlton to seventh place on the 8-team ladder, winless, and with a paltry percentage of 44.34. Only St Kilda was faring worse, with a percentage of 38.03.
Footnote
Former Blues,
Jack Leith
(4 goals),
Ned Sutton
and
Alf. Wood
were three of the better players for Melbourne.
Debutant
Henry Crane
would be the grand father of Carlton legend
Gary Crane
Team
B:
Henry Dunne
Ernie Walton (vc)
Jim Lyons
HB:
Brook Hannah (acting capt.)
Charlie Sweatman
Jack Reekie
C:
Bob Armstrong
Henry Crane
Chic Breese
HF:
Peter Williams
Bobby Walsh
Jim Caffery
F:
Sam Chapman
Wally O'Cock
Henry McPetrie
Rucks:
Tom Blake
Bill Woodhouse
Harry H Morgan
Joe Paton
Rover:
Arthur Cummins
Coach:
No coach and the captain directed the side
Note:
4 Rucks, 20 players on the ground and no interchange
Changes
In:
T.Blake, C.Sweatman, H.Crane
Out:
J.Aitken, B.Cameron, B.Casey
Milestones
Debut:
Henry Crane
(Malvern Juniors/Ballarat)
Last Game:
Henry McPetrie
and
Joe Paton
both played their last League game
Records:
This was the first
game played between these 2 teams in the VFL
and the first in which Carlton conceded 100 points or more.
Footnotes
Brook Hannah
,
Ernie Walton
&
Jack Reekie
were selected in a VFL team squad to play the Bendigo Association team on the following Wednesday June 09 on the Upper Reserve Bendigo.
Only
Jack Reekie
played in the match which the VFL won 14.14 - 9.4
Although this was the first VFL meeting between these clubs, Carlton and Melbourne had been playing each other since
1866
* in the Challenge Cup era, and later in the VFA. They are the Blues' oldest rivals.
Records found so far - up until the end of
1896
- indicate that these two clubs had played each other 89 times, with the Blues winning 42, losing 26, and drawing 20. One match result at this stage is unknown. (See
Pre VFL
)
-*Pre
1866
details are incomplete.
---
Round 4
|
Round 6