| | | | | | | | | |
| --- | --- | --- | --- | --- | --- | --- | --- | --- |
| Carlton | 4.9 | 33 | 12.13 | 85 | 20.18 | 138 | 24.22 | 166 |
| St Kilda | 2.4 | 16 | 7.7 | 49 | 11.9 | 75 | 16.12 | 108 |

Venue: Junction Oval
Date: Saturday June 23, 1934
Result: Win by 58 points
Umpire: Scott
Crowd: 33,000
Goalkickers: H.Vallence 5, J.Cooper 4, R.Cooper 4. A.Clarke 3, J.Cashman 2, M.Johnson 2, J.Kelly 2, C.Davey 1, B.Green 1.
Best: A.Clarke, C.Davey, R.Cooper, M.Johnson, F.Gill, J.Hale, J.Cashman, T.Ogden
Best:
Reports:
Injuries: J.Hale (torn thigh) replaced by T.Pollock in third quarter.
---
Game Review
Carlton recorded our highest score to date in this easy victory over the Saints on their home ground.
It was a perfect day for football and the ground was in good condition. St. Kilda kicked towards the Fitzroy Street end goal.
The game began with fast and furious football and both sides attacked but behinds were only scored and at one stage Carlton led 0.5 to 0.3.
Maurie Johnson
to
Harry Vallence
and the Blues bought up their first goal.
Charlie Davey
then snapped Carlton's second goal and the score was 2.7 to 0.3 The Saints' forward line was breaking down and
Frank Gill
was dominating the back line.
Jack Cooper
marked brilliantly a driving kick from
Joe Kelly
and scored the Blues third. The Saints scored their first major and this was soon followed by their second goal. Carlton immediately replied through
Ansell Clarke
and at quarter time the Blues led 4.9 - 2.4
Early in the second term the Saints goaled, but this was answered by
Ansell Clarke
. Not to be outdone St.Kilda scored their fourth. The game was still being played at a fast pace and 'weight' was being used freely.
Gordon Mackie
's brother Ken Mackie was playing well for the Saints and was having the better over his navy blue brother.
Jack Cooper
's left foot snap scored the Blues' sixth goal. The home side was playing well and scored two goals to reduce the lead to seven points. 6.12 - 6.5 Once again
Ansell Clarke
scored a goal, and this was followed by a hurried kick by
Jack Cooper
which bounced through the unguarded goal. The Saints were matching the Blues except in the ruck where
Charlie Davey
held sway.
Bob Green
passed to skipper
Maurie Johnson
and he drop kicked a great goal from 50 yards out.
Jack Cashman
then marked close in and scored the tenth goal. Soon after good play by
Ansell Clarke
and
Jack Cashman
scored a goal. The Saints' lucky kick some how evaded the defenders and rolled through. Then
Ron Cooper
skilfully evading his opponents drop kicked the Blues' twelfth. At half time Carlton led 12.13 to 7.7
St.Kilda scored a goal soon after the restart, But
Creswell 'Mickey' Crisp
brilliantly handballed to
Jack Cooper
for the answering goal.
Jack Cooper
then followed this up with a great mark on the run and close in, but his shot badly missed. The pace was still a cracker. Due to the efforts of
Charlie Davey
and
Jack Cashman
, Carlton were still holding sway in the ruck, and many attacking moves resulted from the work of this duo.
Joe Kelly
out marked his opponent and punted the Blues' fourteenth major. The Blues were now beginning to dominate and
Joe Kelly
scored his second and Blues' lead was now 49 points. Then
Ron Cooper
drop kicked a 50 yard goal. St.Kilda added another goal. Good play by
Maurie Johnson
,
Ansell Clarke
and
Ron Cooper
allowed Ron to to reply.
Harry Vallence
then marked well out, but his long kick went through. Harry soon followed this up with another successful long goal, and
Maurie Johnson
bought up the Blues' 20th. The rattled Saints then added a couple of goals while the injured
Jack Hale
was carried off and replaced by
Ted Pollock
. At three quarter time the Blues led 20.18 - 11.9
Early goals to
Ron Cooper
and
Harry Vallence
increased the lead. St.Kilda then added three goals before
Bob Green
added to Carlton's tally then
Harry Vallence
scored the Blues' final goal. The Saints added one more before the final bell. The Blues won by 58 points 24.22 to 16.12
At the end of this round Carlton were in 3rd spot on the ladder with a percentage of 118.7.
Team
B:
20 Alby De Luca
21 Frank Gill
29 Horrie Bullen
HB:
9 Eric Huxtable
24 Gordon Mackie
11 Jack Hale
C:
7 Joe Kelly
32 Bob Green
27 Terry Ogden
HF:
19 Ron Cooper
22 Harry Vallence
12 Creswell 'Mickey' Crisp
F:
4 Jack Cashman
33 Jack Cooper
31 Ansell Clarke
Ruck:
17 Charlie Davey (vc)
15 Maurie Johnson (c)
18 Frank Finn
19th Man:
16 Ted Pollock
Coach:
Dan Minogue
Milestones
Debut:
Frank Finn
Note:
Saturday's Sporting Globe said, "Finn replaced Shea (injured thigh) in the Carlton side. Ron Cooper was placed half forward in Shea's place, and Finn took up the rover's position."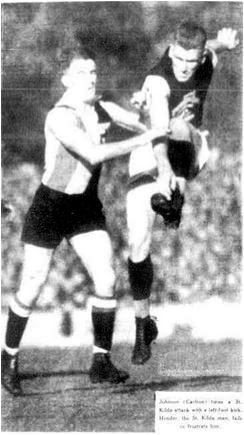 Blues' captain Maurie Johnson turns a St.Kilda attack.
Image, Trove; Sporting Globe June 23
---
Round 6
|
Round 8