Victorian Football Association
Champion of the Colony: 1889 (Port Melbourne)
Weight: 9st 4lbs (59kg)
Games: 10 (at least)
Career: 1884
DOB: 1864
DOD: August 20, 1932, Cairns.
William Edward John "Billy" Hannaysee
Also spelt, Hanneysee/Henneysee/Hennessy
Played with Port Melbourne, Carlton, South Melbourne and again with Port Melbourne.
Educated at Wesley College.
Named to played in at least 10 Carlton games and was among Carlton's best in 5 of those games.
Recruited from Sandridge Star.
1884
Recruit from Sandridge (Port Melbourne),
"a likely player"
(Centenary Souvenir of Carlton Football Club p17)
The Record (Emerald Hill) September 10 (p7) 1932 in its obituary said Billy Hannysee debuted for Carlton on May 03
1884
.
Carlton played the Star of Carlton on May 03, he was not named in the team squad, but could have played. No newspaper reports of the players who took to the field.
He returned to Sandridge before the end of the
1884
season and by then the Sandridge club had changed its name to Port Melbourne.
1884
May 10
Hannaysee made his senior debut for Carlton against Melbourne at the M.C.G.
1884
May 31
Named as one of Carlton's best in the loss to Essendon at the East Melbourne C.G.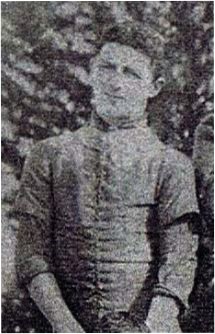 Billy Hannaysee from the Carlton team photo Adelaide 1884.
Note: Black armband on his left arm, no other player in the team photo is wearing one.
See Image Galleries then Pre VFL Image Gallery for team photo.
Billy Hannaysee 1888
Returned to Port Melbourne when Port were admitted to V.F.A. and became the club's first captain.
1884
August 09
Hanneysee playing for Port Mebourne against Star of Carlton at Port Melbourne Cricket Ground.
1889
Bill Hannaysee was named Champion of the Colony.
1891
Hannaysee was umpiring VFA matches.
After football, Hannaysee ran a business in Cairns, Queensland.
1923
November 03
Jack Worrall
in his 3 part article on football says of Hannaysee;
"He was not by any means a star in the air in a bunch, feeling safer on terra firma, but in dodging, handling the ball, extreme cleverness, and pace, and in eluding the man at his mark, and kicking goals he was a past master."
Click on Worrall's name to read his articles.
1924
July 21
A VETERAN FOOTBALLER
"A visitor to Melbourne recently for the benefit of his health was W. Hannaysee, the old Port Melbourne champion footballer, and one of the best and most finished players the game has produced. It will give satisfaction to his many old admirers to know that the famous Portsman of years ago benefited greatly as a result of his trip to the south, where he spent most of his time looking up old football comrades and opponents.
The modern style of play would have been made for him, as he was so quick, clever, and resourceful. His handling of the ball was an object lesson, his judgment was sublime, his kicking most accurate, while he was the first man that made dodging the player at his mark and taking a running shot for goal the vogue. The scheme was a pronounced success for far as Hannaysee was concerned, as he was so quick and clever, though I ("J. W." of the "Australasian") do not reccomend the custom to the ordinary individual. "Billy" Hannaysee was never known to do anything approaching unfairness. He was a great player, though those black curls are now a somewhat different hue."
1924
July 24
Billy Hannaysee is photographed attending an old players match at the M.C.G. on September 24.

Image: Trove; Argus September 27 1924 (p29)
The above photo shows three and possibly four former Carlton players.
Shaking hands are two former Carlton captains
Jack Baker
and
John Gardiner
, and sitting next to Billy is possibly
J. Muir
who crossed to Fitzroy when that club was formed.
(Mercury p5)
1924 CAREER OF 'BILLY' HANNAYSEE
Article by The Record (Emerald Hill) July 26 (p23) to read click here>
http://nla.gov.au/nla.news-article164445470
1932
August 20
Passed away, aged 68, in Cairns QLD.
The Argus wrote;
"Mr. Hannaysee was regarded as one of the cleverest footballers of his day.
He played first with the Sandridge Star team, then went to Carlton and played with such noted players as J. Baker, S. Bloomfield, E. Barrass, and W. Strickland.
After a while he returned to Port Melbourne, and later played in the South Melbourne team with such players, H. Elms, Peter Burns, H. Latchford, and T. Bushell.
Leaving South Melbourne he formed the Port Melbourne senior team, taking with him well known players like F. McKnight, B. Morton, and A. Decis.
His associates in forming the Port Melbourne club were Messrs, P. Harper, John Coffey, Peter Kinniburgh, and L. Vine.
Mr. Hannaysee has left a widow. His only son was killed at the war."
He had been employed at Swallow and Aerial's biscuit manufacturing, where Mr. Swallow asked him to take up a position at a Queensland sugar plantation.
He later became a hotel-keeper in Cairns.
WORRALL ON HANNAYSEE
1932
September 03
Jack Worrall
writing in the Australasian;
"Perhaps no cleverer player than "Billy" Hannaysee, of Port Melbourne, ever played the game. His handling of the ball was perfection, and he preferred man to man contests when going for the ball, either in the air or on the ground. The present style of play would suit him to a nicety. He was the first man to bring into play dodging the man at his mark when having a shot at goal, preferring the running shot to a standing one."
1939
In a newspaper article in The Argus June 24, Hannaysee was named by D. L. "Sonny" Coleman as one of the best players in the last 50 years.
Coleman played with Essendon and played against Hannaysee, he said;
"I am convinced that this slim built welter-weight was the greatest match-winning exponent of Australian football ever seen in the Commonwealth of Australia."
To read this article with photos of Billy click here>
http://nla.gov.au/nla.news-article12142434
Footnote
"Short in stature with a shock of dark curly hair, Hannaysee's ability to get the ball, and then gain valuable yardage for his team with fast weaving runs through the swirling mass of players who wrestled for possesssion, made him a natural on-ball player - the consumate rover. He was also a regular goal scorer, an extremely valuable attribute in times when four or five goals was a high score for a team."
(From A Taste Of Port by Terry Keenan p35-6/AFLTCC web site)
William Hannaysee, featured on the card was a 'Champion of the Colony' equivalent to today's Brownlow Medal, was Port Melbourne Borough's leading goal kicker in 1886 (16 goals), 1888 (31 goals) and 1889 with tallies of 16, 31, and 17 goals respectively. (AFLTCC web site)
Links
Blueseum:
Pre VFL Players
|
Image Gallery